HTC Desire & Exclusive HTC Legend Hitting Vodafone UK In April 2010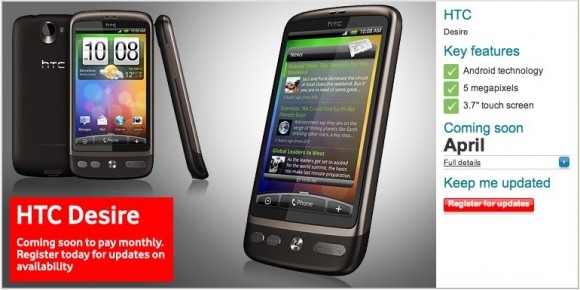 Vodafone UK have announced that they will be offering HTC's two newest Android smartphones, the HTC Desire and – exclusive to the network – the HTC Legend which we reviewed last week.  Both smartphones – each of which run Android 2.1 – will arrive sometime in April 2010.
Pricing and exact plan details are yet to be confirmed, but we're assuming Vodafone UK will be offering each handset "free" on at least one or two high-end monthly tariffs.  It's also unclear as to how long Vodafone's exclusivity agreement with HTC will last over the Legend; still, those who want to use the device on other networks should be able to find it unlocked.
Each smartphone runs the latest version of HTC Sense and has an AMOLED capacitive touchscreen with multitouch support: 3.2-inches and HVGA resolution on the Legend and 3.7-inches and WVGA resolution on the Desire.  We're still waiting on HTC Desire review units to come through, but are chasing HTC about it now.
[via Android Community]