T-Mobile Springboard Tablet Review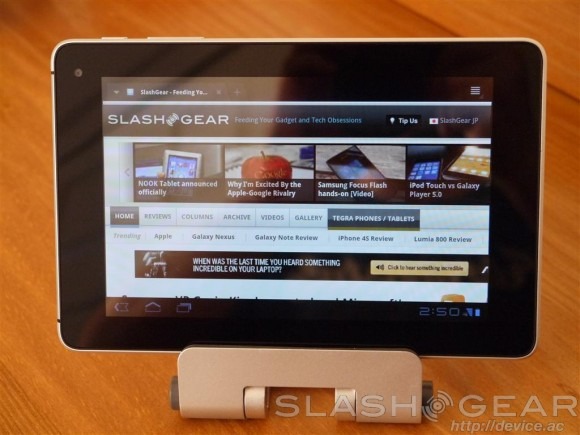 Say hello to T-Mobile's most affordable slate, the T-Mobile Springboard Tablet. This might actually be the most affordable tablet in general, not just on T-Mobile. With dual-core power, good looks and a thin design this has an opportunity to really turn some heads — not to mention its low price and tons of features. Today we'll be running through a quick review of this sleek new Android 3.2 Honeycomb tablet with T-Mobile 4G from Huawei, so enjoy all the photos and hands-on video after the break.
To get started we have a short and sweet hands-on unboxing video of the Springboard for everyone to experience so you have an understanding of this new tab. Then we'll get into the hardware, software, and that pretty 7" HD display all wrapped in aluminum.
T-Mobile Springboard hands-on video
Hardware
The actual hardware was a big surprise for me with the Springboard given the low priced nature of this tablet, that and Huawei has been a more budget friendly device company thus far. The Springboard is highly impressive with both the looks, and the overall feel. It's almost as if they took some clues from the iPhone 4 and the HTC Flyer tablet and rolled them into one, but I really like it. One thing worth noting is the display is extremely sharp and clear. The 1280 x 800 HD resolution on the smaller tablet really looks great, although the colors weren't as good as I've come to expect from what we've seen lately with Samsung and others.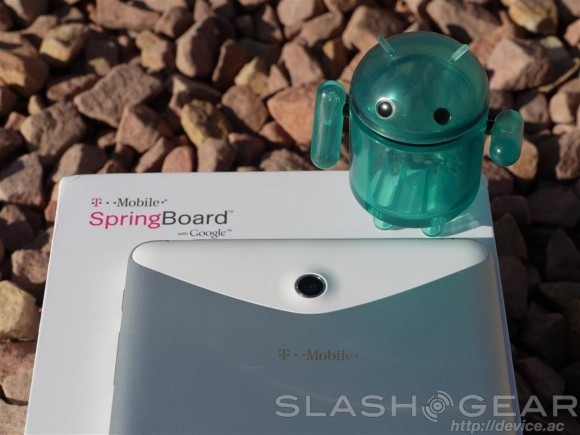 Now lets break down the hardware. The Springboard is one of the first 7" tablets to offer the full 1280 x 800 HD resolution of larger devices. All recent smaller tablets have been offered with a 1024 x 600 resolution. What that gives us is a small and portable tablet with an exceptional viewing experience. So, we have that 7" HD display — powered by a 1.2 GHz dual-core Qualcomm processor, 768MB of RAM, 16GB of internal storage and a pair of cameras. 5 megapixels around back and 1.3 on the front — all pushed by T-Mobile's 4G HSPA+ network.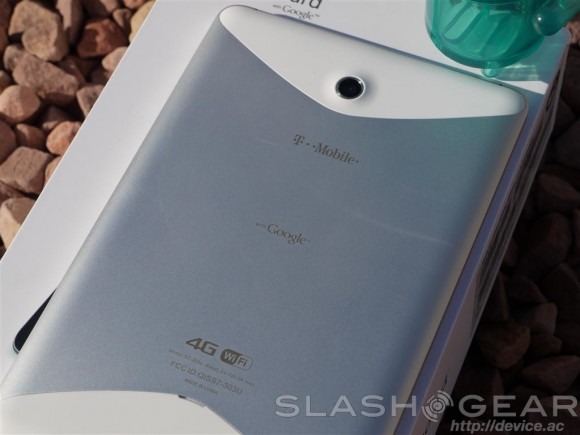 One benefit is we have a removable back with micro-SD support for an option 32GB of expanded storage, the T-Mobile 4G SIM card, and a 4,100 mAh battery. The battery is not actually assessable or removable but the large size makes battery life quite great.
Now for that iPhone 4 comment I made above. The entire device is housed in a lightweight and extremely durable brushed aluminum and the top has a nice squared design but it looks a bit too similar to the iPhone if you ask me, but that isn't necessarily a bad thing. The top, or left side when holding in landscape mode features the 3.5mm headphone jack and two stereo speaker grills.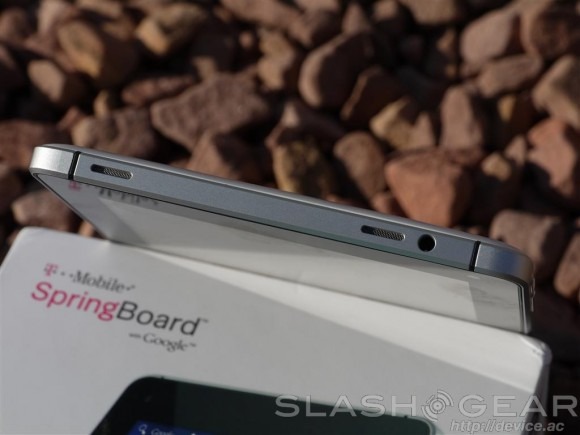 The Springboard feels excellent in the hands and during usage. It is small, thin, and lightweight coming in at .41" thin and weighing only 14 oz. The entire design is very, very sturdy and like I said above I was really impressed. The Springboard tablet has a nice and premium feel in the hands, something not all lower priced tablets can offer.
Around to the side we have the power button and the volume up/down rocker. Then neatly on bottom is the micro-USB port for syncing, micro-HDMI for outputting video and pictures, and the power charging port.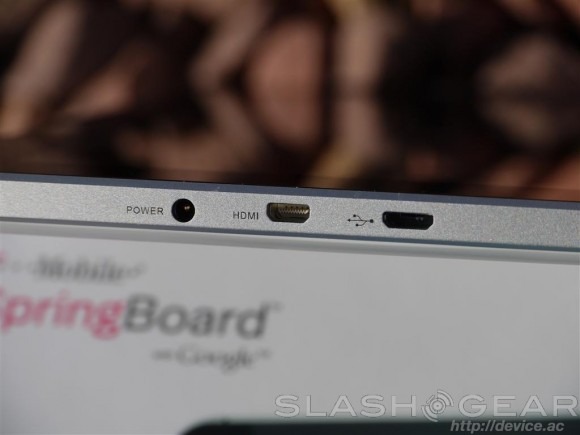 Software
Powered by Android 3.2 Honeycomb the experience is very familiar and everyone should know plenty about Honeycomb already. Sadly we don't have Android 4.0 Ice Cream Sandwich but I expect that will come at some point in this tablets bright future. We do have a decent set of bundled applications and a few noteworthy ones are BlockBuster and Netflix, I think T-Mobile expects us to be streaming plenty of content over this bad boy, so enjoy it.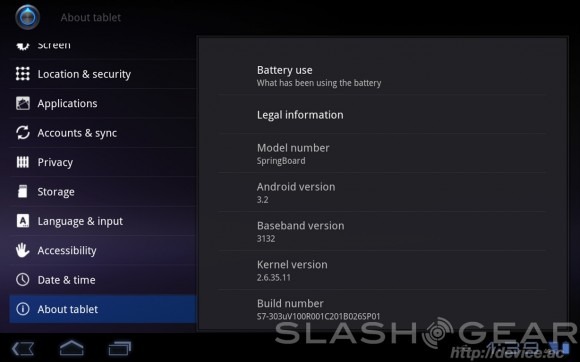 Shown in the gallery below are a few of the pre-installed applications, plus how Blockbuster looks on the awesome 7" display. The Netflix experience still needs work, but that is their fault and not the Springboards. Out of the box we have Accuweather for tablets, Blio e-reader, Blockbuster, File Manager, Lets Golf 2, NOVA 2 HD, Netflix, Lookout Mobile Security, Qello and a few other media viewers and then the usual suite of T-Mobile apps like Qik and TmoTV. One missing feature and app was Google Movies. It's not an option on the market and was no where to be found. Whether this was removed in favor of BlockBuster or Netflix remains to be seen but we've reached out to T-Mobile and will update when we hear anything. For now you wont be renting any movies from the Android Market.
Android 3.2 Honeycomb has all the recent improvements Google has made to the tablet OS and so far I've had a pretty smooth and fluid experience with the Springboard. Although adding widgets to homescreens had some lag I've not seen in other tablets, that is the only issue I've encountered — that and some apps don't seem to work quite right with the 7" display, including the pre-installed app Qello.
Benchmarks and Speedtest
What review would be complete without a few benchmarks and speedtests. The 4G HSPA+ from T-Mobile performs pretty decent in this budget tablet and I'm averaging around 4-6 Mbps download speeds and 1 Mbps uploads. Not LTE fast, but fast enough to blaze through app updates.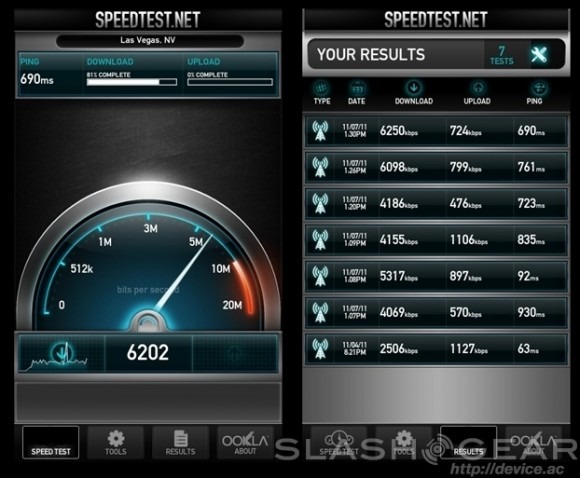 Benchmarks weren't extremely impressive and with Quadrant we score a decent 1950. The 7" Acer Iconia A100 with the slower clocked Tegra 2 scores well over 2000 compared to the faster 1.2 GHz chip in this Springboard, but the lower 768MB of RAM could also play a role here too.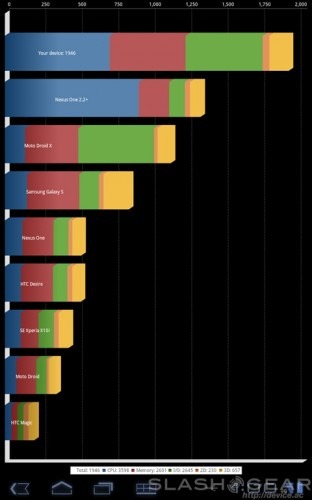 Benchmarks are only a small part of the overall user experience and day to day usage I had zero slowdowns and felt everything was snappy, quick, and performed great. Gaming was also perfect on the HD display and the dual-core processor keeps things sharp. Football Kicks (seen in screenshots) is my new favorite game and works beautifully on the Springboard.
Camera
We have a 5 megapixel camera around back with no LED flash, and 1.3 front for video chat. The camera was average at best compared to similarly spec'd smartphones but overall the quality was about what you'd expect on a budget tablet. Enough for that quick photo if needed, but I'd rather use Android smartphone if I had the option. Here are a few camera samples.
Battery Life
I've been enjoying this tablet for a little while now and while testing the battery over both 4G and Wi-Fi I used the tablet off and on for almost 3 days on the 4,100 mAh battery. Obviously continuous usage will be much lower but the occasional game on the couch, web browsing and quick email it lasted almost 3 days and died overnight before I could capture a screenshot. I'll be sure to update shortly with a screenshot so you'll have a better idea what to expect.
Wrap-Up
I've had plenty of time to toy around with this tablet and so far I'm pretty confident that most users will appreciate what it has to offer. If a larger 10" tablet isn't ideal or portable enough for you, but you need the 4G data connectivity — consider the T-Mobile Springboard. With a small and portable 7" form factor that also manages to pack plenty of punch with a dual-core processor you wont be disappointed. Compared to other 7" tablets on the market this is by far one of the best choices. At least until the Kindle Fire or Galaxy Tab 7.0 Plus arrives. We'll be reviewing both of those in the next few weeks and will be sure to compare them so you can all get a better idea of what to expect. I'm not sure who came up with the name Springboard, and the fact that it is launching now it's almost winter instead of in the spring seems a little funny if you ask me.
The T-Mobile Springboard Tablet will be available at T-Mobile.com starting November 16th for a $179 (after $50 mail in rebate) down payment, a 2-year service agreement, and apparently some monthly payments. Feel free to ask any questions in the comment section below and I'll try my best to answer them. In the mean time enjoy this one last picture (a real springboard), then the full gallery below.