T-Mobile Sony Xperia Z Review

Sony's Xperia Z has been a sleeper agent of sorts: launched to great fanfare at CES in January, overshadowed by the Galaxy S 4 and HTC One at launch, and yet grabbing upgrade sales from under Samsung's nose in Europe. Not bad for a company once written off in smartphones, and now Sony is hoping to repeat that success in the US, with a launch on T-Mobile USA. Does the waterproof Xperia Z do enough to distract from the heated US mobile market? Read on for the full SlashGear review.
Hardware
We've already reviewed the original European version of the Xperia Z, and so we'd recommend reading that beforehand. The phone borrows plenty from Sony's Japanese handsets, with a beautiful 5-inch, LCD TFT 1920 x 1080 display powered by the company's Mobile BRAVIA Engine 2, a slimline waterproof case with inset toughened glass panels, and a 13-megapixel camera with an Exmor RS Mobile sensor.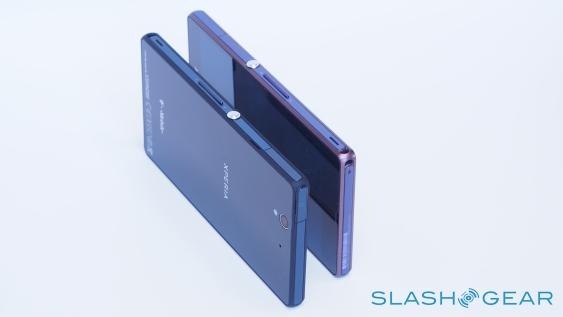 It's a discrete design compared to the HTC One and iPhone 5's metal chassis, but the plastics (actually glass-fiber polyamide) and glass feel far less like a compromise than Samsung's plastics on the Galaxy S 4. On the Xperia Z, there's the feeling that Sony actively selected them, rather than just going for what would be easiest to push off the manufacturing lines. The black version is a fingerprint and lint magnet, while the purple does a better job of hiding them, albeit while also being more distinctive overall.
Physical controls are limited to a volume rocker on the side and a strikingly oversized, somewhat over-engineered power/lock button. At first glance the attention Sony paid to the button seems somehow questionable, but it makes more and more sense the more you use the Xperia Z. For a start, it's perfectly placed: it falls under a finger no matter whether you're holding the phone in your right or left hand, and it feels tough enough to outlive Android 4.1.2 as comes preloaded (not, sadly, Android 4.2).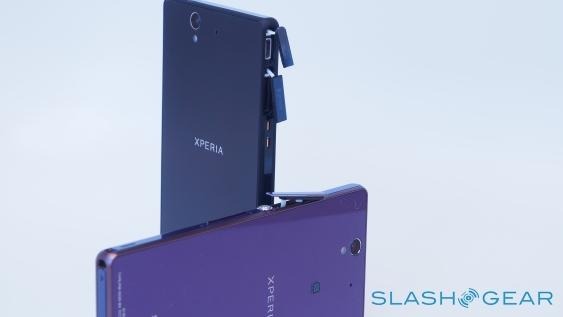 Inside the 139 x 71 x 7.9 mm, 146g chassis there's Qualcomm's 1.5GHz S4 Pro quadcore, 2GB of RAM, and 16GB of storage (11.73GB of which is user-available). Connectivity includes LTE and HSPA+ for T-Mobile USA's networks, along with quadband GSM/EDGE; there's also WiFi a/b/g/n, Bluetooth 4.0, NFC, Miracast support, and MHL-HDMI output from the microUSB port, with the right adapter. A 2-megapixel front-facing camera is above the display.
For the waterproofing to work, you'll need to make sure all the ports and flaps are closed. The Xperia Z covers its microSD, microUSB, and microSIM slots with flaps, as well as the headphone socket; we wish Sony had done what Samsung did, and use gaskets to leave the headphone jack flap-free. Once they're all tightly closed, the Xperia Z meets IP55 and IP57 standards for dust and water resistance.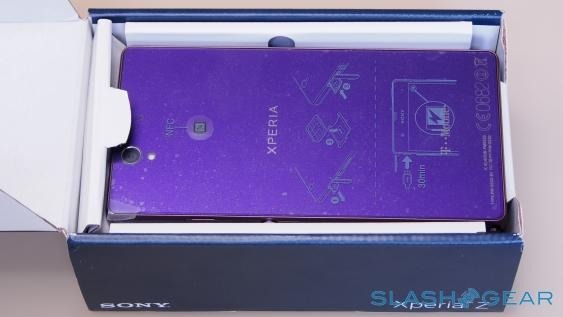 It's no gimmick, either. On paper, the Sony can handle a dip in up to 1m of water, or alternatively being sprayed with pressurized water jets, or being dumped in dust or sand. That means you can use it in the pool, at the beach, in the shower, or just reach for it without concern when the phone rings while you're washing dishes, or have your kids in the tub, or are caught out in the rain. The touchscreen gets glitchy under running water, but works properly underwater, unlike the Galaxy S4 Active.
What's interesting is how quickly you get used to it. In the pool, we were able to keep an eye on children playing while also maintaining an IM conversation on Google Hangouts, for instance. The resilience came into its own when babysitting, leaving us unconcerned if the Xperia Z got knocked off the table or dunked in a cereal bowl. The fact it does it without even the minimal extra bulk that Samsung applied to the Galaxy S4 Active is impressive.
Software and Performance
Android 4.1.2 is a minor disappointment, given how long Android 4.2 has been around, though Sony hides the older OS version under its own skin. It's a tasteful UI that has much improved in its latter iterations, reminiscent at times of Sense but without some of the bloat that HTC's interface can suffer from in places.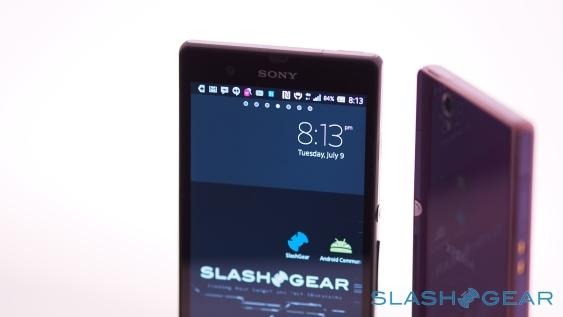 The on-screen home, back, and task-switcher keys help, fitting in with Google's own approach on the Nexus 4, and you access Google Now in the same way, with a swipe up from the home icon. Although our preference is usually for pure Android, Sony's skin does have its advantages, such as in how it can fit a lot of apps onto one screen rather than demanding you scroll around. It's a good compromise between stock and a carrier skin.
Xperia Z Walkthrough:
A 1.5GHz quadcore seemed excessive when Sony announced the Xperia Z in January, but it's no longer enough to make the new T-Mobile phone the fastest. Still, it puts in a solid – if not outstanding – showing in the benchmarks.
In Quadrant, the Xperia Z scores 8,008, while in Qualcomm's own Vellamo, it manages 2,182 in the HTML5 test and 645 in the Metal test. AnTuTu comes in with a score of 20,826, while the Sony completes the SunSpider browser test of JavaScript performance in a laggardly 2,096.3ms.
If the raw numbers prove anything, though, it's how little benchmarking actually translates to real-world performance. Although on paper the Xperia Z should be a sluggish mess in comparison to its Samsung and HTC rivals, in the hand we had no issues whatsoever with speed. In fact, the phone feels just as spritely – or at times even swifter – than the Galaxy S 4 and HTC One, and we had no complaints about performance.
Camera
Sony is proud of its 13-megapixel camera on the Xperia Z, the first Exmor R Mobile sensor to show up on one of the company's smartphones. We've seen a few different approaches to mobile photography in the past six months – including oversized pixels at lower overall resolutions, balancing more average megapixel counts with physical stabilization, and chasing an ever-increasing top end of resolution – and Sony ostensibly falls into the latter category.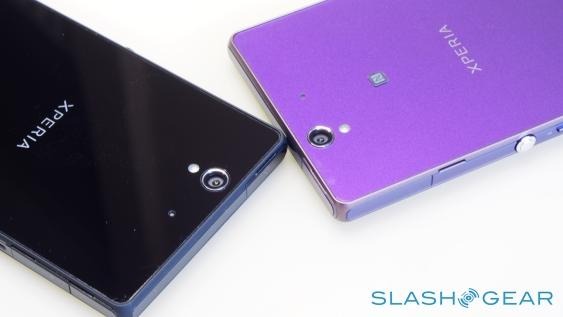 In our general experience with high-resolution phone cameras, they've been great with detail when lighting conditions are ideal, but quickly suffer when it gets darker. Happily, the Xperia Z doesn't fall into the same trap.
The camera app itself feels more like a Sony Cyber-shot than a phone's app, with no less than 36 modes – including sports, portrait, and HDR – which can be manually selected or left up to Superior Auto to pick between. There's also panorama support and the choice of up to 12-megapixel 4:3 aspect images or 9-megapixel 16:9 images; you can also fire off 1-megapixel stills while simultaneously recording up to Full HD video.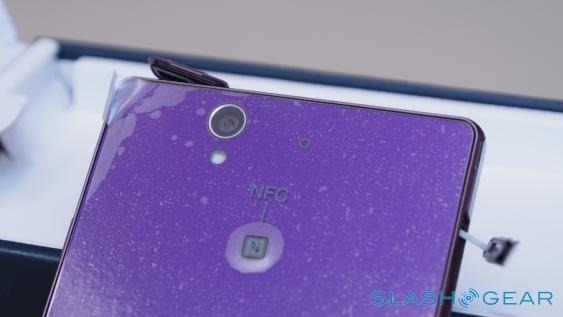 The results are impressive. Superior Auto actually does a surprisingly good job of picking the same mode for each scene as we'd choose manually, and the result is clear and accurate colors, good contrast, and minimal noise. Even in low-light situations, where phones like the Galaxy S 4 began to stumble, noise is kept down and the quality is admirable.
Video, too, looks great, especially when you mix the Xperia Z with water. Colors and contrast are again accurate, though a little muted than, say, Samsung's defaults. The HDR mode – which works for both stills and video – leans more toward boosting the visibility of darker areas, rather than playing up the color saturation. Both of the following demo videos were filmed on the Xperia Z:
Phone and Battery
Voice call performance on T-Mobile's network was solid, and we didn't experience any dropped calls. The carrier's gradually spreading LTE network is also worth hunting out: we saw peak downloads of over 53 Mbps and uploads of over 18 Mbps during our testing. Still, you're more likely to encounter HSPA+ for the moment, while T-Mobile continues to roll out LTE.
Below: our speed test ran especially quick at the NYC special event for this device and T-Mobile's new collection of 4G LTE announcements.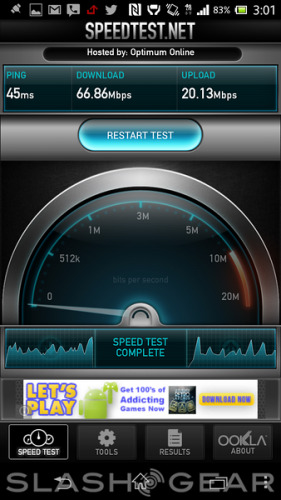 Battery life has been good, with the Xperia Z lasting for more than 17hrs of mixed use, with push-email turned on, around an hour of voice calls, photography, multimedia use – including streaming music for an hour over Bluetooth – and internet access (though not with the screen turned on for that entire period). Sony also includes its Battery STAMINA mode, which selectively powers off background data use from most apps while the phone is in standby, only allowing those you've whitelisted to go online.
For the most part, it works well, though we did have issues with the length of time it estimated it would extend the Xperia Z's power for on occasion. Of course, you can always turn it off.
Wrap-Up
The Xperia Z is a surprise. From our original review, we knew it was a solid performer, but even with the Galaxy S 4 and the HTC One on the scene, it's impressive how well it holds up to – and, in some cases, out-performs – its newer rivals. In fact, with all three flagships having shown their best side, we're leaning toward judging the Xperia Z as the best all-round Android phone of the moment.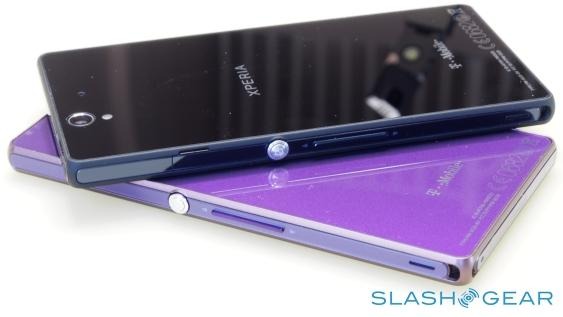 At $99.99 down and then $20 per month – on top of service charges – for the duration of a two-year agreement, the Xperia Z is well priced, too. Great battery life, a highly capable camera, usable durability without the normal addition of heft, and sophisticated, discrete styling add up to a smartphone that rightly deserves the attention Samsung and HTC have been getting.