T-Mobile Roadmap releases Windows Phone 8X on November 14th

Just incase you didn't know that the Windows Phone 8X was coming to T-Mobile, an alledged roadmap of the carrier's upcoming releases has made it clear. This roadmap from TmoNews also lists the LG Optimus L9 Android device, a Samsung Toba (possibly a tablet we've not heard of before), and a Dell BMW – this very likely being a laptop ready for action with Windows 8, starting up T-Mobile's laptop efforts again like AT&T is doing with their set of notebook releases. This list goes on as well, showing off a color refresh for the Galaxy S II and a BlackBerry Armstrong device.
The BlackBerry Armstrong has been tipped as being one in the same with the BlackBerry Bold Touch 9900, a device that mixes touchscreen action with a full QWERTY keyboard. There's a set of new colors for the Galaxy S II – strangely enough – though we must assume that this is mis-typed and means the Galaxy S III which has been getting several colored cases to carriers across the USA recently.
UPDATE: The Samsung Galaxy S II Color is a device in and of itself, bringing on what appears to be specifications replicating the Galaxy S II's original release on T-Mobile. The BlackBerry device has been confirmed (so to speak, leaked) as the BlackBerry Curve 9315 with a 2.44inch 320 x 240 QVGA display, 1450mAh battery, Blackberry 7.1, 3.2 megapixel camera on the back. The images below also include the Huawei Summit, more than likely the most disappointing phone in the series. The BlackBerry image comes from @evleaks as well.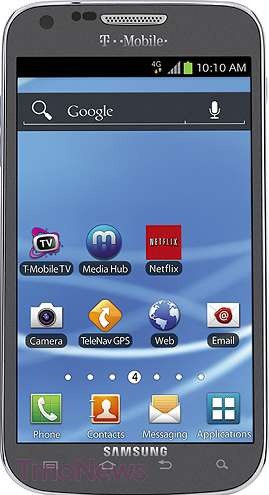 There's also a Huawei Summit which will likely be either a smartphone or a mobile hotspot – we're guessing the first since Huawei has been coming on strong with a variety of mid-market smartphones this summer. The Samsung Toba will likely be another data-connected version of a device they've got out in wi-fi only at the moment, and the HTC Windows Phone 8X will more than likely be extremely similar to its international edition.
What we're seeing here is a set of release dats that places each of the devices either in late October or early November, with the Windows Phone 8X hitting on the 14th of November, the Samsung Toba coming on the 7th of November, and the Optimus L9 coming on the 31st of October. The Samsung Galaxy S II or III with refreshed colors will be coming on the 29th of October, the BlackBerry device on the 24th, and the Dell BMW will be out on the 14th of November.