T-Mobile prices up Samsung Gear S with special wearable plan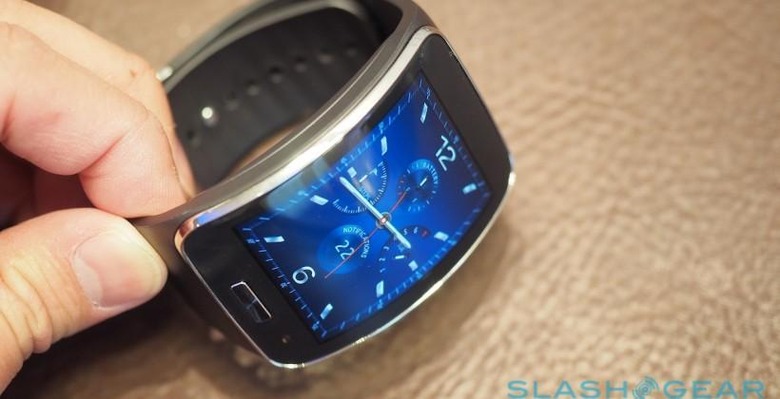 With built-in 3G and a curved AMOLED touchscreen, we weren't quite sure how much the Samsung Gear S smartwatch was going to cost, but T-Mobile USA has put those questions to bed with availability news for the connected wearable. Headed to stores on November 9th – and up for pre-registration today – the Gear S will also get a new, low-cost data plan specially designed for information-sipping gadgets. Priced at $5 per month, the plan includes unlimited talk, text, and data (up to 500MB of which is at full-speed), and paves the way for other connected devices that want access to carriers' mobile networks.
So far, wearables have been for the most part reliant on a nearby 3G/4G-enabled device, most commonly a smartphone. Samsung's other smartwatches, for instance, use Bluetooth to pair with a Samsung smartphone and thus get online.
However, the Gear S has its own 3G connectivity, and can support basic phone-style functionality such as making and receiving calls, sending and receiving texts, and going online with no companion device. It also uses that data for things like HERE Maps and tracking location on runs and cycling in fitness apps.
There's also unlimited music streaming through select services, as well as roaming data in over 120 countries with T-Mobile's Simple Global plan.
As for the Gear S hardware itself, T-Mobile USA will be offering it on its payment plan. It'll be priced at $14.58 for 24 months for those who want to spread the cost out, or $349.92 if you'd rather pay upfront.
Just as we found in our hands-on with the Gear S back at its launch in September, it's hardly a small smartwatch but it's certainly functional. The screen is eye-catching with its curved shape, not to mention easy to use.
What remains to be seen is whether sufficient people want to get online in that way, though the Gear S is likely to merely be a gateway to a new breed of cellularly-equipped wearables.
SOURCE T-Mobile