T-Mobile: Our LTE is faster, and AT&T needs to stop saying otherwise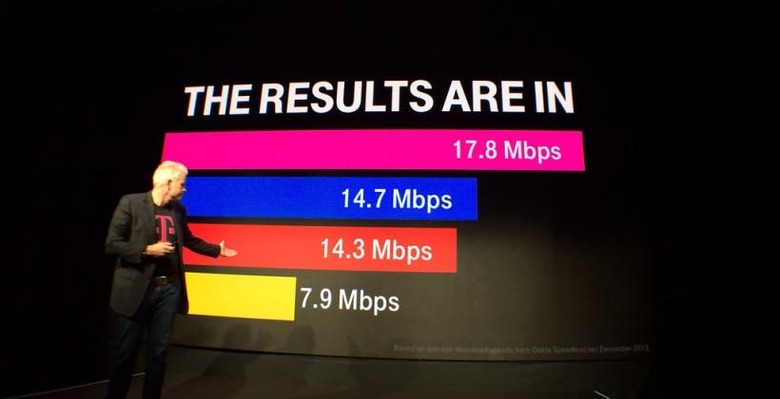 T-Mobile has been talking Wideband LTE at CES, with early trials showing 147 Mbps downloads, while real-time tests of the carrier's existing 4G network are already out-performing AT&T, Verizon, and Sprint. The carrier is using Speedtest.net results for a more timely indication of how T-Mobile's 4G compares to that of rivals. Meanwhile CEO John Legere ramped up his war with AT&T with the promise of a Cease & Desist letter.
In December, T-Mobile's network was on average faster than any of the other big three in the US. However, the carrier was also able to show data collected from just yesterday, January 7th; in the chart below, you can see how each of them held up, with T-Mobile managing 16.8 Mbps versus Verizon in second place with 15.1 Mbps.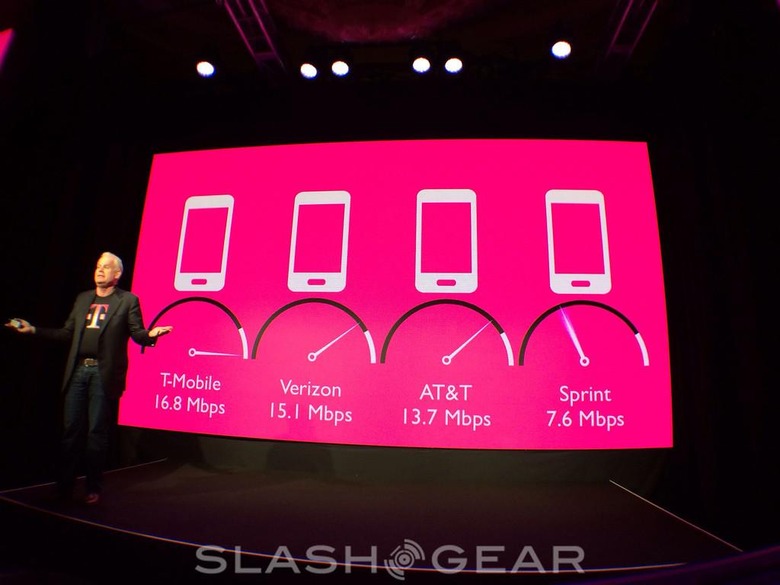 That speed is still set to increase as T-Mobile rolls out Wideband LTE. Other carriers are changing their network architecture, of course, but T-Mobile points out that many existing devices aren't compatible with those changes.
In contrast, T-Mobile already has Wideband LTE-compatible devices out on the market, the carrier says, which means that subscribers will be able to continue to use the same phones and tablets they already own when the service comes to them.
Data has become a big battleground in advertising over the past eighteen months, with fierce competition to be able to brand a network the quickest. Legere said that he would be sending a Cease & Desist letter to AT&T to get the carrier to stop saying that it had the fastest network. "Do you know how many billboards they're going to have to take down?" he asked, laughing. "I may take a video crew down there."