T-Mobile Nokia C7 Astound Unboxing and Hands-On [With Symbian^3!]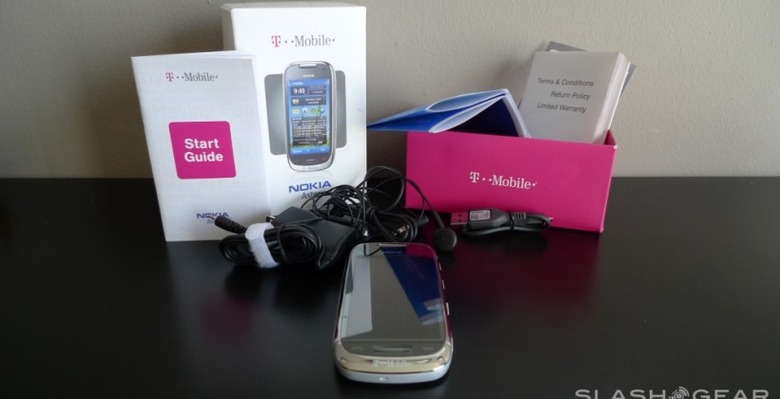 We had what seemed like only a few moments with this shiny little pebble back at CTIA 2011, and now we've got it for an extended period, all to ourselves! This is the Nokia C7 Astound, a Symbian^3 device that will be carried by T-Mobile exclusively in the very near future (April 6th for $79.99 with a 2-year contract,) has a 3.5-inch AMOLED touchscreen with a physical home, call, and end-call buttons, metal chassis, and is supported by T-Mobile's 4G HSPA+ network for data. Let us inbox this little treasure.First Impressions
This phone is what I at first felt was a blast from the past. It seemed almost ancient to be to be holding a phone without a basically square casing and screen smaller than four inches. Then I remembered that I'd just been handling the LG Optimus V, an Android phone that had essentially the SAME sized screen, only fatter and shorter. Then it came to me – that big long button in the center on the bottom! It was a presence I've not felt since I was a young Jedi back before the days of Android, Windows Phone 7, and iOS. Truly I was in the presence of something taken from a far-off time. Right? I mean, wasn't this an old phone?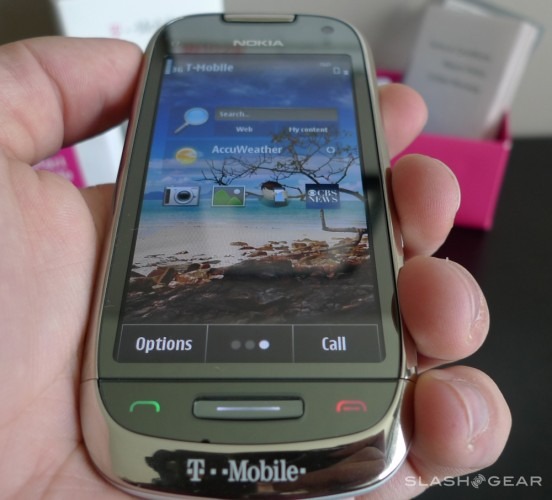 As I held and handled the phone for minutes and then hours, I came to realize that this was not only a phone sporting the newest version of Nokia's Symbian OS, this was a phone with advanced specs as well! What a surprise it was to handle a phone that wasn't inside one of the bigger mobile OS families but had a power inside it worthy of contention!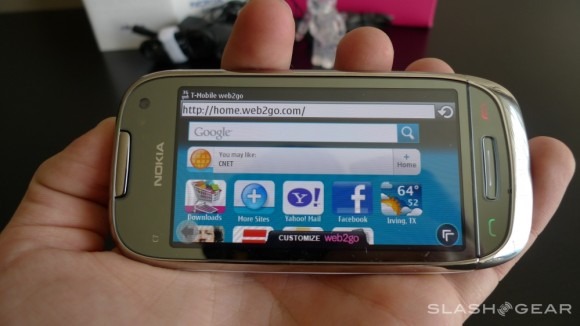 Of course I'm not ignorant to the fact that Symbian is an elder sportsman when it comes to being a "smartphone," indeed forging the way for these other amateurs in many ways. As I explored the system, I looked and I used, I found that this was a phone that I'd even consider using, even whilst considering the plethora of options from other mobile OS creators and manufacturers of devices.
[vms 3be78efb0d05ae420158]
A Tough Little Cookie
There's no way getting around the fact that this phone is small, and there's no way getting around the fact that this phone is carrying an OS that appears to more than likely be heading the way of the wooly mammoth – but like the wooly mammoth, there's always a way to resurrect. Will our angry gods of mobile OS judgement intervene?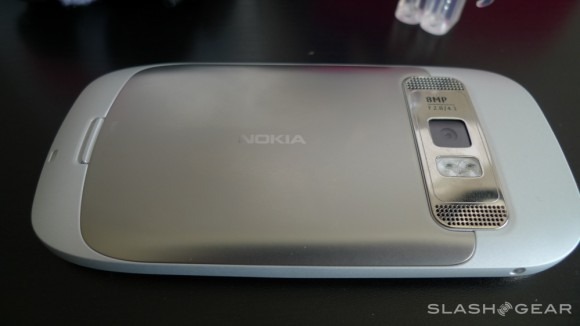 Or will T-Mobile's Nokia C7 Astound keep Symbian alive long enough to necessitate her back into the spotlight?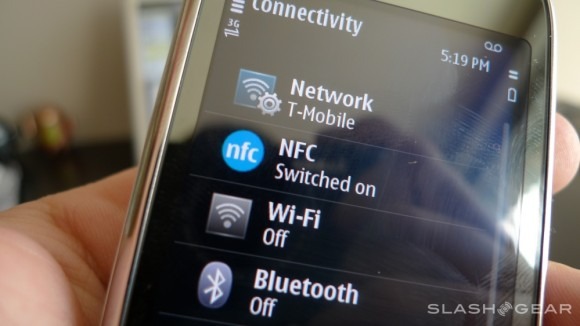 And what about it's NFC capabilities? Would a manufacturer really take the time to add such a futuristic functionality into a phone that was destined to die only a year after it's released? We'll give this phone the full rundown and see what we can see – soon!