T-Mobile is trading stock for new customers - with these rules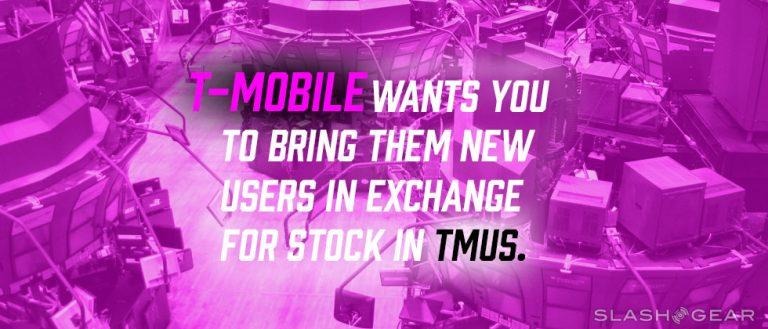 Today T-Mobile USA has revealed a plan to give users single stocks in exchange for bringing new customers into the fold. In the prospectus for this plan, T-Mobile suggests that these stocks can be given to T-Mobile customers "who are individuals" (not businesses) for one of three different reasons. Stocks can be given for being customers, becoming customers, or referring new customers. It seems relatively simple. T-Mobile USA also suggests that redemptions of "Stock Up Rewards" will be "fulfulfilled through open market purchases of Shares by LOYAL3 Securities, Inc. ("LOYAL3 Securities")."
If you participate in this program, you'll get one or more common stock from T-Mobile for each person you get to sign up for a T-Mobile USA mobile phone plan. Sort of.
You need to get someone to sign up for an active postpaid consumer account – after June 6th, 2016 (the day this article was first posted.) Users have different redemption periods if they had a friend sign up between May 29th and June 6th.
ALSO TAP IN: T-Mobile ushers in age of Data Only devices
Each person you get signed up (as a new active postpaid consumer account with at least one line of voice service), will give you one Stock Up Reward.
One "Stock Up Reward" can be redeemed for one T-Mobile USA common stock. If you do not redeem your rewards within 15 days of receipt or said reward will expire, and you'll get nothing.
You can potentially earn/attain up to 100 Shares through a single year.
Buying and selling is done through "LOYAL3". If you attain stocks through this program, you can sell stock for no fee through LOYAL3 for up to 12 months after first attaining said stock.
This program – as it stands today – exists through December 31st, 2016.
T-Mobile USA's prospective for this plan suggests that "The Plan and redemptions of Stock Up Rewards may be suspended, modified, terminated or extended at any time. The terms and conditions of the Plan may be changed, limited, modified or eliminated at any time."
As of June 3rd, 2016, closing price of T-Mobile USA stock (TMUS) was $43.63 per share – when this article is being written (June 6th, 2016) TMUS stock is down by 0.66%, currently at $43.34 USD.
Your stock will be handled by LOYAL3 unless you want it/them to transfer to a different stock-holding group. Rules on this situation appear in the "Risk Factors" section of The Plan prospectus.
"Should you revoke your consent to electronic delivery to receive paper copies of these communications, your revocation will constitute a request to liquidate your Shares held in your LOYAL3 Account on your behalf, unless you provide instructions for a transfer of your Shares from LOYAL3 Securities to another U.S. financial institution that makes those communications available through non-electronic means"
ALSO: If you find yourself in possession of one of these stocks before the close of business on March 27th, 2017, you'll be able to purchase "one one- thousandth of a share of Series A Junior Preferred Stock for a purchase price of $66.67" – but only if you do so before the close of business on March 27th.