T-Mobile HTC HD2 Price Leaks, Plus CLIQ XT And Nokia Nuron Details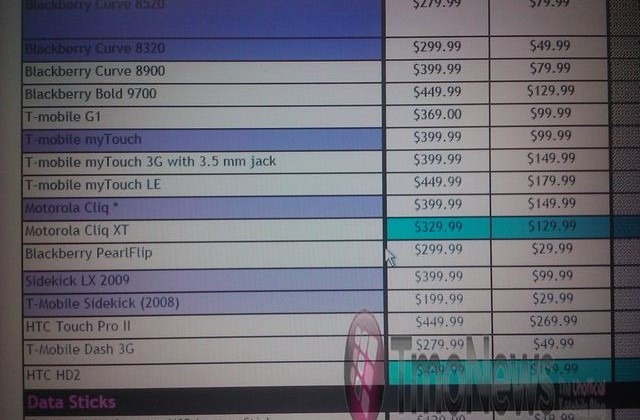 While we've pretty much known that T-Mobile plan to launch the HTC HD2 in the US sometime this month, what we haven't been aware of is what sort of pricing we should expect.  Thanks to a nifty leak from Tmonews, however, we now know figures for not only the HD2 but the CLIQ XT and the Nokia Nuron (aka the ExpressMusic 5230).  Best news?  The HD2 isn't as expensive as we feared it might be.
In fact, the HD2 comes in at $199.99 after an (unspecified) rebate, presuming you're willing to sign up to a two year agreement.  Contract-free, the T-Mobile HD2 is $449.99.  Opt for a data plan and there's no need for a rebate, either, which is a nice touch.
As for the Motorola CLIQ XT (aka the QUENCH), that will apparently be $129.99 with a new contract or $329.99 without (again, no rebate required if you take out a data plan).  Finally, the Nokia Nuron is $69.99 with contract or $179.99 without.
Of course, the recent news over the potential – or lack of it – for official HTC HD2 Windows Phone 7 upgrades may put a dampener on enthusiasm for the smartphone.  That's a shame; we certainly liked it when we reviewed it last year, but it seems the delay in rolling out the US-spec version may have undermined sales now that Windows Phone 7 is on the horizon.