Motorola QUENCH/CLIQ XT hands-on [Video]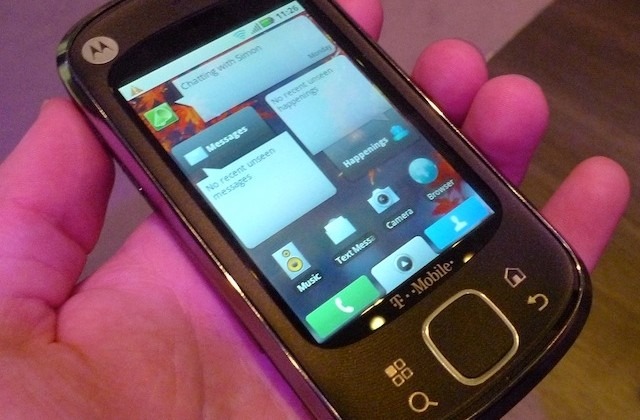 Motorola weren't first out of the gate with Android, but they haven't let that stop them.  The company are now up to their eight handset running the open-source OS, with availability spread across North America, Europe and Asia, and next in line is the Motorola QUENCH with MOTOBLUR.  Set to hit T-Mobile USA as the Motorola CLIQ XT, we grabbed some hands-on time at MWC 2010 this week.
Video demo after the cut
In the hand the smartphone feels a lot like a slimmer CLIQ, and the 3.1-inch capacitive touchscreen looks pretty much the same as that handset too.  MOTOBLUR – which pulls in social networking feeds – is onboard, and Motorola told us they're continuing to roll out updates to the services with which you can integrate; so far they're doing that on region by region basis.  Of course, it also means you're stuck with Android OS 1.5, which seems more than a little old-fashioned these days.  An update is in the works, apparently, but there's no public timescale for its release.
Rather than a mechanical D-pad, the QUENCH has a touchpad square, which can be clicked to select; it works well, though of course most of the time you'll probably be reaching up to tap and drag the touchscreen.  It's a lightweight device, though we wish there was a little more interest to the textured back panel.
Motorola have also done a deal with alternative keyboard provider Swype, and the QUENCH/CLIQ XT will come preloaded with the nifty 'board.  T-Mobile USA customers will be able to pick up the CLIQ XT next month, while broader global availability will begin this quarter; no word on pricing as yet.
Motorola QUENCH/CLIQ XT demo: