T-Mobile G2 Breaks Cover: Still HTC, No Keyboard, Due Mid-May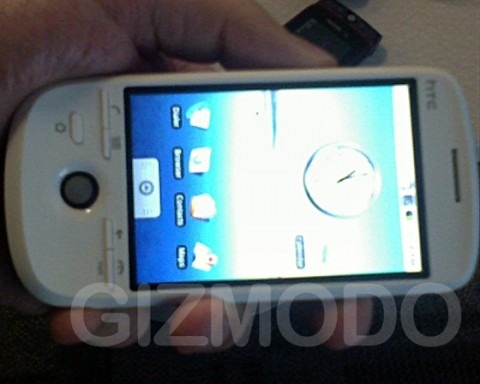 T-Mobile's next Android-powered smartphone has apparently emerged, in the shape of the T-Mobile G2.  Still made by HTC, the handset differs significantly from the first-generation Android device in that it has no hardware QWERTY keyboard.  Instead, the casing is much thinner and has a high-gloss white finish.
Maintained from the G1 are the large touchscreen and trackball; however the front-panel buttons have changed shape and are much smaller.  There's also a 3.2-megapixel camera, though it's not known whether it offers autofocus and there does not appear to be any sort of flash. 
Since there's no no hardware keyboard, HTC have presumably loaded on a software version, something the G1 lacks as standard.  According to the original tipster, the G2 has an interface "very similar" to the G1, and will go on sale in mid-May.
It's now clear that the T-Mobile G2 was among the renders of HTC's 2009 smartphone range, that leaked earlier this month, where it was known as the Sapphire 2.0; black versions of the device were also seen.  Another, physically identical device was listed as the Sapphire 1.5, not for carrier T-Mobile; it's unclear where this handset is headed.
[via AndroidCommunity]