T-Mobile-exclusive Nokia Lumia 521 arrives in May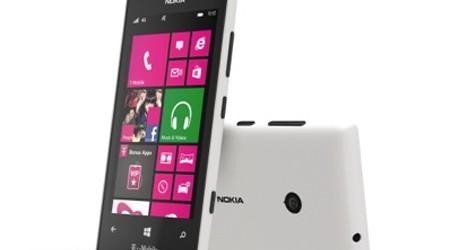 T-Mobile has announced that it will be partnering up with Nokia to bring the Nokia Lumia 521 to the United States around May. It's aimed at the entry-level market, meaning it will most likely be extremely affordable for those who want to take advantage of T-Mobile's brand new, contract-free value plans and its monthly phone payment options. While T-Mobile hasn't released the pricing for the Nokia Lumia 521, we imagine the monthly payments to be very cheap.
So what kind of specs can you expect with the Nokia Lumia 521? Well it has a 4-inch 800 x 480 resolution super sensitive display, meaning it can still read your touch inputs even if you're wearing gloves. It has a 1GHz dual-core procesor, 8GB of internal storage with a microSD card slot for expandable storage, 512MB RAM, 5MP rear-facing camera capable of shooting 720p video, and of course it'll run on the Windows Phone 8 OS.
We're still unsure what colors the Nokia Lumia 521 will come in, but hopefully we get the yellow, blue, white, and red color options we saw at Mobile World Congress this year. A few downsides to this device include its lack of 4G-LTE capabilities, as well as its lack of flash on its rear-facing camera. Nonetheless, for a low-priced device, it still performs really well on the Windows Phone 8 platform.
T-Mobile states that it will release pricing for the device at a later date, however, at Mobile World Congress, we learned that the device will be available in the United States for under $200 off contract, meaning you could be seeing a $0 required down payment for the device, and monthly payments of $8-$9 for the device for 24 months. T-Mobile will offer the device at Walmart, Microsoft, and T-Mobile retail stores. Be sure to check out our hands-on review of the Nokia Lumia 520 here.