After trying T-Mobile's new 5G and OnePlus' 7T Pro 5G McLaren I'm excited and frustrated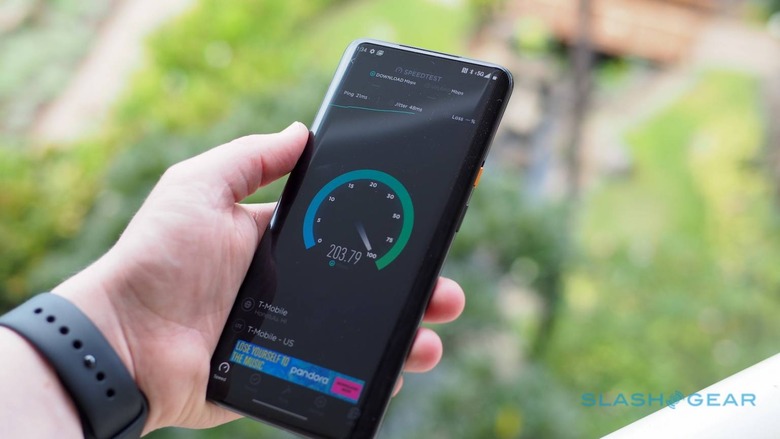 I've been testing out T-Mobile's new 600MHz 5G network on the OnePlus 7T Pro 5G McLaren, and if you thought 5G was confusing now, get ready for a whole other level of head-scratching. 600MHz – aka low-band – 5G has a huge advantage in that deployment is relatively straightforward, but as my experience this week with both phone and network has found, not all 5G is created equal.
Supercar name, but not supercar speed
With the McLaren brand on the back, you'd expect the OnePlus 7T Pro 5G McLaren's performance to be supercar-speedy. The reality is, however, that 600MHz 5G simply isn't going to deliver the sort of download and upload rates that we've been hearing bandied about in connection with 5G for the past few years.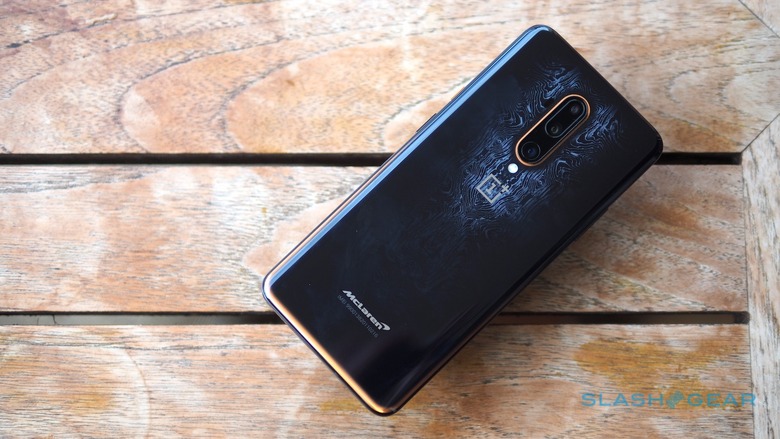 It comes down to the width of the pipe that T-Mobile has to play with. The 600MHz band is easy to deploy and enjoys long range and decent building penetration, but it just doesn't have the same capacity as, say, the higher frequencies other carriers (and indeed T-Mobile itself) are rolling out. It means you see the 5G logo a lot more frequently than you do with other 5G phones from Verizon, say, but the gains over 4G LTE are more conservative.
T-Mobile says a roughly 20-percent boost from that is reasonable to expect, and that fits in with my own testing. Out in Maui it's certainly been a best-case-scenario for 600MHz 5G: the antennas are on the roof of the hotel where Qualcomm is holding its Snapdragon Summit, and there's only a relatively small handful of people testing it out. As such, though I've been running speed tests all week, it bears mentioning that your experience will probably differ as more of the public start to log on.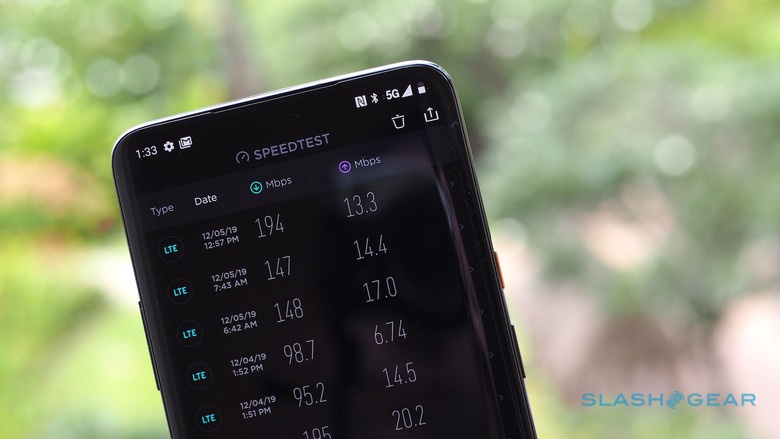 Typically, I've been seeing download rates around the 150 Mbps mark through Speedtest.net, though with extremes as low as 69 Mbps and as high as 260 Mbps. Uploads clock in at a fraction of that, averaging at around 13 Mbps.
In comparison, an iPhone 11 Pro Max on T-Mobile's LTE network has been averaging around 90 Mbps downloads and 11 Mbps uploads in the same conditions. Again, take all of this with a big grain of salt: Apple isn't using Qualcomm's modems, at least not until the 2020 iPhone, and use of T-Mobile's LTE network is going to be very different.
5G, but not everywhere, and not for everything
As anybody who has stared in growing fury at their phone, wondering why what's apparently a perfectly solid connection can't pull down their email or load Twitter, will agree, a roughly 20-percent boost is better than nothing. Unfortunately there are some other teething pains to consider. The biggest of those, I think, is tethering.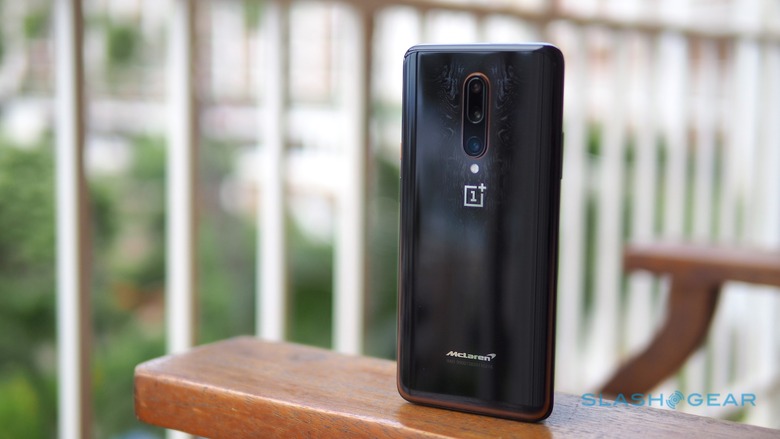 Being able to use 5G as a backup for when your home or office internet goes offline – or even to replace it altogether – has long been one of the selling points of fifth-generation networks. Problem is, you can't actually use mobile hotspot on T-Mobile's 5G 600MHz network right now. That, the carrier says, is "due to initial 5G chipset limitations" and it means that trying to use your OnePlus 7T Pro 5G McLaren as a hotspot will top out at LTE.
The good news is that T-Mobile says it expects a software update to address that and unlock 5G mobile hotspot. Unfortunately that update isn't expected until sometime in 2020, with no more specific window than that. For now, don't expect a speed boost if you're sharing that connection.
5G is going to stay confusing for some time to come
Two characters cover a lot of wireless technology, and it's fair to say that 5G is going to remain a confusing prospect for consumers for a long while yet. As I said, T-Mobile's low-band 5G has the advantage of relative ubiquity: more than 200 million people instantly covered when the carrier opens it up, according to its official figures. It's also proved remarkably stable even when I've been deep inside a convention center and hotel.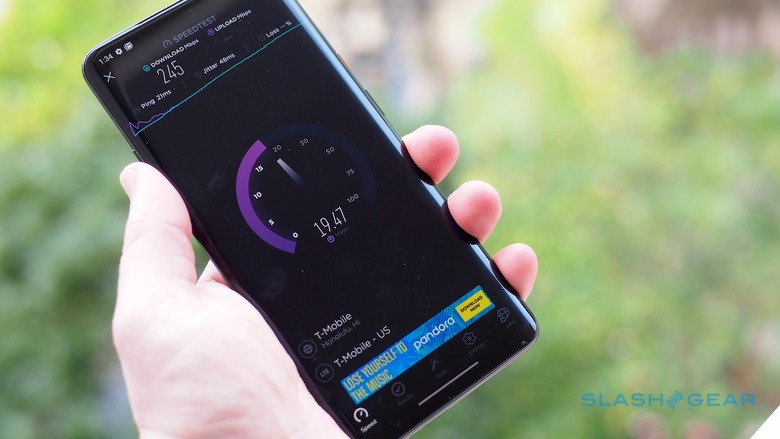 Millimeter-wave, in contrast, can be much faster but much more finicky. Find yourself with a compatible phone in one of Verizon's patches of service, and you can be looking at rates several times what's possible with low-band 5G. Problem is, those patches are few and far between.
T-Mobile's array of 5G options isn't going to make the situation any simpler, at least not for a while yet. The OnePlus 7T Pro 5G McLaren – and the Samsung Galaxy Note 10+ 5G, T-Mobile's second device with 600MHz 5G support – are ready with 2.5GHz band support for Sprint 5G, assuming the merger gets the green-light to go ahead, but they don't have millimeter-wave support.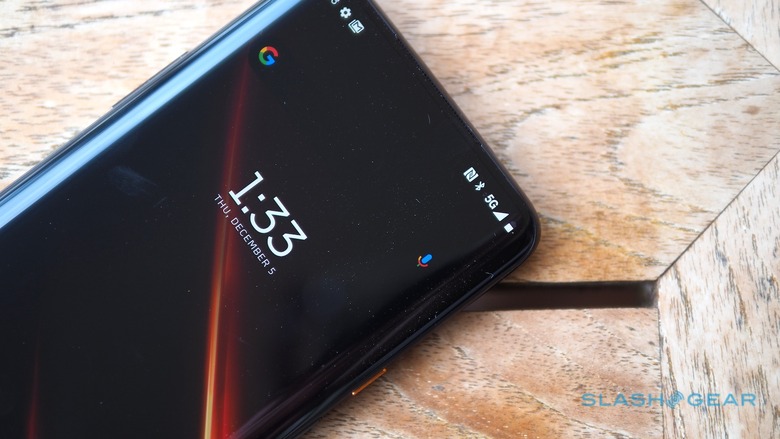 Meanwhile the T-Mobile Galaxy S10 5G which launched earlier in the year does have mmWave 5G, so it can use the small amount of millimeter-wave service the carrier has in six US cities. What that phone doesn't have, though, is 600MHz 5G support.
It's confusing, and it's not going to get any better until devices that support all three arrive on store shelves. T-Mobile says that won't happen until sometime next year.
The OnePlus 7T Pro 5G McLaren has pros and cons
It leaves the OnePlus 7T Pro 5G McLaren fighting an uphill battle: you're buying into a brand new technology, but one which already has replacement in its near future. I'm finding it hard to recommend anybody but the most eager early-adopter should consider it, since it's clear T-Mobile's plan for 5G spans low-, medium-, and high-band. Right now this OnePlus checks off only two of the three boxes, and demands $900 for the privilege.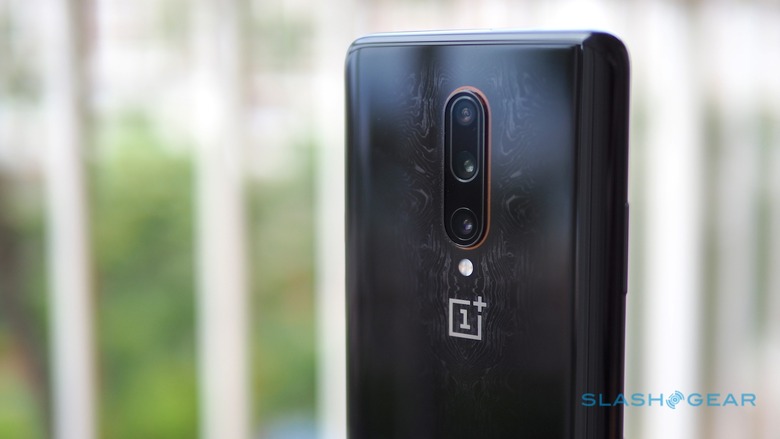 That's a shame, because I do like the phone. The orange accents along with what looks like metallic wood patterning on the back are subtle enough that you probably won't find them offensive if you don't outright like them, and you're getting a great display, capable cameras, and generally speedy performance. You don't pay any extra for data over the 600MHz 5G band, either. We were disappointed when it was confirmed that the regular 7T Pro wouldn't be coming officially to the US, but this makes up for it.
In the end, though, I'm left wondering how soon we'll get to a place where 5G is not only ubiquitous but fully understood. Even people buried in the wireless industry can be left scratching their heads at the differences between the various bands and the technologies used to deliver the numerous types of 5G we're seeing deployed. For consumers, while it may say "5G" in the status bar, there's still no guarantee that it'll mean the super-fast data we've long been told to expect.