Synology DiskStation DS1511+ Packs 15TB (Or 45TB With Booster Drives)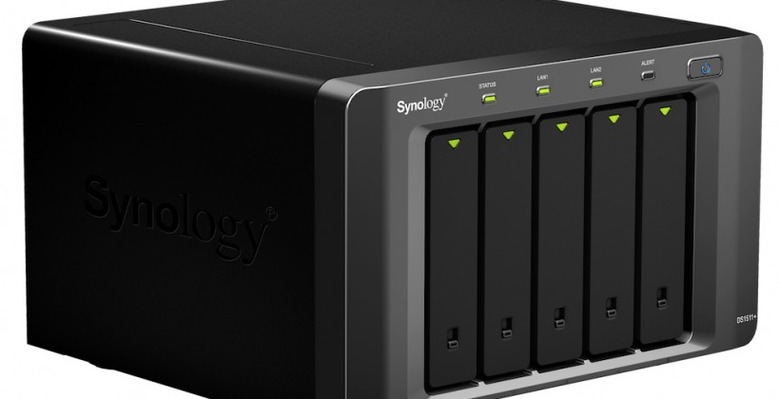 Synology has outed its latest NAS, and the DiskStation DS1511+ certainly doesn't skimp on storage space. The five-bay box can store up to 15TB alone, but will also link up with Synology's DX510 expansion units for a total of 45TB. Meanwhile data is shuffled in and out fast, with Synology using link aggregation for up to 197MB/s read rates and 165MB/s write when in RAID 5 configuration.
Each of the drive bays are hot-swappable, and there are twin gigabit LAN ports for hooking up to your network. Keeping things churning are a 1.8GHz dual-core processor with 1GB of RAM (3GB supported), and there are four USB 2.0 ports and two eSATA for hooking up external drives or using the DS1511+ for printer sharing duties.
Despite the storage potential, Synology reckons the DS1511+ only gobbles down 68W in use, and since it runs the same great software as we reviewed on the Synology DiskStation DS211, you can set it up as everything from a basic network drive to a media server, mail server, FTP store, IP camera station and more. It's available now, priced at around $870 for the drive-free DS1511+ unit itself, or in various pre-configured forms.
Press Release:
Synology® Unveils High-Performance DiskStation DS1511+ with Greater Scalability and Full-Featured NAS Solution for SMB Users

Taipei, Taiwan—Dec 21, 2010—Synology® Inc. today unveiled DiskStation DS1511+, a high-performance NAS server that offers greater scalability, significant storage capacity and full-featured business NAS solutions for SMB users.

As information data increases exponentially by the minute, the performance of data transmission becomes a predominant requirement for setting up a centralized file server in a business environment. "With link aggregation, the DS1511+ surpasses its predecessor to deliver an astonishing 197 MB/sec in reading speed under RAID 5 configuration in a Windows® environment, and 165 MB/sec in writing," said Chad Chiang, the product manager of Synology Inc. The 2 LAN structure with failover support coupled with hot-swappable drives thus ensure high data availability.

The DS1511+ provides space for five hard drives – with a single drive reaching a 3TB capacity – that can be scaled up to a total of 15 drives for a maximum of 45TB by connecting with two Synology DX510 expansion units. The default 1GB RAM can also be upgraded to 3GB to enhance work process performance. Running on a 1.8GHz dual-core processor, the DS1511+ only consumes 68 watts of power during operation, while the multiples scheduled on/off, wake on LAN/WAN and hard drive hibernation facilitate energy saving and low operating cost. The reliability of DS1511+ is solidified by Synology's 3-year limited warranty.

Blessed by the Synology DiskStation Manager 3.0 (DSM 3.0) operation system, the DS1511+ can fit to a business environment easily. Windows ACL support allows for customized privilege setup on files and folders through existing Windows user interface. Moreover, user account can be managed more efficiently and productively by utilizing the Windows ADS integration to reduce burden of IT administration.

For anyone seeking an alternative of Storage-Area-Network (SAN), the affordable and cost-effective iSCSI support in DSM 3.0 allows SMB users to consolidate storage into data center storage arrays while providing hosts with the illusion of locally-attached disks. The DS1511+ also serves as a seamless storage solution for virtualization servers, such as VMware® vSphereTM, Microsoft Hyper-VTM, and Citrix® XenServerTM.

The Synology DS1511+ has many features that enhance the effectiveness of resource sharing. The comprehensive network protocol support assures seamless file sharing across Windows, Mac® and Linux platforms, while file access on the Internet is simplified by the encrypted FTP server and the web-based file browser. In terms of security protection, the presence of HTTPS, firewall, IP auto-block and AES 256-bit encryption engine provides users with a peace-of-mind during file sharing.

Availability

The Synology DS1511+ is now shipping globally.