Synology DiskStation DS211 Review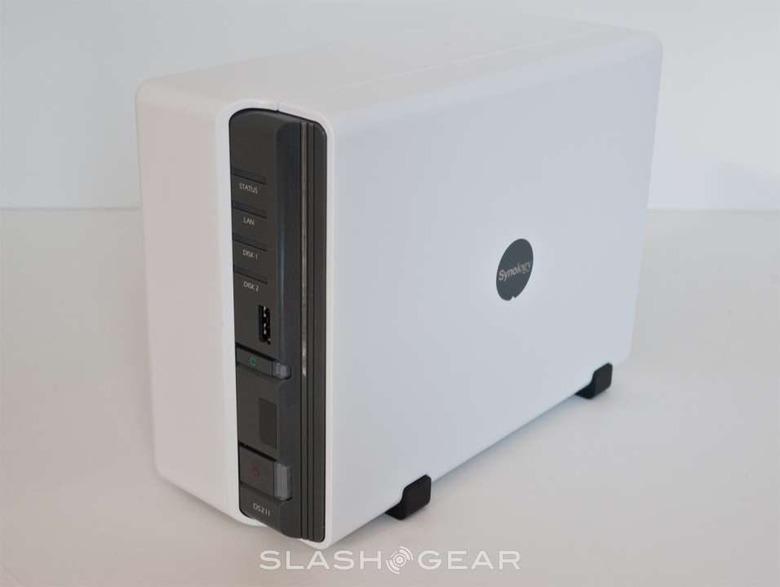 The Synology DiskStation DS211 isn't the company's first NAS to cross the SlashGear test bench, but it's perhaps the most home-user focused model so far. A two-bay network-attached backup box, the DS211 also throws in DLNA media streaming duties and cross-platform compatibility. With a diskless retail price of around $320, is this the box you should be entrusting your data security to? Check out the full SlashGear review after the cut.
Hardware
Unlike its more sober – and expensive – siblings from the Synology line-up, the DS211 comes with a crisp white chassis and a bright LED panel on the fascia. At 161 x 218 x 88 mm it's not too large to sit in the corner on your desk, and Synology include the necessary AC adapter, installation kit and a 2m ethernet cable to get you wired up. You'll also need at least one hard-drive: the DS211 will take either 2.5- or 3.5-inch drives, each up to 2TB, for a total of 4TB altogether.
Ports include a single gigabit ethernet, two USB 2.0 on the back and a single USB 2.0 on the front. There are indicator lights for overall status, network status, each drive and power. Like the DS411+ NAS we reviewed back in July, fitting the drives requires opening up the chassis rather than simply slotting in a couple of caddies at the back; a pair of screws hold the casing in place. A single 70mm fan keeps everything cool, including the 1.6GHz processor paired with 256MB of memory.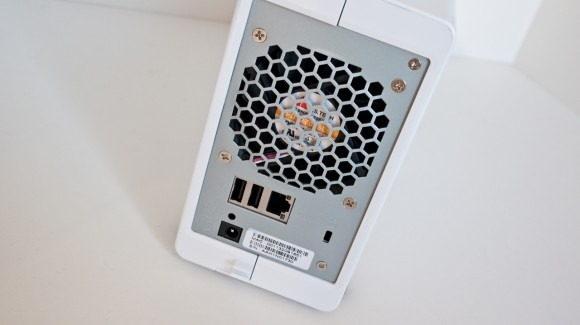 Software
The DS211 runs Synology's DiskStation Manager 3.0 (DSM 3.0) OS, and it's a comprehensive platform that covers more than just multi-PC backup. As with most network-attached devices, setup and control is managed via your browser; however, DSM 3.0 gets a new, multitasking UI with various independently draggable windows that can be viewed in a single browser tab. The whole thing looks like a blend of Windows 7 and OS X, complete with drop-down task menus and desktop icons, and it's even possible to reskin it with different color themes.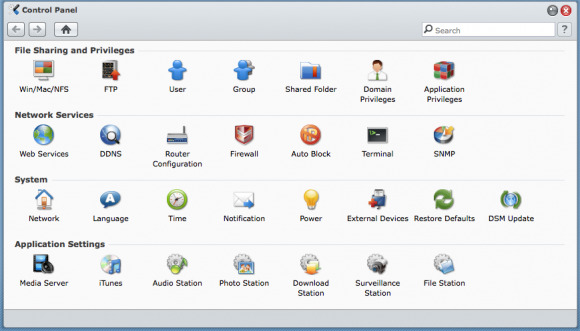 While having a more aesthetically-pleasing NAS UI might not seem the best use of Synology's resources, it does make using the DS211's media functionality more pleasant. Load your multimedia, and the NAS has its own audio player that also supports internet radio; meanwhile there's also DLNA/UPnP streaming to funnel that content around your home to compatible computers, HDTVs and STBs.
By default, with two drives the DS211 will set up a mirrored array that provides redundancy for your data: should one drive die, the other will still keep the data safe. Alternatively you can choose to bypass redundancy and set the two up as a single volume. With only two bays – unlike Synology's larger NAS units – there's no more complex arrays possible; however, you can add external drives via USB, or use the DS211 as a print server with a USB printer.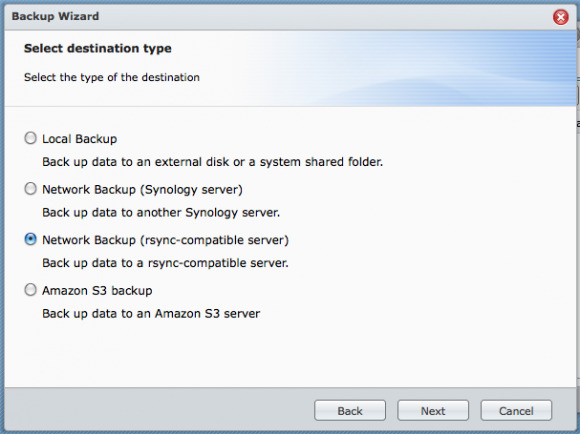 For backups, Synology provide their Data Replicator for PC users and Time Machine compatibility for Mac OS X. The front panel USB port has a Copy button which automatically pulls backs-up the contents of any camera, USB drive or memory stick you plug in. An app on the NAS itself makes for straightforward secondary backups, copying all the data on the array over to a local USB drive or a remote DiskStation or rsync station. Unlike with Data Robotics' DroboProFS, you can remotely back-up to any server, not just an identical NAS.
There are many more apps on offer, including standalone BitTorrent downloads, photo and video slideshows – with companion apps for iPhone and Android – and SqueezeCenter compatibility for those using Logitech's streaming audio system. Small office users, meanwhile, get the same security camera monitoring, virtual web host, PHP/MySQL, mail server and other business-friendly options as in Synology's more expensive models. We were able to easily set up media streaming, simply by loading some audio files into a folder and ticking a few boxes, and even creating a web server was surprisingly straightforward.
Performance
Despite the relatively low amount of RAM Synology has outfitted the DiskStation DS211 with, we had no issues with performance. Set up as a RAID 1 array, the DS211 managed 101.37 MB/sec read rates and 56.12 MB/sec write rates, when tested with a 1.5GB file. That makes it roughly on a par with the DS411+ when it comes to read speeds, though around half as fast when writing data.
Wrap-Up
There's a huge amount to like about the Synology DiskStation DS211. Not only is the NAS well made and compact, the DiskStation Manager 3.0 software stands head and shoulders above rivals for not only ease of initial setup but for ongoing use.
We'd like to have seen integrated wireless, too, though Synology do provide a list of compatible third-party USB WiFi adapters that can be used. Still, having it fitted as standard – even with the ensuing throughput limitations – would make for more flexible placement for home users willing to sacrifice some speed.
The data transfer speeds may not match Synology's faster models, but then the DS211 is also half the price of the DS411+. Small businesses may want to look to models with more drive bays for greater future-proofing – and still get DSM 3.0 – but home users wanting not only data security but stable media access and more should definitely have the DiskStation DS211 on their shortlist.