Synology DiskStation DS411+ NAS Review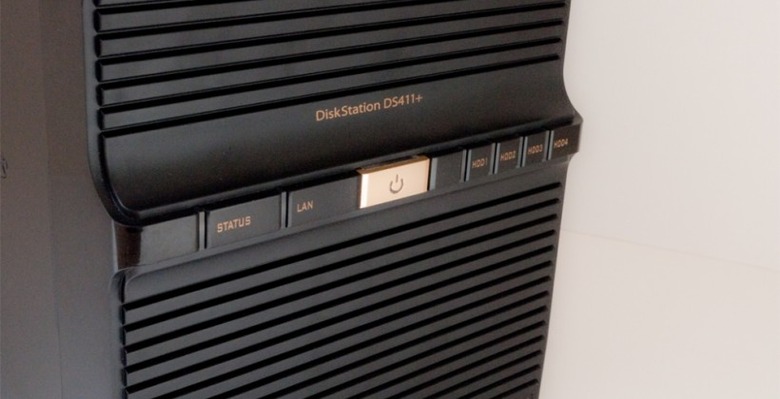 Synology promised us speed, speed and more speed with their new DiskStation DS411+ NAS, and so we had to take them up on the challenge. A four-drive RAID array targeted at demanding home users or SMBs, the DS411+ may look sober on the outside but with the spec sheet promising read rates of 112MB/sec and write rates of 106MB/sec, it's hardly an unattractive proposition. Can Synology back up their claims? Check out the full SlashGear review after the cut.
We weren't joking when we described the DS411+ as sober. A charcoal gray box measuring 168 x 184 x 230 mm, the front panel has little of note aside from the power button and indicator lights for status, LAN and each of the four hard-drive bays. There's certainly no LCD display to tell you how much capacity is left. On the back there are two 80mm fans and then power, gigabit ethernet, two USB 2.0 ports and an eSATA port, together with a Kensington lock hole.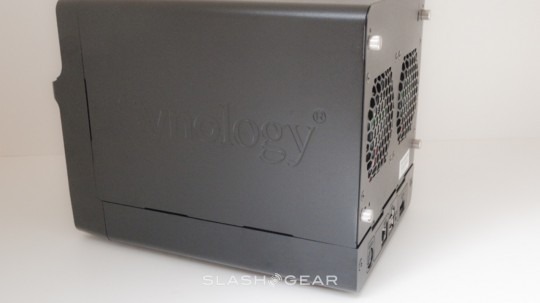 There are also four thumbscrews, which when removed allow you to slide off the top section of the chassis. Unfortunately, that's what's required every time you want to access the four internal 3.5-inch hard-drive bays. We'd prefer to have some sort of front or rear accessed caddy system instead, which would make for easier hot-swapping. Up to 8TB can be installed (four 2TB drives) with a choice of RAID 0, 1, 5, 5+Spare, 6, 10 or JBOD.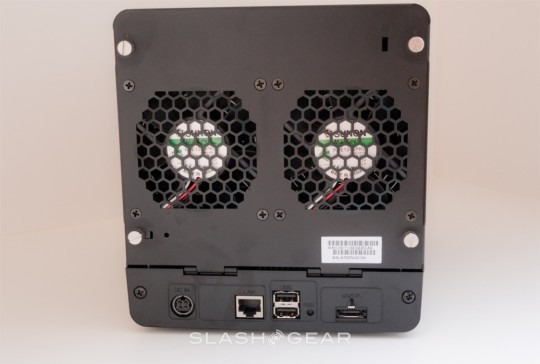 The DS411+'s processing is taken care of by an Intel Atom D510 1.67GHz processor paired with 1GB of RAM, while the software is flexible enough to do plenty more than just network backup. In addition to mirrored storage there's the usual DLNA/UPnP media server streaming for audio, video and image files (including to PS3 and Xbox 360 consoles), standalone BitTorrent downloads, FTP and PHP/MySQL website hosting and iTunes server functionality. You can also use the DS411+ to monitor up to twenty IP webcams (as long as they're compatible models), network-share two USB printers, and load various optional "Synology Packages" that turn the NAS into a SqueezeCenter or email server. Unsurprisingly there's customizable user quotas for shared storage, Time Machine compatibility and all the usual NAS flexibility, while the two USB ports and the eSATA port can be used to add external drives.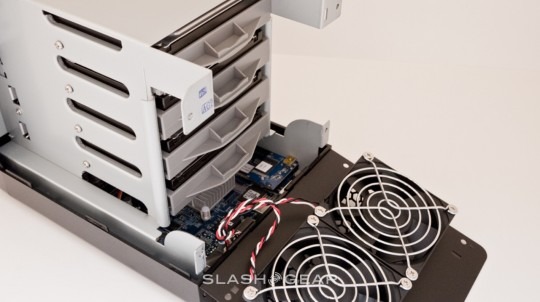 All that would be for naught if the DiskStation DS411+ fell short in its performance; happily, it does not. We slotted in four Seagate 1TB hard-drives in RAID 5 configuration, and then measured transfer speeds with 1GB and 5GB files. Reading, the DS411+ managed 102MB/sec with the 1GB files and 110MB/sec with the 5GB files. Writing, the DS411+ managed 94MB/sec with the 1GB and 98MB/sec with the 5GB. That's surprisingly close to the quoted 112MB/sec read and 106MB/sec write from the official specifications.
The front panel of the DS411+ may not be especially noticeable, but then neither is the sound; obviously it'll depend to a large extent on which hard-drives you pick, but Synology's fans are relatively quiet despite keeping the NAS cool to the touch. They're also secured in place using regular Philips-head screws, so replacing them yourself shouldn't be too arduous a task.
In all, we're highly impressed with the Synology DiskStation DS411+. Not only does it get within spitting distance of its quoted specifications, it has the backup and multimedia flexibility to suit both home and small-business users. While we'd like to have seen a more accessible chassis, and the front panel could benefit from a status display, there's no arguing with the NAS' performance. At $650 for the barebones drive it's not cheap, but if you need reliable, consistent speed then it's at the top of the pile.