Suzuki Neutron 701 MNI touchscreen netbook with 4GB RAM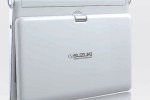 Considering we were so quietly excited about the upcoming 7-inch Viliv S7 last week (and, frankly, before), we can't really argue with this new touchscreen convertible netbook either.  The Suzuki Neutron 701 MNI has a name that's both daft and reminiscent of early Eee PC models, but inside there's that same Intel Atom Z520 processor that keeps popping up to frustrate us.
We didn't especially like the Z520 when it came in the Acer Aspire One 751 – in fact we felt it hopelessly undermined it – but there's always the chance that the dainty Suzuki might make better use of its equally-dainty CPU.
As well as the Z520 there's up to 4GB of RAM, which is something of a surprise, and an ExpressCard slot, plus an internal Mini PCI slot which can be used for integrated WWAN.  It's not entirely clear, but it seems there's also a second such slot in which the WiFi b/g module lives, plus there's Bluetooth 2.1 and three USB 2.0 ports.
That's no small amount of connectivity for a relatively small machine, but the undermining factor is likely to be battery life.  Suzuki are estimating just 140 minutes from the standard 2,400mAh 4-cell battery, which as you can see in the photo above isn't exactly small.  No word on pricing either, but we'd still like to see a review sometime.
[via Gadgetmix]