Surprise: Ford's aluminum 2015 F-150 gets better economy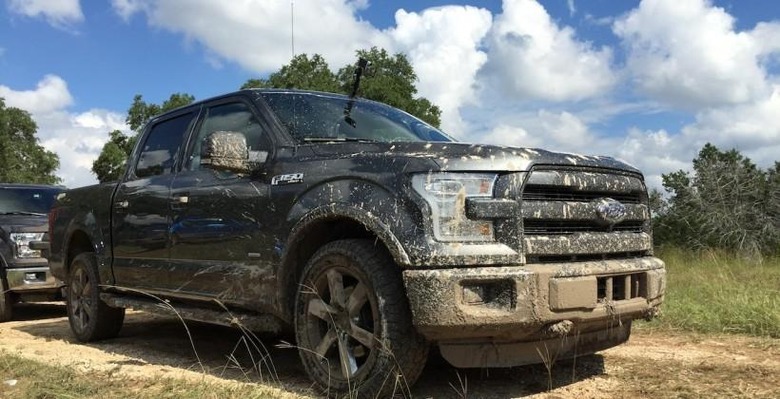 We knew the 2015 Ford F-150 drove well, we knew it could tow and go off-road, but until today we didn't know how much that controversial switch to aluminum and new EcoBoost engine options would affect fuel economy. Now, we do. Ford has announced EPA estimates for the four engine options that can be found under the aluminum hood, and what perhaps shouldn't be a surprise is that when you combine the potent but frugal new 2.7 EcoBoost with a truck that's around 700 pounds lighter, you unsurprisingly get more miles per gallon. Head on past the cut for all the numbers.
For the 2.7-liter EcoBoost, Ford is predicting 19 mpg in the city and 26 mpg on the highway, for a combined 22 mpg. That's up 5, 7, and 6 mpg respectively over the 2008 level model, despite offering more horsepower and torque.
It also overshadows various of the rivals' trucks, details of which you can see in the charts below.
The 3.5-liter V6 comes in at 18/25/20 for city, highway, and combined, again an improvement over the 2008 model, while the 3.5-liter EcoBoost manages 17/24/20. Finally, the 5.0-liter V8 – expected to be a hit with traditionalists wanting hefty, naturally-aspirated engines – manages 15/22/18 mpg.
All of Ford's numbers are based on the 4x2 version of the 2015 F-150, not the 4x4, which is likely to dip a little.
Ford says its decision to compare 2015 with 2008 trucks is because that's just the sort of driver that might be looking to upgrade. Compared to the outgoing F-150, you're looking at between 5- and 29-percent improvements, engine depending.
Production kicked off earlier this month, and 2015 F-150 trucks are headed to dealers now. Meanwhile, we drove the new F-150 back in October and have all the details on towing performance, offroad ability, and more.
SOURCE Ford