Surface spawned over timid OEMs tip ex-Microsofties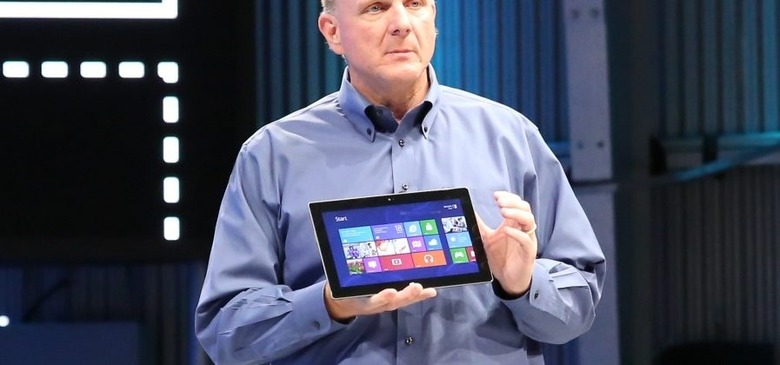 Fears of Windows tablet manufacturer apathy spurred Microsoft's Surface development, despite insistence that the slates are intended to support not compete with OEM efforts, according the latest batch of rumors. Observations of the extent to which Apple will go to secure the materials necessary to develop distinctive and unique products – and concerns that its own Windows OEMs were playing device strategy too safely – prompted Microsoft taking Surface into its own hands, a former executive told the NYT, burned too by the ill-fated HP Slate 500 project.
That tablet, demonstrated by Steve Ballmer back in 2010 as a poster-child of Windows 7 on touchscreen hardware, highlighted the shortcomings both of off-the-shelf components and Microsoft's own platform. Components sufficient to run Windows 7 left the slate heavy, thick, hot and expensive, while the performance of the OS itself fell significantly short of the iPad's usability. "It would be like driving a car, and the car not turning when you turn the wheel" a former HP executive who worked on the Slate 500 project said, blaming underwhelming finger-friendliness in Windows and the multitouch display for the issues.
HP went on to spend hugely on acquiring Palm for webOS, then dropped the platform into open-source vagueness after the initial HP TouchPad feedback proved subpar. According to insiders at the firm, HP was frustrated at the apparent lack of time and investment Microsoft appeared to be demonstrating in getting Windows 7 to the level where it could legitimately compete with iOS on the iPad. For its part, Microsoft was supposedly reluctant to free up engineers and developers from coding Windows 8, which is designed from the outset to accomodate touchscreen control.
Opinion is now divided as to whether Microsoft wants to continue with its own hardware range or if, after it has shamed OEMs into action, it will bow out. "I think once they jump-start it, they plan to make money the way they always have," MIT management professor Michael A. Cusamano suggests, "from licensing software," echoing similar comments recently from Acer's founder.
The company itself, though, is playing its cards close. "Microsoft has tremendous respect for our hardware partners and the innovation they bring to the Windows ecosystem," Microsoft corporate VP Steven Guggenheimer insisted in the aftermath of the Surface reveal last week. "We are looking forward to the incredible range of new devices they are bringing out for Windows 8." No pricing or specific release dates for either the ARM-based Windows RT Surface or the more expensive Intel-based Windows 8 Surface Pro have been confirmed.
As of late-2010, the ex-Microsoft exec claims, it was still undecided internally whether Surface would be Microsoft-branded or licensed out as a hardware reference design. The added control of helming the project from drawing board to store shelves seems to have tipped Microsoft's hand, however.