Surface Pro Vs Huawei MateBook E Vs Samsung Galaxy Book: What You Need To Know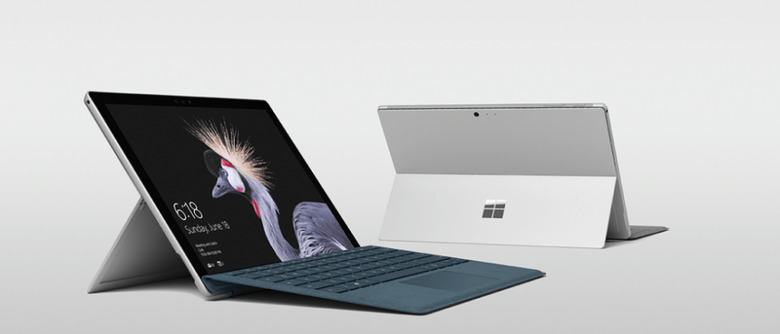 With the announcements of both the new Surface Pro and the Huawei MateBook E today, we find ourselves in a heated 2-in-1 competition. Huawei and Microsoft aren't the only ones participating, though, as Samsung has also entered the ring with its new Galaxy Book 12. Make no mistake, these three devices certainly have a lot in common, but more importantly, there are a few key differences between them. Here's everything you need to know.
7. Hardware
Though all three device can have similar hardware, the differences here pretty much come down to the level of customization each one offers. For instance, in the MateBook E, you'll have your choice of an Intel m3-7Y30 processor or a Core i5-7Y54. Aside from the processor, you get your choice of 4GB or 8GB of RAM and 128GB or 256GB of SSD storage.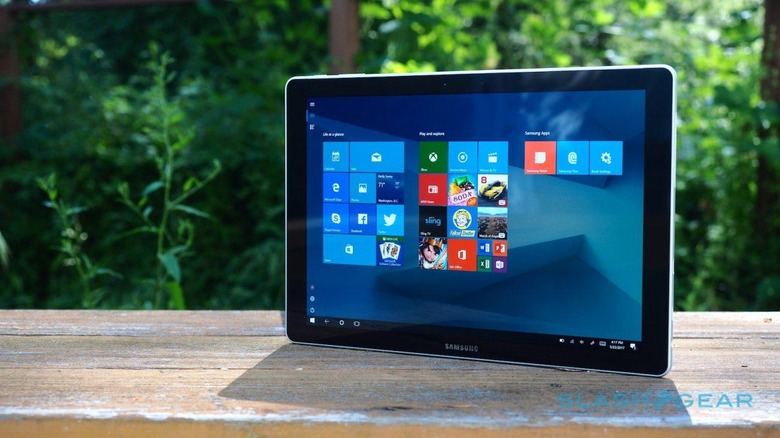 With the Surface Pro, on the other hand, your configuration choices expand a bit. There are six configurations in all, ranging from the basic model with an Intel Core m3, 4GB of RAM, and 128GB of storage all the way up to an Intel Core i7 model with 16GB of RAM and 1TB of storage. In all, there's one configuration with a Core m3, two with a Core i5, and three with a Core i7, so you have plenty of options as far as the Surface Pro is concerned.
If you're buying the LTE-enabled Galaxy Book 12, your hardware options are limited to one configuration: an Intel Core i5 CPU with 4GB of RAM and 128GB SSD. If you opt for the WiFi only version, your options open up a little bit, as there are two models on offer. One of these comes with 4GB of RAM and 128GB of storage, while the other comes with 8GB of RAM and 256GB of storage. As an added little bonus, both the Surface Pro and the Galaxy Book 12 come with a microSD slot that allows you to add even more storage to your device.
6. Display
While the Surface Pro rises above the other two in terms of hardware options, we'd expect the competition over displays to be much closer. Indeed, it sounds like all three of these devices will offer excellent displays to complement the laptop-quality hardware running within.
READ MORE: Samsung Galaxy Book 12 ReviewOn the Huawei MateBook E, we're working with a 12-inch display at 2160 x 1440 resolution, resulting in 216 pixels-per-inch. On the Galaxy Book 12, we see a similar display with the same 12-inch size and 2166 x 1440 resolution, but the key difference is that the display on the Galaxy Book 12 is a Super AMOLED one. This comes as little surprise, considering that Samsung is known for its excellent displays.
The Surface Pro slightly edges out its competition here, offering a 12.3-inch PixelSense display that sports 2736 x 1824 resolution, which translates to 267 pixels-per-inch. Expect images to be slightly sharper on the Surface Pro because of that, but don't count out Samsung's own Super AMOLED display on the Galaxy Book 12 – that will certainly be able to hold its own in this area, even if the Surface Pro offers a higher resolution.
5. Operating System
Though there may have been some worry that Microsoft would outfit the new Surface Pro with Windows 10 S, it didn't. Instead, the Surface Pro will be running Windows 10 Pro out of the box, meaning that you won't be restricted to apps from the Windows Store.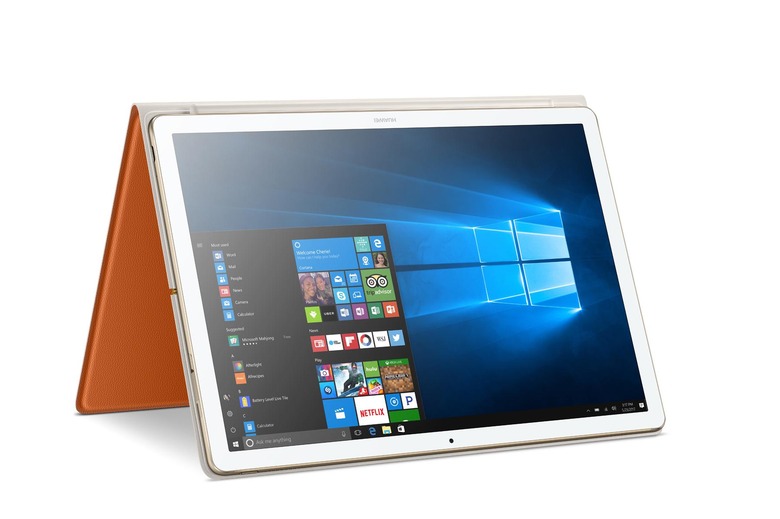 Huawei actually hasn't specified whether the MateBook E will be running Windows 10 proper or Windows 10 S, but it seems relatively safe to assume that it's the former. Just the same, the Galaxy Book 12 is running Windows 10 Pro as well, so it's pretty much a dead heat between the three in terms of operating systems. It should be noted, however, that Microsoft offers a free 30-day trial of Office 365 with your Surface Pro purchase, but we can't really see that being a deciding factor for anyone.
4. Battery
Here's where things begin to get a little muddy, simply because a manufacturer's battery life estimates are rarely what we see in real-world scenarios. The battery within the MateBook E clocks in at 33.7Wh, which the company says is good for approximately 9 hours of local video playback. Huawei arrived at this number by testing the MateBook E at 50% brightness and with automatic backlight turned on.
Unfortunately for us, Microsoft and Samsung weren't quite so forthcoming with their own battery details. Microsoft says that the battery in the Surface Pro is good for up to 13.5 hours of video playback with all settings at defaults except for Wi-Fi, which was connected to a network, and auto-brightness, which was turned off. Samsung leaves us even more in the dark by simply stating that the Galaxy Book 12's 39.04Wh battery will last up to 11 hours, declining to say anything about its own testing method. In our review, however, we found that the battery more often lasts 6 to 7 hours before needing a recharge.
3. Accessories
2-in-1 machines generally serve as good vehicles to sell some accessories, and these three are no different. There will no doubt be a lot of accessories made for each of these, so we'll only concern ourselves with what ships in the box. Unfortunately, here's where prospective Surface Pro buyers get the short end of the stick.
The Surface Pro won't ship with any accessories in the box, unless you feel like throwing Microsoft a bone and counting the power supply and quick start guide. The MateBook 3, on the other hand, at least includes the folio keyboard, and in some markets, you'll get the MateDock 2 to go along with it.
Samsung is the clear winner when it comes to accessories that ship with the device. Samsung is shipping both the keyboard and the S-Pen with the Galaxy Book 12 – for the Surface Pro and the MateBook 3, you'll need to buy the pen separately. That's rather disappointing when you consider that all three companies are pushing their pens as must-have accessories for their devices.
2. Price
At the end of the day, price is what matters most. With its most basic Surface Pro model, Microsoft significantly undercuts the competition. The Surface Pro that comes with a Core m3 only costs $799, while a more mid-range model like the Core i5/8GB RAM/256GB one will set you back $1,299. If you want the best Surface Pro Microsoft has to offer – 1TB of SSD storage, 16GB of RAM, and a Core i7 – you'll need to shell out a sobering $2,699.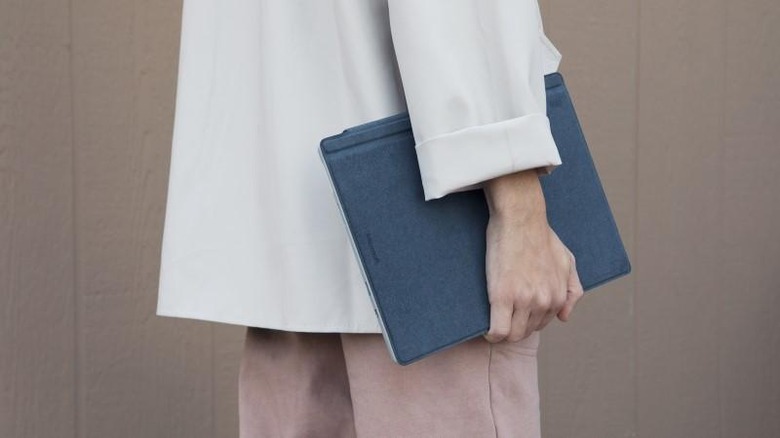 €999 ($1119) is what it'll cost to take home Huawei's most basic MateBook E. When we ditch the Core m3 in favor of a Core i5 with 4GB of RAM and 256GB of storage, that price climbs to €1199 ($1343). Finally, the top-of-the-line MateBook E, which offers a Core i5, 256GB of storage, and 8GB of RAM will cost €1299 ($1455). As for the Galaxy Book 12, you're looking at a price tag of $1429.
1. Wrap-Up
By this point, you should be pretty well acquainted with the similarities and differences between all three devices. If you're in the market for a 2-in-1, all three should prove to be fairly solid devices, but each one is also quite expensive. Of course, we'll have move coverage on each of these in the coming weeks and months, so keep it here at SlashGear for more.