Surface Pro 3 Docking Station hits stores in US & Canada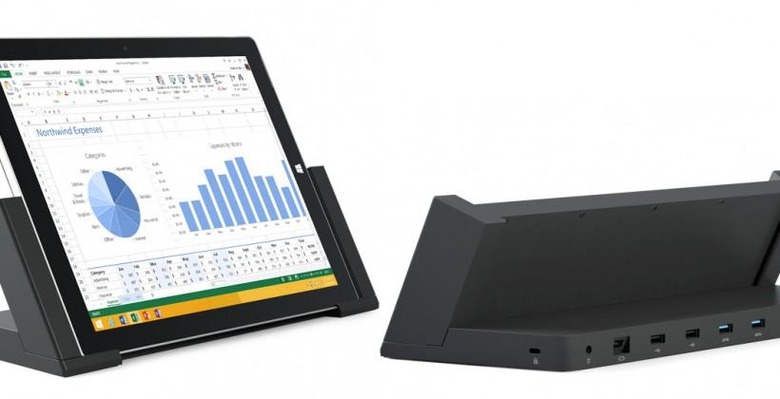 Microsoft has released the Surface Pro 3 Docking Station, with the desktop cradle for the Windows 8.1 tablet showing up in Microsoft Stores as well as at other retailers from today. Announced alongside the slate back in May, and put up for preorder earlier this month, the $199.99 accessory is more than just a stand for the tablet, however.
In fact, it's a surprisingly comprehensive hub that can feasibly turn the Surface Pro 3 into a legitimate desktop replacement – even if you're used to having multiple monitors in front of you.
Ports include three USB 3.0 and two USB 2.0, along with a gigabit ethernet connection, and of course there's power to rejuice the tablet at the same time. There's also a Mini DisplayPort and an audio in/out socket, while Microsoft has designed the Docking Station so that the USB 3.0 and Mini DisplayPort on the Surface Pro 3 itself are still accessible even when it's slotted into place.
That allows for some flexibility in how external displays can be hooked up. For instance, you can run two monitors – one off each Mini DisplayPort – or a single 4K monitor from one of those ports; alternatively, you can have the same arrangement using a Mini DisplayPort MST Hub.
The higher-spec Core i5 and Core i7 versions of the Surface Pro 3 are able to comfortably handle HD video editing and more, as we found in our own review; as a result, you can certainly envisage them working as both a desktop machine and a roving one.
The Surface Pro 3 Docking Station is available in the US and Canada today, and will also be offered in the long list of other markets the tablet is launching in come next month.
VIA Microsoft
SOURCE Surface