Steve Jobs biopic begins filming in his childhood garage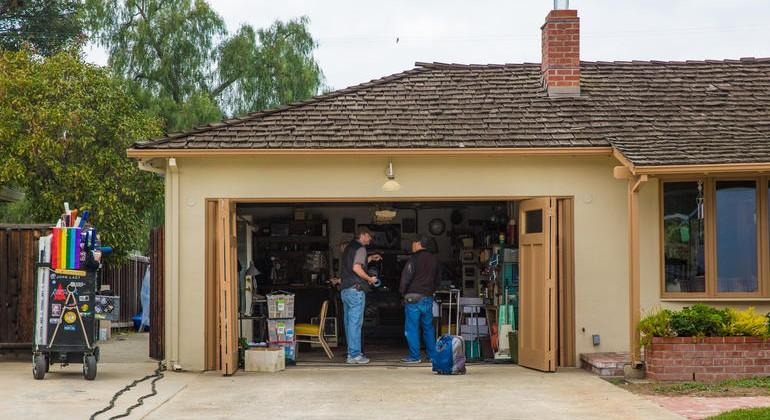 Earlier this week saw film crews setting up at the childhood home of Steve Jobs in Los Altos, California to begin shooting the new biographic movie based on the Apple co-founder. With filming scheduled to take place in the house's garage on Friday and Saturday, crew members could be seen redecorating to make it appear as it did almost 40 years ago when Jobs and Steve Wozniak worked inside building the first Apple computers, with old Bob Dylan posters prominently hanging from the walls.
As the latest Steve Jobs film, this one based on Walter Isaacson's biography Steve Jobs, released in late 2011, the focus is to be on three major acts, each detailing the announcement of major products Jobs was involved in. Starting off will be the unveiling of the first Macintosh computer, followed by the NeXT computer, and then the original iPod. With Job's childhood garage as a setting, we can probably expect its scenes to involve the very early days of Apple's creation.
The Aaron Sorkin-written movie has been in the works for several years now, with things ramping up over the last few months as a cast and crew were finally nailed down, in addition to the film changing hands from Sony Pictures to Universal. Michael Fassbender will be starring as Steve Jobs and Danny Boyle will be directing, while Seth Rogen is set to play Steve Wozniak.
Other locations in California where filming is expected to take place include San Jose and Berkeley. As for other cast members, former Apple CEO John Sculley will be played by Jeff Daniels, Perla Haney-Jardine will be portraying Jobs' first daughter Lisa, and Kate Winslet will be seen in a leading female role, currently expected to be Jobs' wife Laurene.
SOURCE CNet
VIA Macrumors