Steve Ballmer Retirement Gives Microsoft Stock A Jolt

This morning it was announced that Steve Ballmer would be stepping down as CEO of Microsoft within the next 12 month period – MSFT was sent soaring up 7% in trading immediately following this news blast. While the stock still sits closer to 35 than it does to its recent high back in June (and again in July) with nearly 36, there's still a lot to be said for a company that's sitting at less than half the market capitalization it had back when Ballmer began his tenure as CEO.
Back in 1999 before Ballmer took over, Microsoft's market capitalization sat at a cool $600 billion. Here in 2013 – yesterday, right before Ballmer announced his retirement – Microsoft's market capitalization was a whole lot closer to $270 billion. This number is up to $287.59 billion today (at approximately 11:05AM EDT), and in the time since this article was written, share prices have begun evening out – back down to 6.5% above where they were at market opening this morning.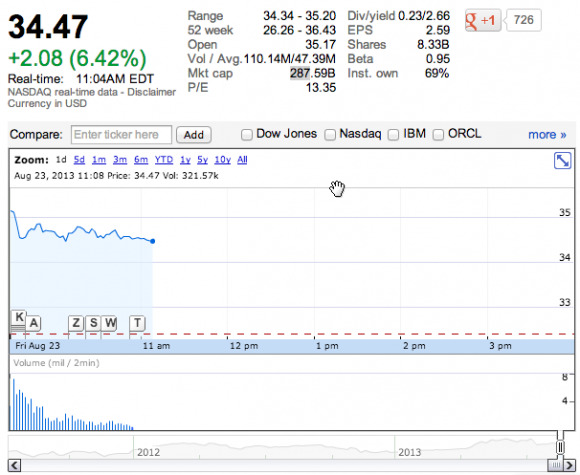 Meanwhile, in Ballmer's retirement letter to Microsoft employees – as shared by Microsoft this morning – he suggests that his time at Microsoft should be measured from the very beginning: that's all the way back in 1980 when he became the 30th employee of the company.
"I am proud of what we have achieved. We have grown from $7.5 million to nearly $78 billion since I joined Microsoft, and we have grown from employing just over 30 people to almost 100,000. I feel good about playing a role in that success and having committed 100 percent emotionally all the way. We have more than 1 billion users and earn a great profit for our shareholders. We have delivered more profit and cash return to shareholders than virtually any other company in history." – Steve Ballmer
According to the Financial Times, shares are up 14.8% in the last 12 months – but such a number lags in comparison to the larger S&P 500 which sits at a cool 18.5% in the same set of months. According to an April 2013 ICD report, the average drop in PC shipments worldwide was 13.9% for the first quarter of 2013, due in no small part to the launch of Windows 8.
In this same Q1 2013 report on the PC industry, IDC's Bob O'Donnell suggested then that "Windows 8 launch not only failed to provide a positive boost to the PC market, but appears to have slowed the market," going on to affirm that "Microsoft will have to make some very tough decisions moving forward if it wants to help reinvigorate the PC market."