Steam In-Home Streaming hands-on
If NVIDIA SHIELD didn't convince you that streaming a game from your high-powered PC to a slightly smaller PC was amazing, Steam's vision might. Released just today out of Beta, Steam In-Home Streaming allows you to play any game you own on Steam on one computer as long as you've got a computer with the right requirements on and connected to the same network.
Steam In-Home Streaming does not rely on Steam OS to work. While previously it was suggested that In-Home Streaming of games would be relegated to Steam OS, the operating system Valve has created on Linux, that's turned out to be untrue. In fact, in its first out-of-beta form, Steam In-Home Streaming cannot host from SteamOS, Linux, or Mac OS X.
Streaming a Steam-based game from a Windows machine, on the other hand, works like a charm. We've streamed several games from a Windows-based machine with Steam in our initial tests today. Games connected to Steam but not purchased from Steam – Titanfall, for example – do not seem to function perfectly right out of the box.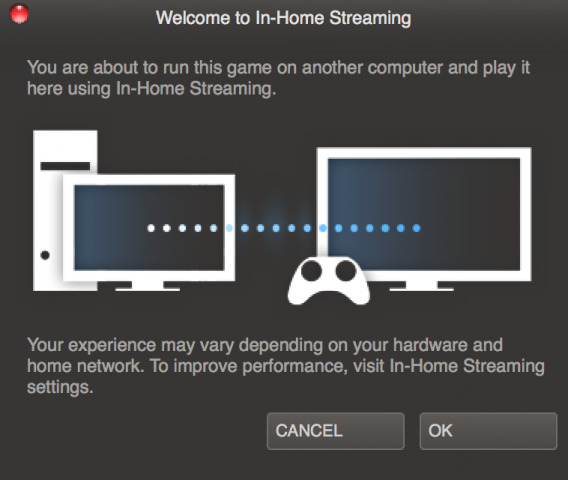 Everything seems to work right out of the box – keyboard, mouse, and 3rd-party controller input included. Steam In-Home Streaming is available as a part of Steam's basic build today.
1. Update your Steam client on both computers you're working with to begin.
2. Log into Steam on your Windows-based host computer.
3. Log into Steam on any other computer you've got able to run Steam on your same home network.
4. Visit your Steam games library and find games that have the Play icon – that should be every game you've got downloaded on your host computer.
Let us know how it goes once you've loaded your first game. Our initial tests have been surprisingly positive. It would appear that, barring any major hiccups in your own home network, this service is ready for the public immediately.
VIA: Valve