StealthArmor Squashes iPhone 4 Signal Issue [Update: Not So Fast!]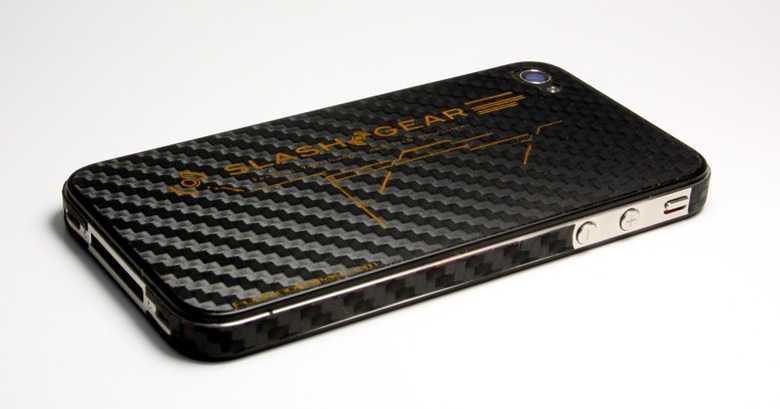 While telling customers "you're not holding your iPhone 4 properly" doesn't exactly seem the best way to endear yourself, with hundreds of thousands of handsets in the wild Apple look unlikely to do anything more constructive than tell us where to grip.  One solution users have discovered is Apple's Bumper case, but Fusion of Ideas have an alternative if you're more interested in keeping your smartphone's clean, rubber-free lines.  They've sent us some shots of their StealthArmor for iPhone 4 edge protection strips, which not only protect the stainless steel from scratches but have the neat side-effect of bypassing the antenna issue.
Update: We've now tested the strips, and things aren't as clear cut as Fusion of Ideas might suggest. More after the cut.
We've covered StealthArmor before, reviewing the company's protective films for the iPad, and if you've seen our iPhone 4 unboxing then you'll have already spotted the custom panels they've done for the new smartphone.  The important bit for the signal issue is the side-edging strips, which bridge the gap between the two antennas and mean holding the iPhone 4 with slightly damp or sweaty hands won't see your calls dropped.
Fusion of Ideas are sending us some edge strips for us to try out, but they're already available as part of a full iPhone 4 protection pack (that includes the rear protector and the edges) starting from $25.  A screen protector sheet is $15.  As well as various more eye-catching finishes – including customs – which kick off at $45, the company has clear and brushed aluminum StealthArmor options if you want to keep your iPhone 4 looking pretty much stock.
Video demo by Fusion of Ideas for StealthAmor
UPDATE 1: We got to work early this evening to test Fusion of Idea's claim but it's still inconclusive. A quick test of holding iPhone 4 with our left hand DOES NOT yield a better reception with the applied material, as you can see for your self from the pictures below. This is a pretty BOLD claim by Fusion Of Ideas. -Vincent
UPDATE 2: Results of our test of Fusion of Idea's claim = Doesn't work
[vms 19aad2fa1b32f36ed4ae]
Holding iPhone 4 with on the left hand-side with Carbon Fiber material from Fusion of Ideas does not yield more bars as claimed by the company.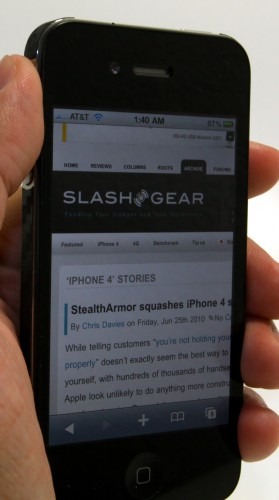 Not holding the iPhone 4 on the left hand side resulted in full bars.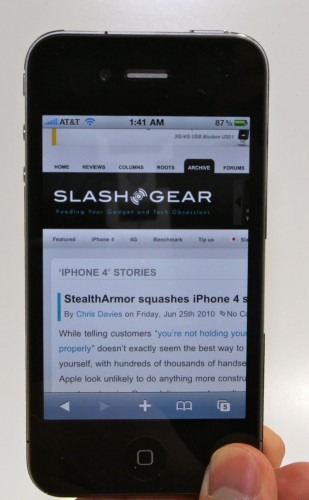 Press Release:
STEALTHARMOR BY FUSION OF IDEAS VIRTUALLY ELIMINATES* "APPLE® DEATH GRIP" ISSUE ON IPHONE® 4
06.24.2010 – As Apple enthusiasts test out the new iPhone 4, it's been noted that there have been problems with cellular reception. Whether the issue lies with mobile carrier, AT&T, with the device itself or possibly a combination of both, today a Fusion of Ideas customer and new iPhone 4 owner pointed out that when wrapped in custom StealthArmor protection, his iPhone 4 reception issues were significantly reduced and, after repeated tests, even eliminated completely.

StealthArmor for iPhone 4 by Fusion of Ideas offers full body device protection, including a front screen protector, a custom back available in nine sleek finishes and custom side pieces that not only preserve the stainless steel material but also provide a unique buffer between the iPhone 4's sensitive built-in antennae and the user's hand, which may result in minimal, if any, interruption or interference of cell reception.

Starting at $25, StealthArmor for iPhone 4 is available for purchase online at www.fusionofideas.com/stealtharmor. For customers in Southern California, they are welcome to visit the Fusion of Ideas retail store located within Orange County's premier shopping destination, The Irvine Spectrum Center.

Please stay tuned for more information about StealthArmor for iPhone 4 and other exciting products from Fusion of Ideas. And don't forget to visit the newly re-designed Fusion of Ideas website at www.fusionofideas.com.