It's not our first iPhone 4 experience, but there's still something special about holding your very own handset.  There's more than one iPhone 4 spread among the SlashGear team right now, and we wanted to share the unboxing experience and some first-impressions ahead of our full review.  Apple still have the knack for slick packaging – which also manages to be minimally wasteful – so join us after the cut for the full hands-on.
As we've seen with other recent Apple products, there's not a huge amount in the box with the iPhone 4 itself.  Aside from the usual wired headset/hands-free kit and USB sync cable there's the tiny AC adapter and some sparse printed documentation; given what we're hearing about durability, it might be an idea to pick up an iPhone 4 case like Apple's own Bumper.
Unboxing iPhone 4
[vms f4c8043749885523d6a2]
Of course, the main event is the iPhone 4 itself, and it's certainly an impressive, solid piece of hardware.  The glass/stainless steel/glass sandwich has a decent amount of heft to it, despite only being 4.8oz overall – likely a side-effect of weighing in pretty much on a par with the 3GS, but packed into a smaller device – while the controls feel sturdy and tactile.  Apple's Retina Display still steals the show, however, and despite the arguments over how close it is technically to Steve Jobs' claims on-stage at WWDC, it's frankly mesmerizing.  Fonts are perfectly smooth, like printed text, while graphics are bright and crisp.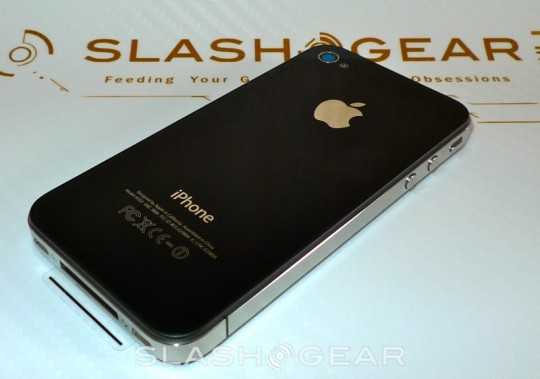 iOS4 may have already made its debut on the iPhone 4's predecessors, but the updated platform comes into its own on the 1GHz Apple A4 CPU.  Menus flick past with zero lag, apps boot up almost instantaneously, and there's none of the pauses or sluggishness when taking photos or starting large video files.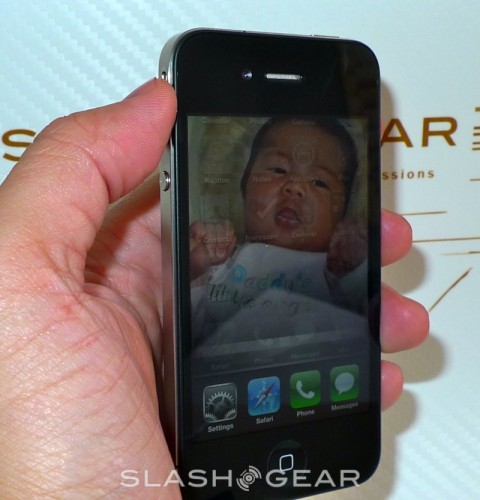 The rest will have to wait until the full SlashGear review, but remember you can leave your own impressions of the iPhone 4 over at its new SlashGear Roots page: http://roots.slashgear.com/iphone-4.
SlashGear's customized StealthArmor for iPhone 4 was courtesy Fusion of Ideas.