iPhone 4 hands-on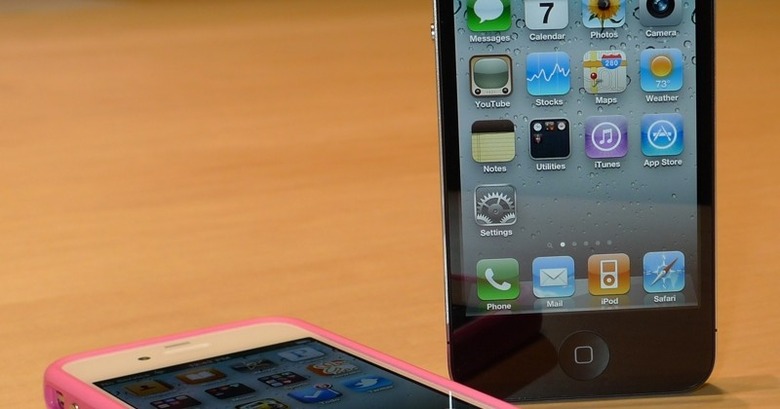 Slimmer, brighter, more powerful and apparently the product of 18 months development: the Apple iPhone 4 certainly is something. The WWDC 2010 opening keynote is over, and we've just been back to check out the new Apple smartphone.  Set to debut on June 24th – and up for preorder from June 15th – the Jobs hyperbole and press shots don't do the iPhone 4 justice in your hand. Whether you're an Apple fan or not, you have to give them credit for creating a very slick device.More first impressions and hands-on gallery and videos after the cut
At just only 9.3mm thick, we already know it's 24-percent thinner than the iPhone 3GS.  Still, the squared off edges means it doesn't feel quite as slender as you might imagine.  Happily the incredible IPS screen – using Apple's new Retina Display 960 x 640 technology – more than makes up for it.  Icons are smooth, crisp and clean, and text is incredibly precise.  We browsed through a few webpages and were blown away by how amazingly readable they were even at zoomed-out levels.  All of a sudden the limitation is your eyesight not the resolution of the phone.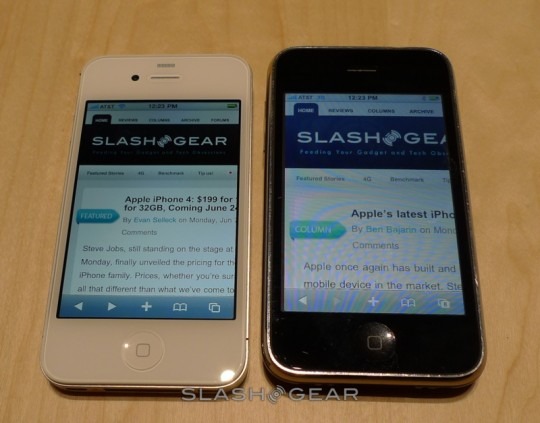 As for iMovie for iPhone, we had a brief play and shuffled some clips and photos around, and it's as intuitive as you'd expect being so similar to the desktop version (watch hands-on video).  The Apple A4 processor doesn't seem to feel the strain, either; pages whip past, the time line changes scale with a simple pinch, and there's no laggardly rendering.  We'll have to see how it copes with significantly longer clips when we get our review unit, but it's already blown rival on-device editing systems out of the water.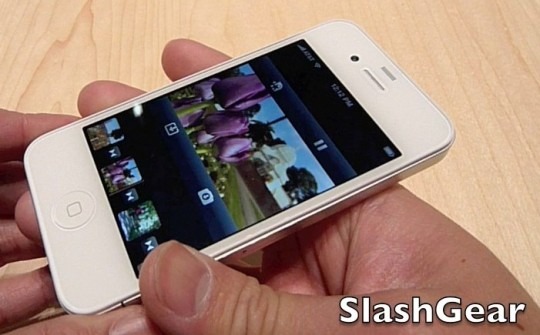 iOS 4 is a great balance of the familiar and the new, and the multitasking UI works well.  Still, today felt like a hardware showcase – Apple demonstrating their expertise in putting together industry-leading hardware – and the iPhone 4 certainly epitomizes that.  Considering the price we reckon they've got a winner on their hands, though we'll save the conclusive judgments until our review.  Until then, enjoy our HUGE hands-on gallery and video!
iPhone 4 hands-on at WWDC10
[vms 1bc419542ce9fa43902d]
FaceTime hands-on with iPhone 4!
[vms f78948b91f03172341b7]