Apple iPhone 4: $199 for 16GB and $299 for 32GB, Coming June 24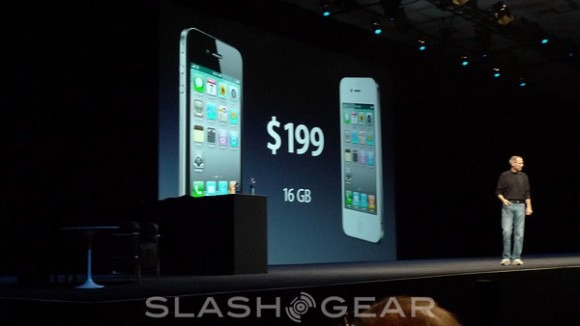 Steve Jobs, still standing on the stage at WWDC 2010 on Monday, finally unveiled the pricing for the next member of the iPhone family. Prices, whether you're surprised or not, aren't all that different than what we've come to expect from Apple, working together with AT&T, and there's two models to choose from this time around.
You can pick up the 16GB model, in either white or black, for a paltry $199. As for the 32GB model, you'll have to put down $299 to get your hands on it. Of course, those prices are with a new, two-year agreement, so keep that in mind, too. AT&T is changing things around to make sure that current iPhone owners can get their hands on the new model, and if you're contract is set to end in 2010, some time in that year, then you're automatically eligible for the new model.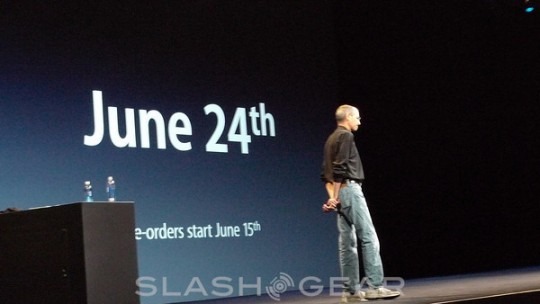 The device will be on sale on June 24th, and it will be up for pre-order starting June 15th. As we've said in the past, the iPhone 3G is officially retired, and right now the iPhone 3GS, in its 8GB capacity, will only be $99. The iPhone 4 is going to launch in five countries: United States, France, Germany, the UK, and Japan. After that, and by the end of September 2010, the new iPhone will be in 88 countries.
It will feature new accessories, like a dock which will cost you $29.99.
But the most important part: iOS4 will be hitting the iPhone 3GS and iPhone 3G on June 21st. Unfortunately, if you're on the iPhone 3G, you won't be getting the full suite of updates. The update will be free to those owners, too. The iPod Touch, aside from the first iteration, will also get the update to iOS4 for free.
Check out our liveblog for all of the updates as they happen!