Stealth Computer LPC-125LPM Ultra-Compact PC Released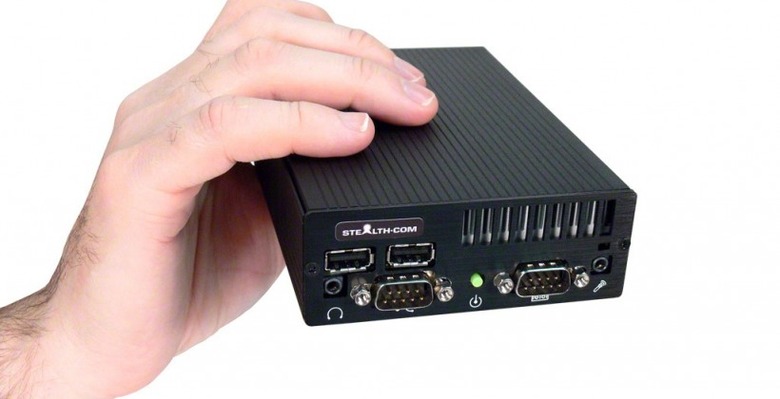 What you're going to get right here is one small computer, that's an open and shut case. This is the quite unassuming LPC-125LPM from Stealth Computer, a group that's known for it's small and awesome machinery. This device measures 6.1-inches by 4-inches by 1.45-inches, it weighing in at 1.2 pounds and having any color case you want, just so long as it's black. Inside you're going to find a 1.6 GHz Intel Atom D525 dual-core processor, 2GB of DDR3 memory, and a 55GB solid state drive. Is this the next ultra-tiny computer on your desktop or hidden under your desk, or would you rather have a dual-core smartphone instead? Let's get a little bit more into this situation before you make your decision.
The LPC-125LPM has a VGA port, ExpressCard/34 slot, RS232 ports, an internal mini PCIe slot, and a partridge in a pear tree. It's got a rough and tumble hard case surrounding it and comes standard with a few brackets so you can mount the device to your wall or right on to the back of your giant display. The LPC-125LPM also comes with a power interface which controls the system shutdown and startup when power to the device is interrupted. Lightening strikes, car crashes, and skateboard jumps. Mount this little guy anywhere.
What this device is meant for is machines that'll be sitting in industrial settings, kiosks, big fabulous signs, and all manner of oddball machines that we the normal everyday consumer might never think of. Here's my question for you – what would you use such a tiny computer for? Furthermore, what looks more appealing to you knowing the price, the design, and the abilities of both – the LPC-125LPM at $895, or the Apple Mac mini June 2011 refresh at $999? As a reminder, this price gets you the Mac mini with a 2.0GHz quad-core Core i7 inside, 4GB or RAM, and twin 500GB hard drives – plus Thunderbolt port and WiFi and what I'm certain is a design made to be out in the open instead of tucked away as the Stealth, as the name makes plain, is supposed to be.
You know which one I'd pick.
Choose wisely!