Star Wars: The Force Awakens - who is Captain Phasma?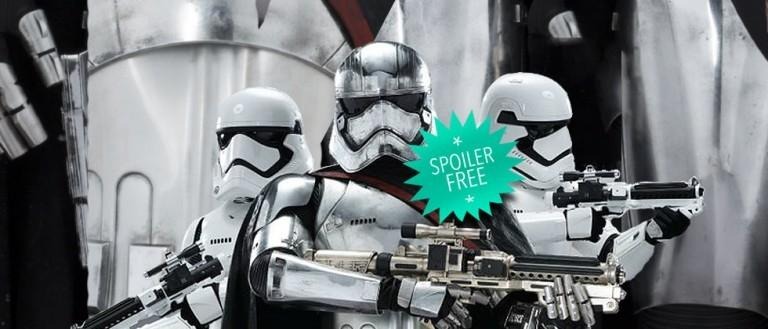 As the shiniest of characters, the most reflective of all Star Wars characters, and a Game of Thrones actress to boot, Captain Phasma has our attention. We've been wondering what the backstory is on this character since we first heard the name – and now that we've seen Star Wars: The Force Awakens, we're still wondering. The film itself doesn't reveal one whole heck of a lot, but we've got a bit more data than is revealed through the movie. It's time to get chrome.
Captain Phasma's armor would make Immortan Joe proud. It looks very similar to a standard First Order Stormtrooper set of plates, but, as it turns out, isn't made of the same materials at all. Some of the communication devices and interior body suit may be similar, but the metal isn't white – obviously – and it isn't sourced from the same forge, so to speak.
SPOILER ALERT? You may want to see Star Wars: The Force Awakens before you read this article, but such an order of consumption is not entirely necessary. This article won't ruin anything for you in the film.
According to the very tiny, brief description of Phasma on Star Wars dot com, her armor is made of "salvaged chromium." It's not just any "chromium," according to the Star Wars: The Force Awakens: The Visual Dictionary (which we'll call TVD from here on out), this armor is "coated in salvaged chromium from a Naboo yacht once owned by Emperor Palpatine."

ABOVE: J-type 327 Nubian royal starship (yacht class) also known as "Naboo Royal Starship"
Not only that, but "its polished finish helps reflect harmful radiation" and serves as "a symbol of past power."
Believe it or not, it would appear that Phasma may be a sort of yang to General Leia's ying. TVD suggests that Leia makes a point of remembering the name of every person that serves with her in the Resistance, while Phasma "takes it upon herself to memorize the serial numbers of all stormtroopers under her direct command."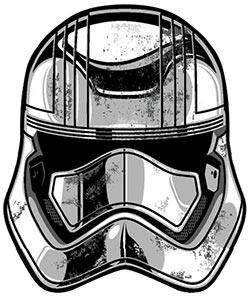 It's also suggested by TVD that Phasma's actual rank is much higher than the title "Captain" generally implies. It is said that Phasma "shuns any comfortable trappings of elevated rank" and instead "insists on seeing combat operations firsthand."
Further, TVD says that Phasma's position could "easily afford her a well-appointed war room far from the battlefield," but that she refuses to participate in such a way.
Phasma as a leader requires a deep commitment to the First Order in all Stormtroopers – the lot of which are under her overarching command. Her methodology mixes with that of First Order leaders like General Hux, who believes that "automated training regimes that simulate battle situations" should be sufficient in training troops.
As FN-2187 proves, there is a serious disconnect between doing battle in a video game and seeing and feeling the realities of battle firsthand.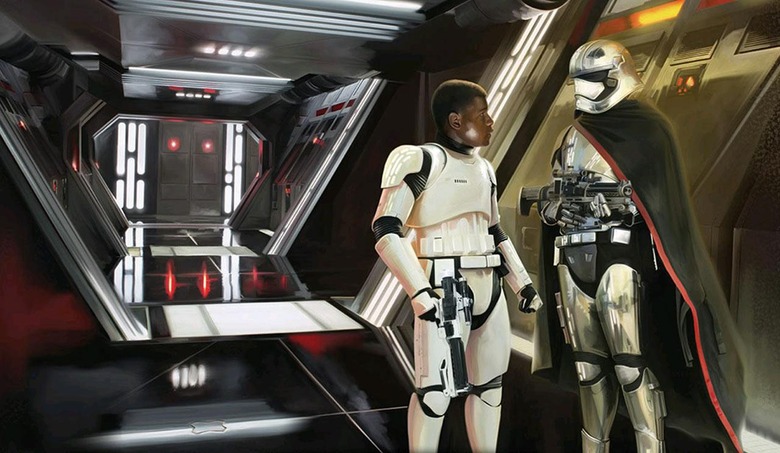 See our feature "Five Star Wars: The Force Awakens Cut Scenes Revealed" for more information on the above image (it wasn't in the film as such.)
As with most characters we've seen appear in Star Wars: The Force Awakens, there's a lot more to Phasma than we've seen thus far. Gwendoline Christie herself has compared Phasma to Boba Fett.
Speaking with the LA Times earlier this year, Christie suggested that "She is a Boba Fett-style character, which means she makes a lot of impact but she's not at the forefront of the action all the time."
Again according to TVD, Phasma is a "qualified expert on all First Order small arms, and has also trained in vehicular and starfighter combat." So she won't just be keeping her feet on the ground.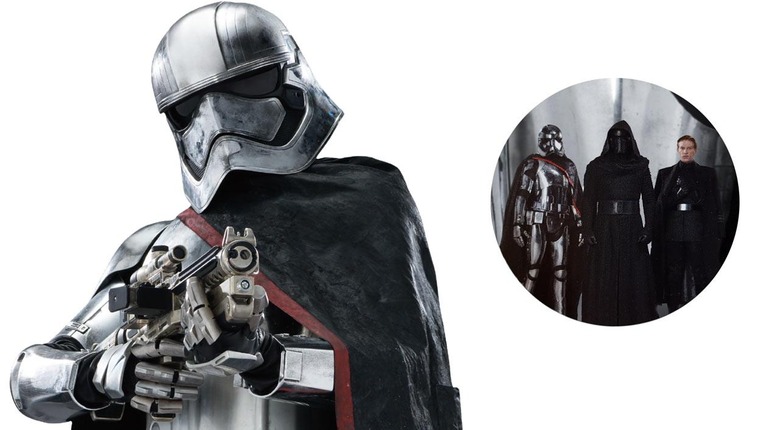 While her final scene in Star Wars: The Force Awakens suggests she's in a bit of (relatively non-lethal at the time) trouble, one could infer that she's been blown to bits in the ensuing events. According to casting for at least the next film (Star Wars VIII, set to be released 2017), Phasma is at least skilled enough at getting out of situations as rough as what we've seen thus far.
Plasma's armor is so important that it directly influenced the name she was given. While we do not know of any retconned reasoning for the name, its origins in our reality stem from Michael Kaplan.
1. Michael Kaplan's costume design team created the Phasma look – form after and before function. The stormtrooper redesign came first, then the application of the chrome and polish.
2. J.J. Abrams saw and approved the costume.
3. Abrams said, via EW, that "It reminded me of the ball in Phantasm, and I just thought, Phasma sounds really cool."
BELOW: Horror movie Phantasm's shiny chrome ball next to two Phantasm (1979) posters.
Information in this article comes from several places. The film Star Wars: The Force Awakens, which is out in theaters now, the Star Wars homepage Databank, and a very neat book. "Star Wars: The Force Awakens: The Visual Dictionary" is written by Pablo Hidalgo and published by DK Publishing in association with Lucasfilm.
As such, all of the information provided above is sourced from Lucasfilm-certified official Star Wars canon bits of media.