We may only be heading into September, but I'm calling it: you're looking at Sphero's R2-D2, and it's going to be the must-have toy of the 2017 holidays. Revealed today as part of the Star Wars "Force Friday" event, the remote-control R2-D2 – and its cousin from the Dark Side, Sphero's new BB-9E droid – looks set to be a must-have for fans of the movie, whether they're kids or otherwise. Indeed, it could well end up being Sphero's most popular robot to-date.
Sphero's R2 isn't big, but he packs a lot of personality. Even in his 6.7-inches of height, the company has stuck remarkably true to the droid of the movies. That means, unlike many R2-D2 toys, he has treads rather than wheels on his two main feet, along with a retracting center foot.
You control him from Sphero's smartphone app, connected via Bluetooth, with roughly an hour of play from a single charge. On-screen joysticks allow you to race him around the table-top; those treads also mean he handles rugs and carpets well, too. Or, you can trace out a path for him to follow.
Buttons on the right of the UI trigger the various animations, all familiar from the movies. Left to his own devices, though, R2 will go into a standby mode, periodically letting out coos and trills, jiggling from leg to leg, and generally trying to get your attention. Sadly, there's no extending robot-arm, or a holographic projector for that matter.
Still, with Sphero's SDK you can make the little droid do a lot more. His LEDs could flash when you get new email, for instance, or he could dance his little jig when you get a Twitter mention. Compatibility with Sphero's Star Wars Force Band – sold separately – meanwhile, allows you to drive R2-D2 around with hand gestures.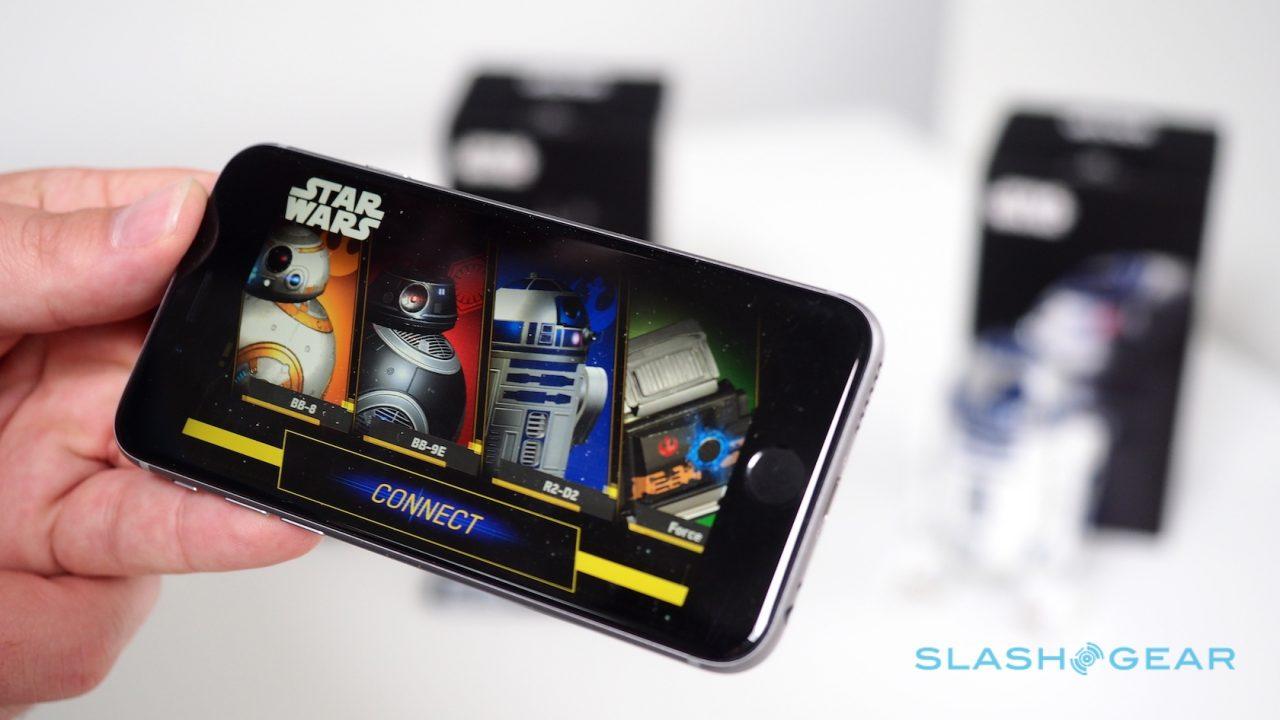 Like BB-8, R2-D2 is designed to interact with the Star Wars movies. Using audio recognition to track what scene is on-screen at any time, he'll cheer when the Jedi are winning and chitter in fear when the Sith are around. Initially Sphero will have support for the latest movies, but the plan is to add the original trilogy later on.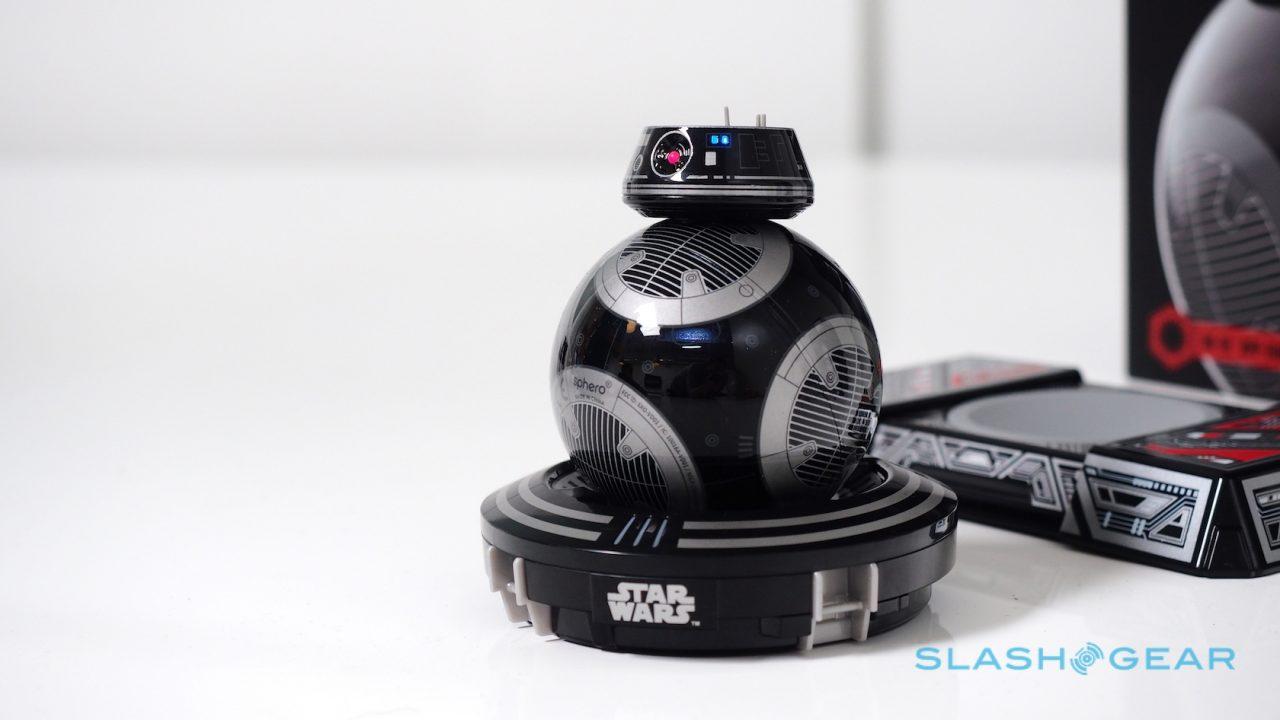 If you've been taken by the dark side, however, there's a second new droid. BB-9E is the Imperial version of BB-8, and like Sphero's toy it's a remotely-controlled ball with a head that "magically" stays on top. The company has gone a step further this time around: BB-9E's LEDs light up, getting their power wirelessly from the main body of the droid so that you don't have to charge two things separately.
Charging, as per BB-8, takes place on BB-9E's wireless stand. Sphero is also including a training base, with a slippery pad on which the droid can race without actually moving on the tabletop. As you'd expect, there are all the animations and sounds from the movie, either triggered automatically or from Sphero's smartphone app.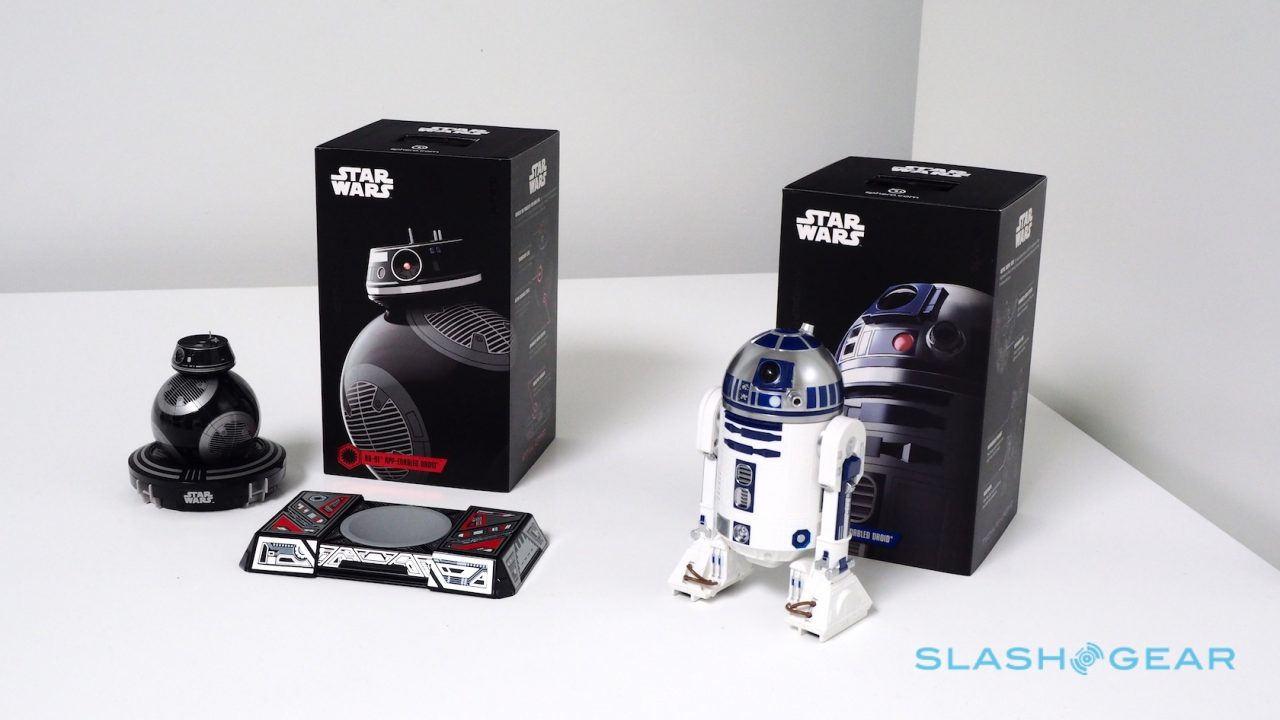 Just as BB-8 will root for the Jedi when you're watching the Star Wars movies, BB-9E will follow along with the Sith's story line. And, like BB-8, there's support for the Force Band for gesture-based control, and the same SDK integration for those of a tinkering inclination as Sphero's other models.
Both new Sphero robots will go on sale through Sphero, at Apple Stores, Amazon, Best Buy, Target, and Disney Stores. R2-D2 is priced at $179.99, while BB-9E is $149.99.