Star Wars Blu-Ray Promo Continues Verizon's Love Of The Force [Video]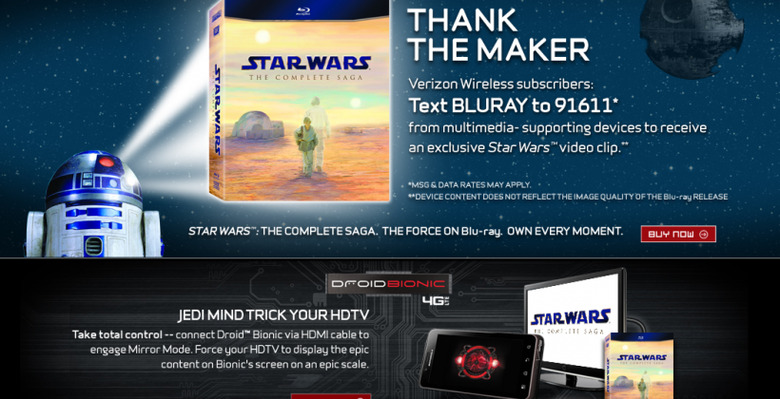 It's no coincidence that Verizon has a promotion going with the folks at Lucasfilm promoting the brand new release of the Star Wars movies on Blu-ray. Verizon has been working with the owners of the Star Wars franchise for some time now, going so far as to release a special R2-D2 edition Droid device approximately one year ago this month. What the folks at Verizon and Lucasfilm have for you this week is a text-sending promotion in which you'll receive a lovely video of some highlights from the series, all centered around a single character. You'll be able to do this on your Android, iPhone, BlackBerry, or any other video-capable device, for the most part.
Lucky for you, we've got the video for you to peek at here, just in case you don't want to waste any of your data for this month, that is. If you love to rack it up, go for it! What we're looking at here is several scenes featuring everyone's favorite hyper-talkative droid C3P0. If we wanted to go so far as to think the R2-D2 version of the DROID were successful enough to get a follow-up, we'd say this would be a sign that C3PO was next. As it is, the original R2-D2 didn't do all that spectacular, so we'll be having to do our own modifications to get a golden DROID for now.
You'll notice in the text for the promo that the word DROID has a trademark TM after it. This always appears after the word Droid because that word is trademarked by Lucasfilm. It's not only this advertisement that you'll see it, the TM then connecting to the bottom of the page where it tells you who the real owner of the word is. Imagine that!
[vms 1b3c2aa868d6d57e14a7]
Also, for those of you who have been confused about the difference between Android and Droid in the past, you're not alone: nearly every single time I speak to a person about what I do for a living, inevitably the question is asked: what is Droid? Does Google make Droid? The answer is no, Google does not make Droid, but what I think you're asking is does Google make Android? Android is a word used by Google as the name for their mobile operating system, while the word Droid, owned by Lucasfilm and coming from the Star Wars franchise, is licensed by Verison for use on their devices where they see fit. Any type of device can be a DROID device, regardless of manufacturer.
Cleared up? What are you still doing here? Why aren't you out buying the Blu-ray disks now?! Oh my god what if they're sold out?!