Star Wars Action Movie FX app reveals BB-8's weapons and agility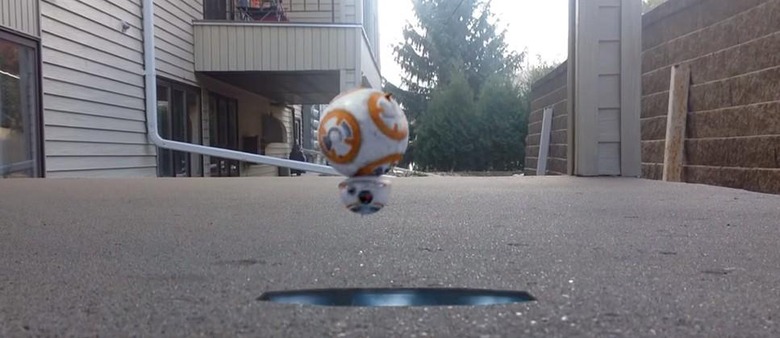 The new hero droid of Star Wars is beginning to really, truly take shape with video footage from a variety of odd sources. What you're about to see is how well our hero, the soccer-ball droid BB-8, is able to get around. You'll also see a few accessories this little monster is carrying inside his spherical body. He's got more than a few tricks up his sleeve, to be sure.
The app we've used to capture these bits of footage is "Action Movie FX." This is not the first time we've seen this app. It's actually been around for quite a while, by app standards – we first had a peek at the app back in the year 2011. It was an amazing feat of graphics engineering back then, and it remains excellent to behold here as we approach 2016.
This round of updates from the folks at Action Movie FX includes a touch of Star Wars. The app was made by Bad Robot Interactive – part of Bad Robot, the production group owned by JJ Abrams and responsible for the production of Star Wars: The Force Awakens. They've also worked on Star Trek Into Darkness, Mission: Impossible, and Cloverfield – so you can guess where this is going. The app is currently Star Wars themed, but you can access effects from a wide variety of film franchises – though not always directly licensed and associated.
In this release you'll get one "effect" for free, but there are several packs that you'll want to (likely) buy. Especially since they're made by "the same artists that made the feature films" – that's Industrial Light & Magic and Skywalker Sound.
- 3 FX from the original trilogy: Vader's Revenge, Lightsaber Fight and AT-AT Smash
- 4 FX from the new film, Star Wars: The Force Awakens – Falcon Battle, BB-8 Spark, BB-8 Escape and BB-8 Surprise
- FREE FX: BB-8 Spark
The other reason you'll probably give in to your impulses to buy is the fact that Bad Robot is donating 100% of the sales price from each of the effects packs to the U.S. Fund for UNICEF to support UNICEF Kid Power (from Nov. 5, 2015 to May 5, 2016).
This app is out now for iOS devices on the iOS AppStore. We're still waiting for the Android version – having waited now for over four years. We've filled a swimming pool with our tears.