Squeezable HTC U unveiled in leaked promo video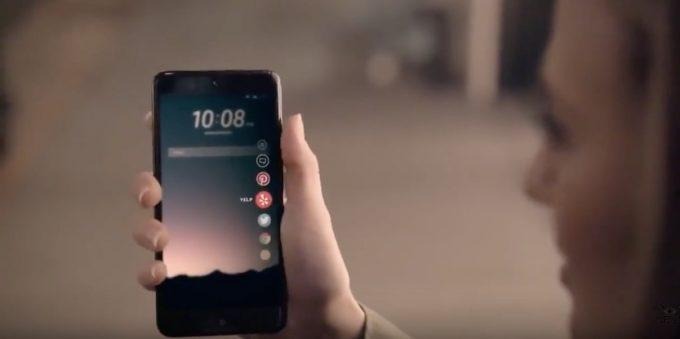 Phone maker HTC has already revealed that they're going to announce a new "U" branded device in just under a month, and we also know the company is terrible at keeping secrets. Combine these two facts and we have what appears to be an upcoming promotional video for the new smartphone turning up early online. Under the title of "HTC U11," the clip goes to great lengths to highlight the feature that's already revealed in HTC's recent "Squeeze for the brilliant" teaser.
That feature, of course, is the phone's squeezable side edges. The video, posted to YouTube by user "Tech Tera," shows a couple walking along, holding hands as they window shop. The man takes the phone out of his pocket and, while holding it with only one hand, gives the sides a squeeze to activate a vertical menu along the left side of the display.
He then makes a gesture of sliding his thumb along the edge to scroll down the menu and select an app to open. A moment later, he hands the phone to the woman, who squeezes the phone with her right hand to open the same vertical menu on the right side of the screen, and scrolls to the camera option so they can take a selfie.
Lastly, the view pans down to show that they've continued to hold hands the entire time, emphasizing the phone's ease-of-use with one hand thanks to the squeeze feature.
Unfortunately, there's no other solid details in the video, like specs or a release date, but more than likely we'll find that out at HTC's event on May 16th. Judging by the quick look this promo offers, it seems like the pressure-sensitive sides could introduce some interesting new way to navigate and interact with the phone.
SOURCE Tech Tera/YouTube