Sprint have announced another dual-sliding handset, the Samsung Highnote, aimed primarily at music fans.  The Highnote slides up to access the standard numeric keypad, or down to reveal a pair of stereo speakers; it also features the same One Click customizable GUI as on the LG Lotus.
Other features are relatively standard – a 2-megapixel camera with video recording and speaker-independent voice recognition is about the height of things – but the Highnote is really all about music.  Stereo A2DP Bluetooth support is present, for use with wireless headphones, and memory is expandable via microSD card up to 16GB.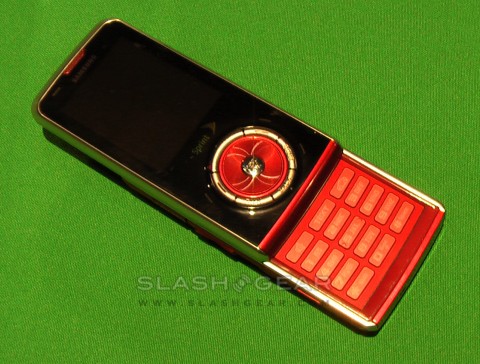 Hands-on, the Highnote is pleasant if not especially outstanding.  Sound quality from the built-in speakers is certainly not going to replace your hifi, or even a reasonable pair of standalone powered speakers, but are enough to enjoy a few tracks without resorting to headphones.  The show floor was too loud to properly test the speaker-independent voice recognition, but build quality feels fair.
The Samsung Highnote will be available on October 19th, in red or blue, priced at $99.99 with a new two-year contract and after a $50 mail-in rebate.