Sprint LG Lotus clamshell QWERTY phone Hands On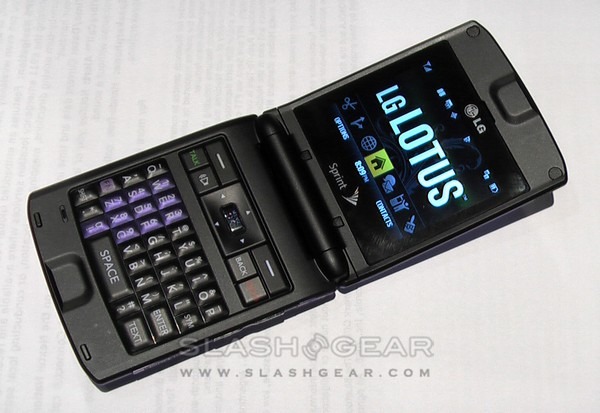 If Sprint's recent announcement of the
HTC Touch Diamond and Touch Pro
are intended to broaden the smartphone choice on its network, then the
is very much in the name of giving even more niche options.  Seemingly a love-it-or-hate-it design when showed at CTIA this week, the clamshell's unusual proportions and powder-compact stylings seem destined to pigeon-hole it as a more female handset; however a surprisingly good keyboard and clear display mean it could have appeal beyond mere fashion.
A 2-megapixel camera, Bluetooth with support for the A2DP wireless stereo profile, and video recording are pretty standard features.  However the Lotus is one of the first handsets on Sprint to offer One Click, the carrier's new GUI that allows customizable access to texting, internet, email, Sprint Navigation, Sprint TV, the Sprint Music Store and other features.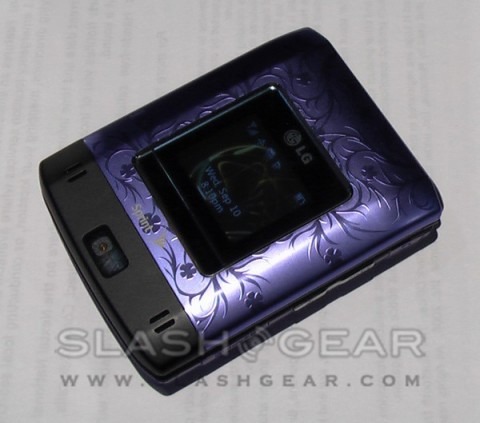 In the hand, the Lotus feels solid and surprisingly expensive.  The textured purple casing is an acquired taste, with the satin black being perhaps more palatable to a greater number of people.  The QWERTY keyboard is responsive and easy to use, while the broad width of the handset permits a wide screen that makes composing longer messages more straightforward.
The LG Lotus will be available from Sprint in October, priced at $149.99 with a new two-year contract.  It provoked arguments among us here at SlashGear, mainly over the design; we'd be interested to hear your thoughts in the comments.