Sprint release HTC Hero for $179.99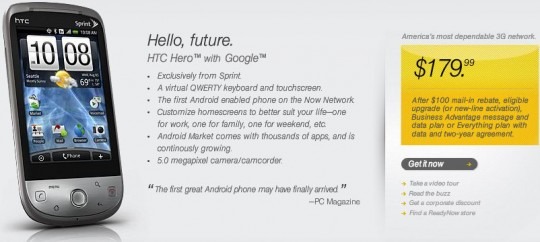 US friends and lovers: you read the European review and seethed with envy; you read our Sprint review and drooled with delight; now you can buy the HTC Hero yourself and seethe/drool on your own time. Sprint have finally pushed the CDMA HTC Hero out of the door, priced at $179.99 with a new, two-year agreement and following a wretched $100 mail-in rebate.
You'll also need to stump up for a data plan alongside a regular voice plan, unless you go for one of Sprint's "Everything" packages which include data. The phone is also available without a contract, though you're looking at a heady $479.99 if that option takes your fancy.
Either way, your money gets you EVDO Rev.A, WiFi b/g and Bluetooth connectivity, together with a 5-megapixel autofocus camera, Exchange email support and, of course, the HTC Sense UI. If you're still on the fence, check out our demo video of the HTC Sense widgets below.
[vms 46a9d49d3d3af4f57443]