Sprint Palm Pre webcast roundup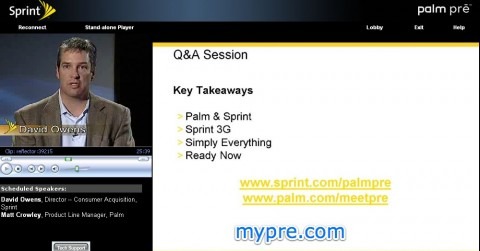 Sprint's webcast about the Palm Pre has just ended, and much to our disappointment there were no bombshell announcements.  Sprint opened the event by clarifying that there would be no new details about launch dates or pricing, and went on to run through pretty much the same demonstration we've already seen of the Pre for the first 20 minutes.  That was followed by a 20 minute Q&A session with questions submitted from the audience.
For the full Q&A coverage, head over to My Pre.  Particular highlights include Sprint reconfirming that the Pre is on-course for a release in the first half of 2009, that only "casual" or "web-centric" gaming will be possible on the Pre, and that Palm plan to continue developing Windows Mobile devices alongside handsets that use their own webOS.
Sprint also clarified which monthly plans would be eligible to Pre buyers.  Not all of the plans the carrier offers will be available, and unsurprisingly Sprint are heavily pushing unlimited data (though it sounds as though they're not quite making it mandatory).  Basically, prices for individuals will start from $69.99 for the Simply Data 450 plan; there'll also be Family and Business plans, with enterprise customers allowed to pool their inclusive minutes.
Overall, it was a disappointing event for anybody who has been keeping up with the Palm Pre's development since CES.  The video demo segment showed nothing newer than our own 26 minute uber-demo, and the questions selected for the second half seemed to bypass the technical queries many of us have had and instead focus on clarifying details we already know.  Admittedly neither Sprint nor Palm promised anything groundbreaking, but given Apple's announcement earlier today that they would be previewing iPhone OS 3.0 on March 17th, we perhaps expected a little more in the way of fighting talk.
Palm Pre demoed on Sprint Webcast 03/12/09[vms 8981ca2c8286f79f5995]