Palm Pre stars in huge hands-on MWC video demo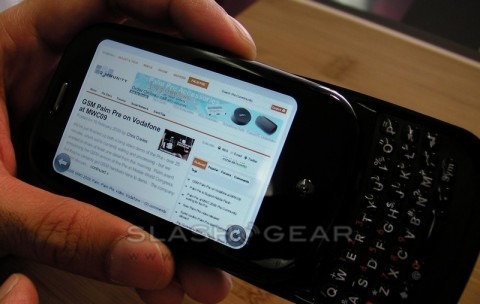 If you've not been keeping up with our sibling site Pre Community, you might not know that we shot a full 26-minute demo video of the Palm Pre at Mobile World Congress.  All the main functionality is covered: calendar, mail, Synergy synchronisation with Exchange, GMail and Facebook, and more.
26 minute Palm Pre video demo after the cut!
It was also Pre Community that broke the news that Palm brought GSM versions of the Pre along to MWC, and that they were running on the Vodafone Spain network.  We've still received no official comment from Palm as to whether Vodafone are an official European partner – at the event we were told that the Vodafone SIMs were simply bought in for the demo devices – nor official confirmation that the GSM handsets even exist.
PR manoeuvring aside, this is an incredible device, and it puts most of the new cellphones announced at MWC to shame.  It's not just the hardware – which believe us is compelling – but the software and the intelligent integration of all the different functionality.  HTC have edged on a similar system with their latest version of TouchFLO 3D, but even that is only on-device rather than taking true advantage of cloud-based data.  For more on the Palm Pre, check out Pre Community (it'll open in a new page); otherwise, enjoy the demo video below of this amazing smartphone!