LG V50 ThinQ 5G goes high-speed on Sprint first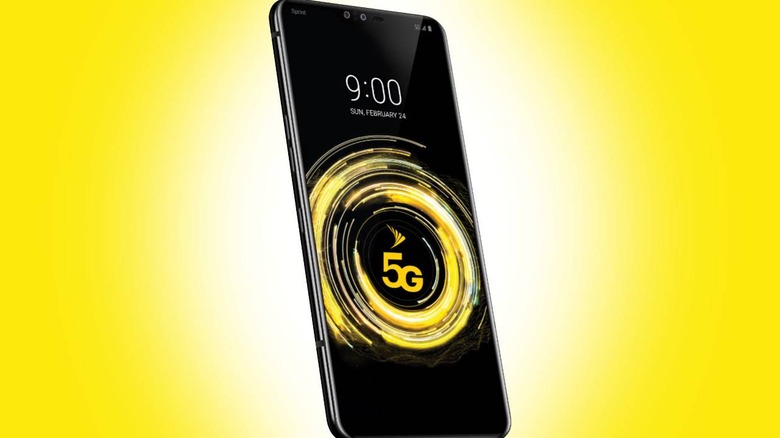 LG is bringing its first 5G phone to Mobile World Congress 2019, with the LG V50 ThinQ 5G promising ultra-fast connectivity on Sprint later this year. The carrier exclusive will tap into Sprint's developing 5G network, while also aiming to prove that just because you support next-generation wireless, doesn't mean you have to be heavy and unwieldy.
So, LG started with the bones of its early V Series devices, and coaxed a 5G variant from them. At 159.2 x 76.1 x 8.3 mm and 183 grams, the V50 ThinQ 5G is certainly in the same ballpark as other recent flagships. That's despite LG squeezing in a 4,000 mAh battery.
One phone, five cameras
On the front there's a 6.4-inch QHD+ OLED FullVision display, along with dual cameras. Unfortunately the Z Camera of the LG G8 ThinQ hasn't made it over, with its clever Time-of-Flight technology. Instead, you get an 8-megapixel standard selfie camera, and a 5-megapixel wide-angle camera (even though there's only 10-degrees difference between the two.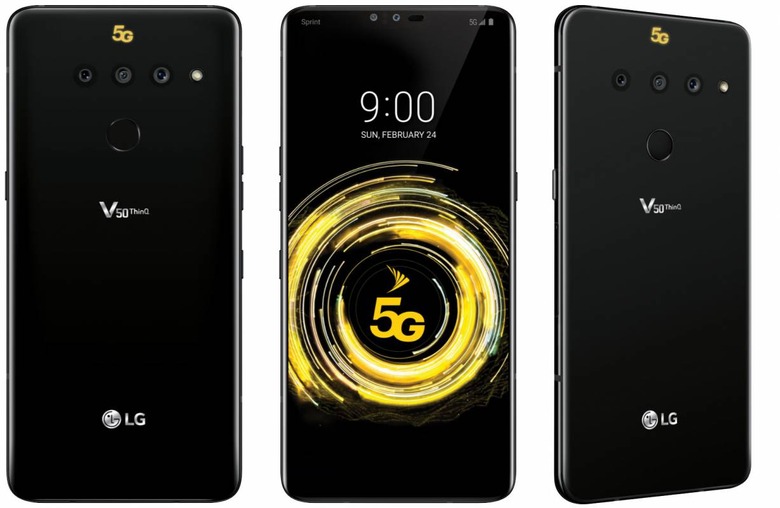 On the back, there are three cameras. The standard clocks in at 12-megapixels, with f/1.5 optics and a 78-degree field of view. Then there's a 12-megapixel telephoto, with an f/2.4 lens and 2x magnification. Finally, the 16-megapixel wide-angle camera has an f/1.9 lens and 107-degree field of view. Portrait Video is supported on both the front and rear cameras.
The V50 ThinQ 5G uses Qualcomm's Snapdragon 855 chipset and the X50 5G modem. There's LG's 32-bit Hi-Fi Quad DAX with DTS:X Surround Sound support, along with IP68 water and dust resistance, Quick Charge 3.0, and a fingerprint sensor on the rear.
Sprint 5G
Of course, the main reason people will be interested is the 5G support. There, LG says that the combination of its big battery and a new Vapor Chamber heat-dissipation system should mean the V50 ThinQ 5G stays cool and collected. The Vapor Chamber uses a new, more advanced system than typical heat pipes, LG suggests.
So far, so good. What we don't know, however, is how much the LG V50 ThinQ 5G will cost, nor indeed when it will show up on store shelves. LG is only saying to expect it on Sprint "in the coming months," with availability on at least one other American service provider later in the year. We're expecting 5G phones to carry a premium, at least initially, and the fact that this particular model packs in most of LG's cutting-edge features isn't going to help bring its price down any. Nonetheless, it's in LG and Sprint's best interest to get the V50 ThinQ 5G in as many hands as possible as the 5G network progresses, so there's still the possibility of a pricing surprise in the future.
LG V50 ThinQ 5G Dual Screen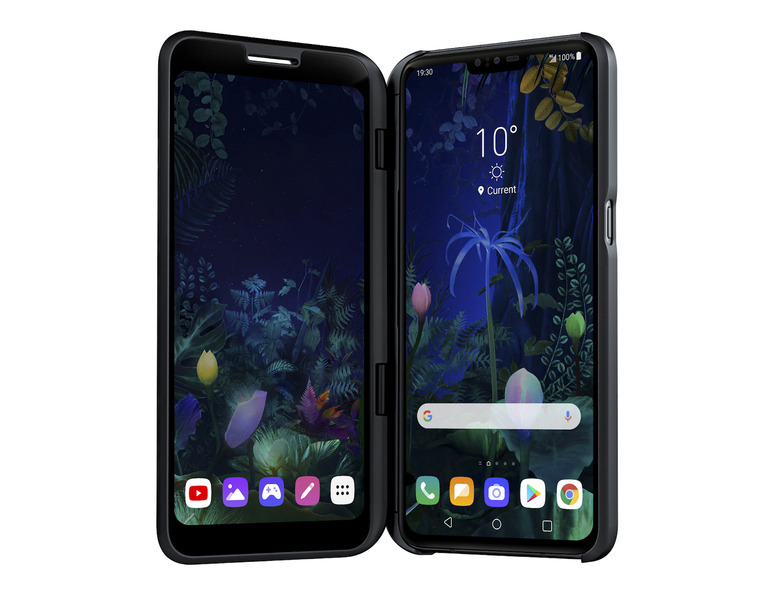 LG may be taking a wait-and-see approach to foldable phones, but that hasn't stopped it flirting with clamshell designs. The LG V50 ThinQ 5G Dual Screen is an add-on case accessory for the smartphone, which gives it a second, 6.2-inch OLED touchscreen. That can be independently used from the phone's own display.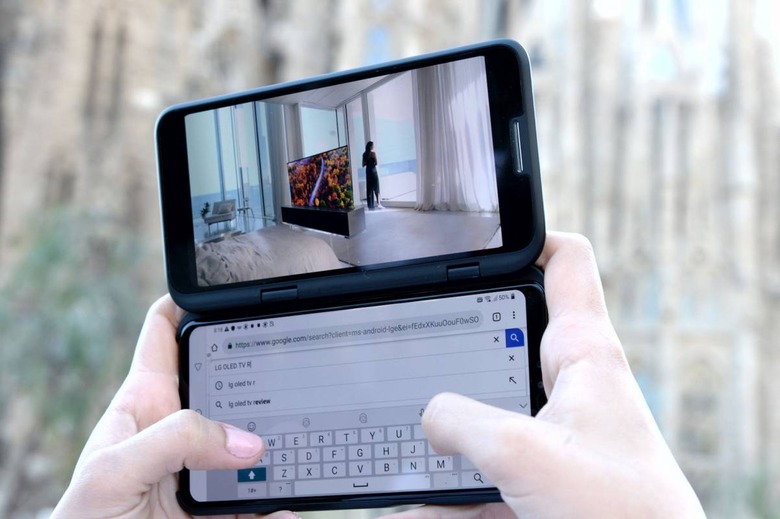 So, you could have YouTube playing on one screen while catching up on email on the other, or have the browser open on one while saving links to a Google Docs document in the other. With the Dual Screen in place, a new icon on the V50 ThinQ 5G appears which both controls power to the second display and switches between them. A new multi-window feature splits each screen in two, meanwhile, for multiple applications at once.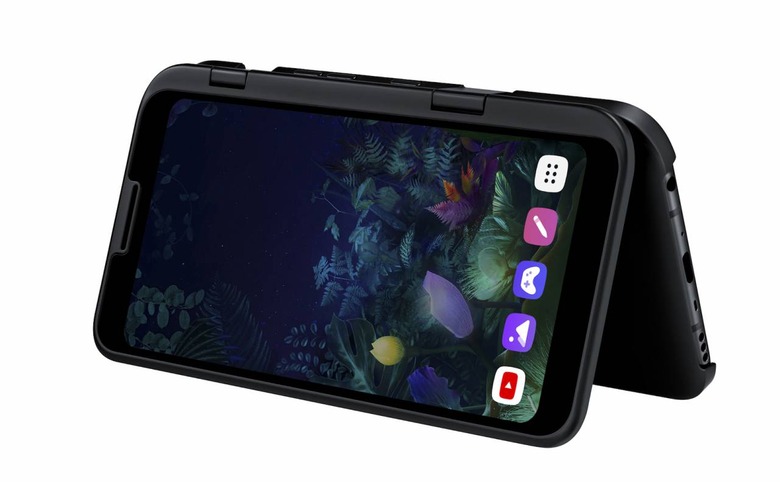 Some games, LG says, will be able to use the Dual Screen touchscreen as a dedicated controller. It's powered by the phone's battery, and can be positioned at either 104- or 180-degrees. Unfortunately for those in the US, while LG intends to offer the Dual Screen in other markets where the V50 ThinQ 5G will be sold, there's no plan for a US launch.