LG G8 ThinQ hands-on: Palm-reading Android adopts smarter sensors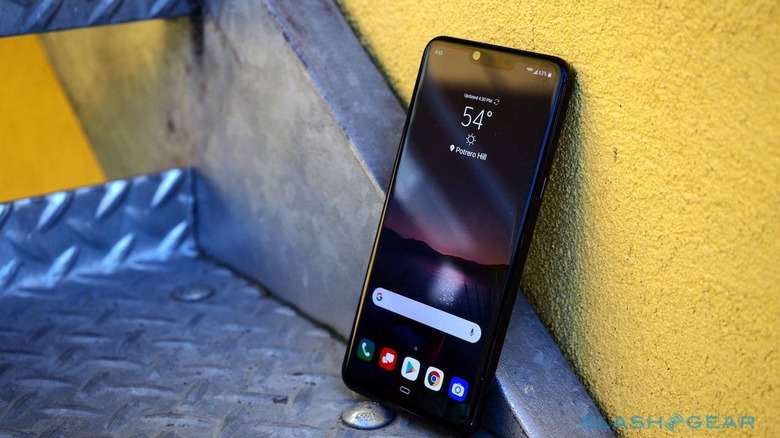 In a smartphone age where facial recognition, in-display fingerprint readers, and other unusual biometrics are proliferating, the LG G8 ThinQ still manages to offer something unexpected. Launching at Mobile World Congress 2019 today, the new G-Series flagship debuts LG's first Time-of-Flight sensor, and it turns the G8 ThinQ into a palm reader.
It's all about security - and choice
Right now, you'd be forgiven for feeling pressurized by phone-makers into using their favorite biometric security method. Apple ditched Touch ID on the iPhone, in favor of Face ID. Samsung's Galaxy S10 retired iris recognition, opting for an in-display fingerprint sensor in its place.
The LG G8 ThinQ makes no such demands. There's still a fingerprint sensor on its back, but now you also get 3D face recognition and Hand ID, which promises to lock your Android phone with your palm. Both take advantage of a new, front-facing sensor.
It's been dubbed the Z Camera, and it's a Time-of-Flight (ToF) sensor built by Infineon. It allows the G8 ThinQ to map distance: for facial recognition that means building up a live, 3D portrait of a user's face, irregardless of lighting conditions, to bypass being fooled by 2D photos. The G8 even knows when you're looking at it, and not to unlock when it doesn't have your attention.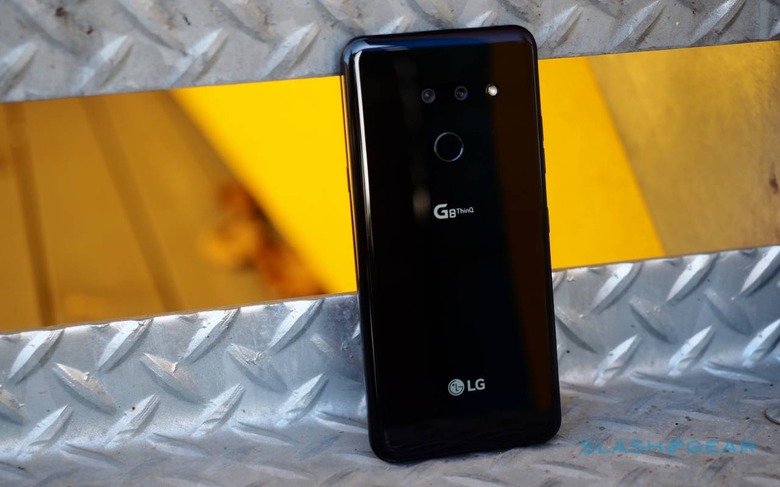 More unexpected is Hand ID. The Z Camera uses infrared to map out the absorption characteristics of the hemoglobin in the user's blood. After that, holding your hand up in front of the sensor is enough to wake the phone and unlock it.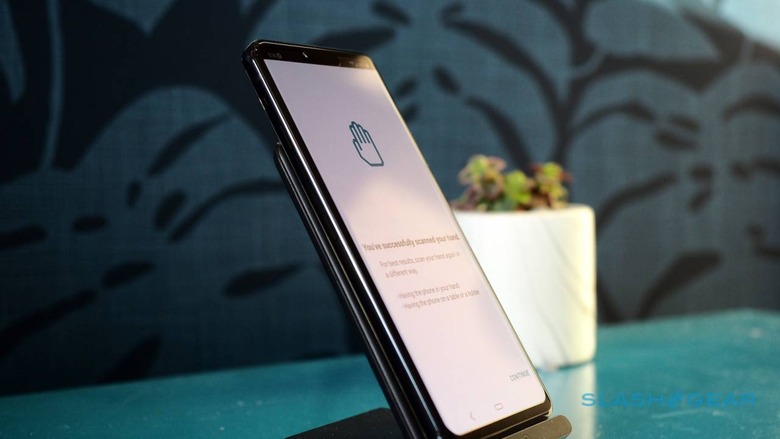 Air Motion is a nice gesture
The same Z Camera is also used for the LG G8 ThinQ's other big party trick: Air Motion. Hold up your hand and, after a moment, the phone flashes a short white bar at the top of the screen to show it has recognized you. Then, you can swipe your fingers left or right to launch apps – you can choose two to preset – or pinch your fingertips together and pull to take a screenshot.
The same gestures can be used to adjust volume and playback, without touching the phone, when you're listening to music or watching videos. They can also control alarms and timers, as well as answer or reject incoming calls.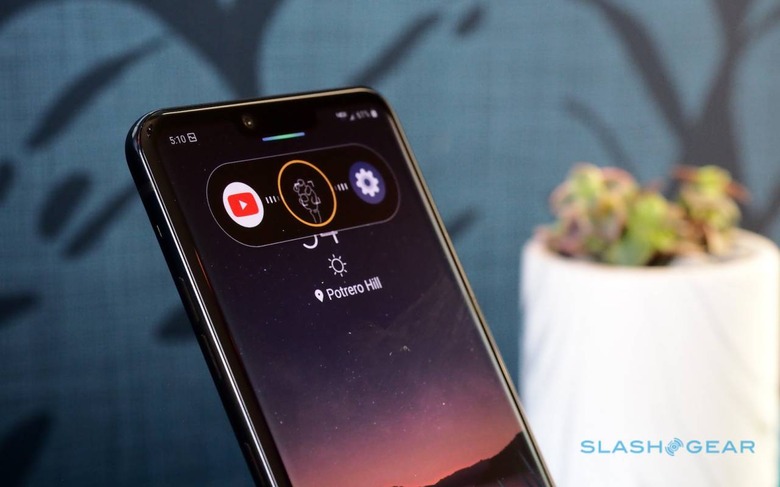 It's a clever idea, but it takes a little getting used to. Figuring out where, exactly, to hold your hand in front of the G8 is the first issue. LG has angled the ToF camera down slightly, assuming that the natural inclination of users will be to gesture in front of the screen rather than the phone's notch. Even so, I found it could take me a short while before I positioned my palm in the right place.
After that, the gestures that can be recognized are fairly basic. Two apps to load, media control, and screenshots. Certainly, I could envisage being able to deal with incoming calls being reasonably useful if the G8 was in a car cradle, but since Air Motion depends on your hand being 6-8 inches away, it's not that much easier than just reaching all the way and tapping the screen.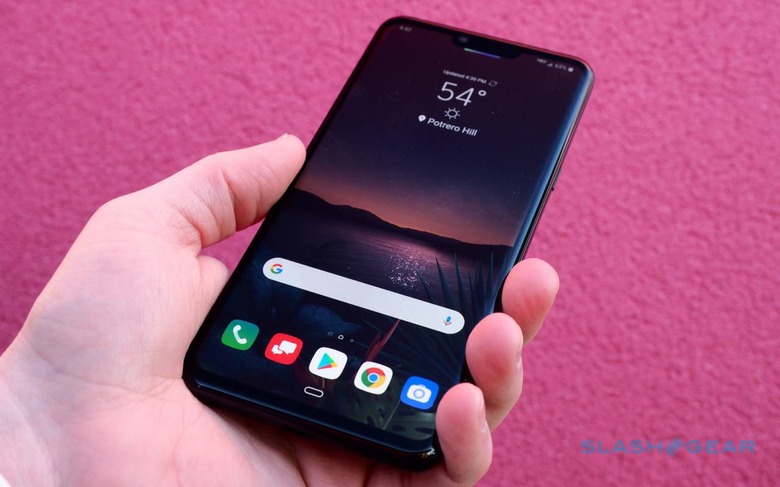 LG does say that this is early days for the Z Camera, and it's just whetting the appetite for what a ToF sensor can do. Right now it does seem somewhat gimmicky.
A sleek Android phone
Compared to its predecessor, the LG G8 ThinQ is sleeker and smoother. LG has made a sandwich of Gorilla Glass and a thin metal frame, and at 167 grams there's just the right amount of heft in your hand to make it feel solid but not heavy. Of course there's IP68 water and dust resistance, too.
The 6.1-inch QHD+ display has been improved, too. It's still bright and colorful, but now it uses LG's Crystal Sound OLED technology that turns the whole thing into a speaker. It allowed LG to do away with the typical earpiece speaker, while when you're listening to video or music the whole panel works as a driver.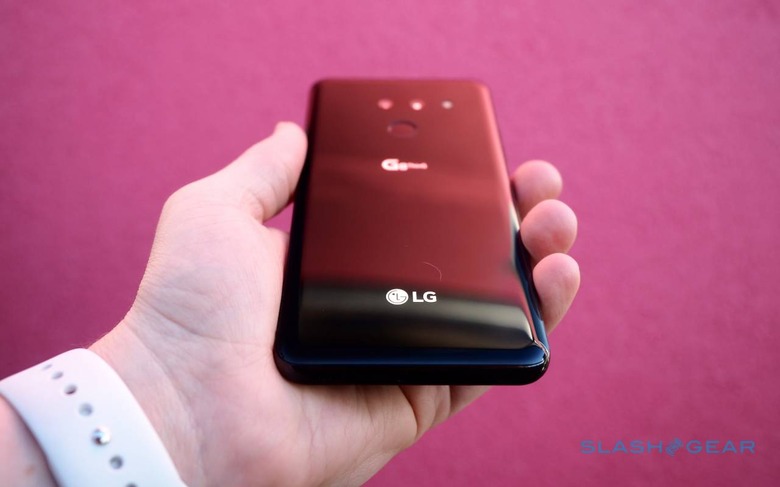 In portrait orientation, the screen is split up into high, mid, and low sections, while the Boombox speaker on the bottom contributes bass. In landscape, the screen is split down the middle, to give left and right stereo channels. It sounds surprisingly good, with an unexpected amount of both volume and bass. More impressive still, the Crystal Sound OLED system can act as a bone-conduction speaker to make sure you can still hear calls even with loud background noise.
Inside is Qualcomm's Snapdragon 855 processor, with 6GB of memory and 128GB of storage. There's a microSD slot and a 3.5mm headphones jack, along with USB Type-C. LG's 32-bit Hi-Fi Quad DAC and DTS:X 3D Surround Sound are onboard.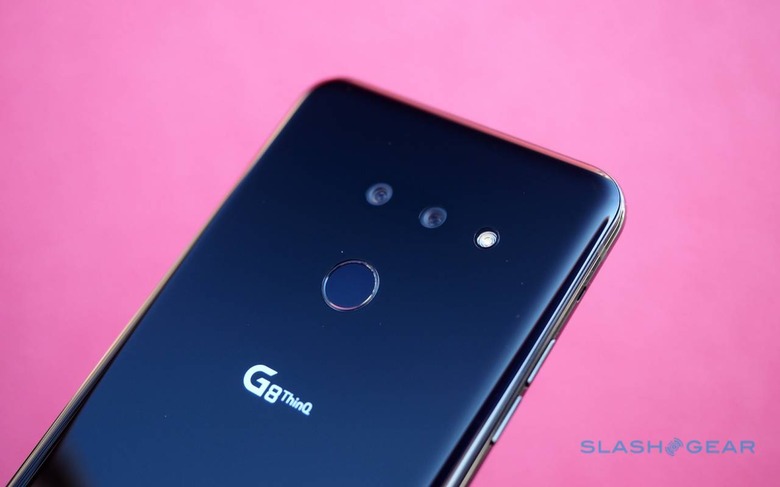 Side by side with the G7, and LG's refinements in design are clear. There are none of the protuberances or ridges of the old phone: the twin cameras on the rear are flush. Sadly the 3,500 mAh battery is non-user-replaceable, but you do get both Quick Charge 3.0 support and Fast Wireless Charging.
Cleverer cameras
The G8 ThinQ has both a 12-megapixel standard camera on the rear, with f/1.5 optics and a 78-degree field of view, and a 16-megapixel wide camera, with f/1.9 optics and a 107-degree field of video. On the front, alongside the Z Camera, is an 8-megapixel camera for selfies.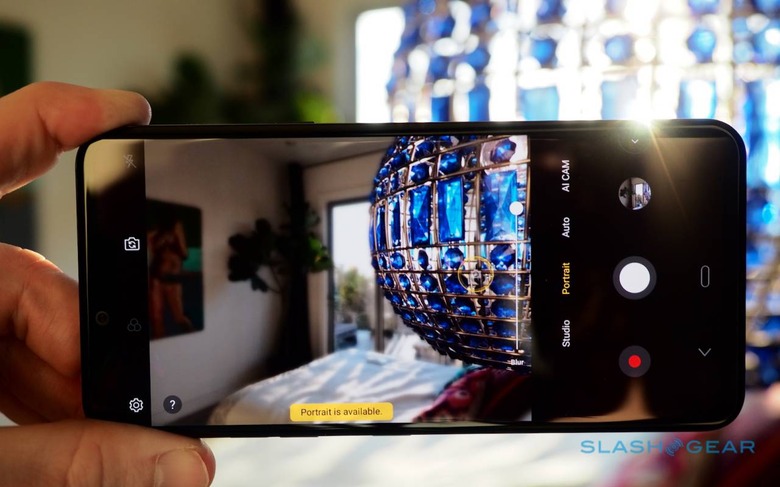 With the rear camera there's a new Video Portrait mode. That adds in background blur, controlled either by tapping what you want to be in focus, or by adjusting the virtual focal length with an on-screen slider. It works surprisingly well. There's also a Night View mode, which combines up to ten images to boost brightness and reduce noise.
The front camera, meanwhile, gets an enhanced portrait mode, using the Z Camera to better map the face. Studio Effect images benefit, too, and it's now possible to move the position of the virtual light source around the frame.
Are gestures a gimmick?
Some of the G8 ThinQ's features make a whole lot of sense out of the gate. The Crystal Sound OLED, for instance, borrows technology from LG's flatscreen TVs, and the system works impressively well on a phone form-factor. Video Portrait mode is slick, too, and while I had a limited time to put the G8 through its paces, the Snapdragon 855 seemed more than speedy enough.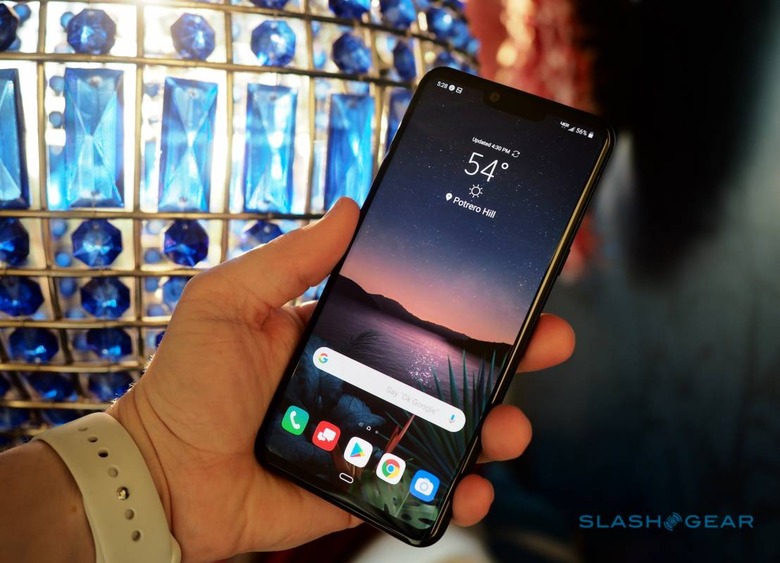 So far so good, but it's the Z Camera-based features that leave me wondering if LG is on the right track. I don't doubt that the Infineon ToF sensor is mighty clever, and that LG has some interesting ideas on the roadmap for how it could be used, but out of the box today it feels a little underwhelming. My problems getting the hand gestures to be recognized left me wondering at times why I wasn't just tapping the screen. Even when you do get them working, the limited range of actual actions you can perform seems like another roadblock.
Perhaps that's something I'd get to grips with after more time with the LG G8 ThinQ. Sales will kick off in the US "in the coming weeks," LG says, with carriers and pricing yet to be confirmed. Certainly, as an upgrade from the G7, the G8 ThinQ checks off all the expected boxes. In the face of strong competition from Apple, Samsung, and others, though, the just is still out whether LG's Z Camera tech is enough to give the G8 an edge.