Sprint BlackBerry Bold 9650 confirmed for May 23rd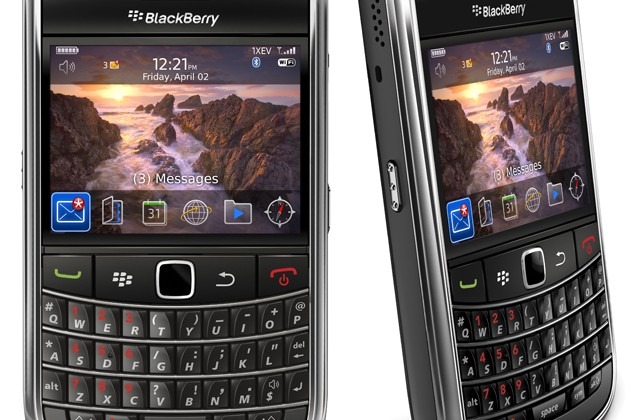 Just like the BlackBerry Bold 9650 itself, the news that the CDMA smartphone is heading to Sprint comes as little surprise thanks to this morning's leak.  Still, the carrier has confirmed specific availability and pricing: the Sprint Bold 9650 will drop on May 23rd, priced at $199.99 with a new two-year agreement and assuming a $100 mail-in rebate.
You'll also need a data plan, either one of Sprint's consumer plans like Everything Data or a business plan like Business Advantage Messaging and Data.  Since there's not only CMDA EVDO Rev.A support but quadband GSM/EDGE and 2100MHz UMTS, the Bold 9650 will work outside of the US too, though beware the fees involved; if you're a corporate customer, you can opt for Sprint's $69.99 Worldwide BlackBerry plan which includes roaming calls, messaging and data.
Alternatively it seems the 9650 is provided SIM-unlocked, so you can slot in a local SIM card and take advantage of cheaper rates.  More details on the BlackBerry Bold 9650's hardware functionality here.
Press Release:
Advanced Features and Refined Style of BlackBerry Bold 9650 Smartphone Coming to Sprint

Available in all Sprint sale channels May 23, the new BlackBerry Bold 9650 offers international roaming for a global smartphone experience

OVERLAND PARK, Kan., Apr 26, 2010 (BUSINESS WIRE) –With an extensive array of high-end communications and multimedia features, compact and highly refined design and international roaming capabilities, the new BlackBerry(R) Bold(TM) 9650 smartphone will be available from Sprint (NYSE: S). It will operate on Sprint's nationwide 3G Network domestically, and roams on other high-speed wireless networks around the world for reliable voice and email communication.

The BlackBerry Bold 9650 smartphone will be available for $199.99 with a new two-year service agreement, after a $100 mail-in rebate (taxes & surcharges excluded). It can be purchased in all other Sprint sales channels, including Web sales (www.sprint.com), Telesales (1-800-SPRINT1), Sprint Business Sales, Sprint stores, national retailers and third-party dealers, Sunday, May 23.

BlackBerry Bold 9650 provides instant access to email, calendar, contacts, robust business and entertainment applications and location-based services, leveraging the best performing wireless networks in the United States and abroad. It is also ideally suited for those who want to stay socially connected and share moments through pictures and videos over MMS and popular IM services like BlackBerry(R) Messenger. It also offers easy access to social networking sites like Flickr(R), MySpace(TM) and Facebook(R), with smooth integration, providing a great view of what's happening both personally and professionally.

"BlackBerry Bold 9650 extends Sprint's position of offering the best portfolio of BlackBerry smartphones in the industry with a powerful mobility tool for those who want to stay connected, both domestically and abroad," said Fared Adib, vice president – Product Development, Sprint. "Our customers will appreciate its fast Web browsing, downloads and streaming as well as social media and productivity enhancing applications. This is an ideal smartphone for juggling busy personal and professional lives."

"The BlackBerry Bold 9650 is a sophisticated and feature-rich smartphone with uncompromising performance that lets you stay connected to the people and content that matter most, whether at home or travelling the world," said David Smith, vice president of Handheld Product Management, RIM.

In addition to top-of-the-line performance, functionality and features, the BlackBerry Bold 9650 smartphone comes with BlackBerry(R) OS 5. It is also designed with a smoothly integrated optical trackpad and a distinctive, highly tactile, fretted keyboard and features a large, high-resolution display (480 x 360 resolution at 245 ppi).

Additional features include:

Access to up to 10 supported email accounts (including most popular ISP email accounts such as Yahoo!(R), Windows Live(TM) Hotmail(R), AOL(R) and Gmail(TM)), plus BlackBerry(R) Enterprise Server support offering advanced security and IT administration capabilities for corporate deployments

Built-in GPS and Wi-Fi(R) (802.11 b/g)

3.2 MP camera with flash, variable zoom, image stabilization, autofocus and video recording

Advanced media player for enjoying pictures, video and music

512 MB Flash memory and an expandable memory card slot that supports up to 32 GB microSDHC cards, with a 2 GB microSD card included

3.5 mm stereo headset jack

Support for the Bluetooth(R) stereo headsets (A2DP/AVCRP)

Sprint Music Store, Sprint Navigation, Sprint TV(R), Sprint Football Live and NASCAR Sprint Cup Mobile

BlackBerry(R) App World(TM) for access to thousands of applications

The 3G Sprint Mobile Broadband Network (inclusive of data roaming) reaches more than 269 million people, 18,652 cities and 1,838 airports. The Sprint Mobile Broadband Network (inclusive of data roaming) have twice the coverage of AT&T's current 3G network and 14 times the coverage of T-Mobile's current 3G network, both based on square miles1.

According to Sprint performance data, Sprint Mobile Broadband connections are successfully connected and maintained better than 99 out of 100 times. According to a recent independent network test conducted by PC World, no one has a more reliable network than Sprint based on a recent 13 city 3G performance test 2.

BlackBerry Bold 9650 for most customers requires activation on an Everything Data plan or a Business Advantage Messaging and Data plan. Additional plan options are available for business customers. For just $69.99 per month, Sprint's affordable Everything Data 450 plan with Any Mobile, AnytimeSM gives customers unlimited calling with any U.S. wireless user, unlimited text and picture messaging, unlimited Web, email and social networking, and unlimited GPS navigation for the same price AT&T and Verizon charge for unlimited talk only. Sprint Everything Data plans also automatically enroll customers in the Sprint Premier loyalty program, which provides annual device upgrades, discounted accessories and other benefits.

Sprint's Simply EverythingSM plan offers nationwide unlimited calling, unlimited text and unlimited data, including email, social networking, Web browsing, Sprint Navigation, Sprint TV, streaming music, Sprint Football Live and NASCAR Sprint Cup Mobile, for only $99.99 per month (plus taxes and surcharges). That is a $480 savings over two years vs. a comparable AT&T iPhone(R) plan3. (Prices exclude taxes and surcharges. Both Everything Data and Simply Everything plans are available to existing customers without extending their service agreement. New lines of service require a two-year service agreement.)

International Travel

The BlackBerry Bold 9650 smartphone operates domestically on the Sprint 3G network, and globally on 2100 MHz UMTS/HSPA and quad-band EDGE/GSM/GPRS networks where Sprint has international roaming agreements. With this smartphone, Sprint customers have the power to make or receive phone calls in more than 185 countries and access BlackBerry(R) data services including email, apps and Web browsing in nearly 150 countries.

Sprint offers clear value and simplicity with its Worldwide BlackBerry(R) service plan. The Worldwide BlackBerry plan gives customers unlimited BlackBerry email and Web access in the United States, Canada, Mexico, and other locations using CDMA technology, and with UMTS and EDGE/GSM/GPRS carriers abroad where Sprint has applicable roaming agreements. The plan is available to corporate customers for $69.99 per month, or an additional $40 per month (excluding taxes and surcharges) as an attachable to Simply EverythingSM, Everything Data, Everything Data Family or Business Advantage with Messaging and Data plans.

Sprint international voice roaming rates range from $0.59 to $5.99 per minute, depending on where customers are calling. Customers making frequent calls while in Canada can take advantage of a specific service plan for $2.99 per month which allows calls to be made and received at $0.20 per minute. Additional pricing plans are available exclusively to enterprise customers.

Customers also have the option of using a third-party SIM for international voice and data services.

About Sprint Nextel

Sprint Nextel offers a comprehensive range of wireless and wireline communications services bringing the freedom of mobility to consumers, businesses and government users. Sprint Nextel is widely recognized for developing, engineering and deploying innovative technologies, including two wireless networks serving more than 48 million customers at the end of the fourth quarter of 2009 and the first 4G service from a national carrier in the United States; industry-leading mobile data services; instant national and international push-to-talk capabilities; and a global Tier 1 Internet backbone. The company's customer-focused strategy has led to improved first call resolution and customer care satisfaction scores. For more information, visit www.sprint.com.

The BlackBerry and RIM families of related marks, images and symbols are the exclusive properties and trademarks of Research In Motion Limited. RIM assumes no obligations or liability and makes no representation, warranty, endorsement or guarantee in relation to any aspect of any third party products or services.

1 Coverage comparison based on publicly available information as of 04/01/09 inclusive of Sprint roaming partners. Based on square miles.

2 PC World's test included Sprint, AT&T, Verizon and T-Mobile in thirteen major cities in all regions of the country during December 2009 & January 2010. In all, roughly 9,000 individual tests of Sprint's 3G service were conducted from 280 testing locations in 13 cities. Testing sessions were one minute in duration per location, and network performance can be highly variable from neighborhood to neighborhood. In laptop-based tests, Sprint tied with another carrier for first in 3G network reliability

3 Savings based on publicly available information comparing AT&T Nation Unlimited plus required iPhone data plan and optional unlimited text messaging totaling $119.99/month for AT&T as of publication date, excluding taxes, surcharges and fees. iPhone is a registered trademark of Apple Inc.