Spotify voice controls tease smart speaker potential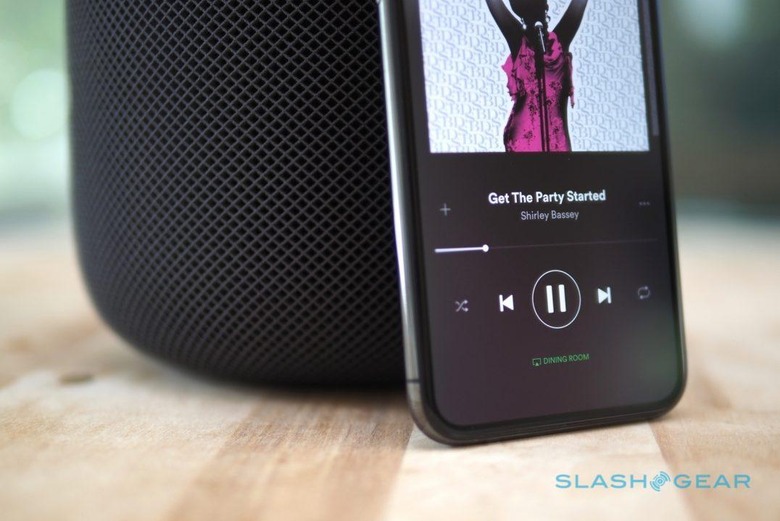 Spotify is apparently testing voice control in its mobile app, in advance of what's believed to be a plan to take on HomePod with a Spotify-branded smart speaker. The addition of voice search was spotted in the Spotify for iPhone app, some users have reported today, complete with support for a selection of music-related commands.
Chatter of a Spotify speaker has been circulating for some time now. Last month, job adverts for a number of hardware roles reignited speculation that the streaming music company would be wading into hardware. Spotify, so the job listing suggested, "is on its way to creating its first physical products" and was looking for an Operations Manager who would be responsible for "innovative Spotify experiences via connected hardware."
That, unsurprisingly, led many to expect an Apple HomePod, Amazon Echo, or Sonos One rival. Now, features apparently being tested within Spotify's smartphone app – for some users, at least – would seem to indicate that the company is experimenting with some of the commands such a device might support.
Added to the search tab in Spotify, there's a new microphone icon. Tap that, and you can give spoken instructions and make requests. This is more, it's worth noting, than just a way to dictate musician, album, or track names into the regular search field.
I spy @Spotify laying the foundation for a smart speaker... pic.twitter.com/n1slxIFUNA

— Hunter Owens (@owens) March 14, 2018
For instance, you can apparently ask Spotify to "play my Discover Weekly," the playlist the service automatically generates every seven days with new music based on what you've been listening to the most. Alternatively, you can ask for specific music – "Play Starboy," for instance – or, more generally, for a genre. "Play some upbeat pop," for example, would have the equivalent result of loading the Spotify playlist of the same name.
Not all Spotify users are seeing the new voice control feature. According to the screenshots, shared by Hunter Owens on Twitter, the new icon appears in the search tab of the iOS app. However, we've checked and so far aren't seeing it. The limited trial is reminiscent of Spotify's UI redesign, which was discovered earlier this week. That, you can force the app into showing on iOS or Android by registering with a new Spotify account, though it reverts back to the regular interface when you restart the app.
Spotify is undoubtedly playing catch-up in the smart speaker space, and it's unclear how the company's plans fit in with its existing partnerships. The vast majority of connected speakers on the market – Apple's HomePod a notable exception – count native support among their core features, and some, like Alexa-powered Echo and Sonos One models, allow for voice control, too. One possibility is that Spotify's speaker could differentiate itself with a pure focus, whether solely on music or on cost. Whether that would be enough to raise its profile in an increasingly crowded segment remains to be seen.