Spotify iPhone and Android apps released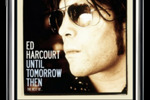 Spotify have released both their iPhone and Android mobile apps, a little over a week after Apple approved it in late August.  Premium subscribers to the streaming music service will now be able to access Spotify's catalog on their iPhone, iPod touch, or any of the Android devices currently available.  The app also supports offline playback, where tracks are cached in the background and thus can be played back even when there is no network connection, particularly useful for iPod touch owners.
Unlike streaming radio, Spotify allows users to search from their database of tracks and put together custom playlists.  The desktop version of the service has both ad-supported free and paid "premium" versions (which do not have adverts), but only the latter group will be able to use the mobile client.
Video demos after the cut
Unfortunately Spotify is only available in certain countries at present: Sweden, the UK, Norway, France, Finland and Spain.  The company has previously said it plans to launch in the US, perhaps even as soon as by the end of 2009, but there is no firm date attached.
You can find Spotify Mobile in the Apple App Store or the Android Market, where it is a free download.  You also need a monthly subscription for premium service, which in the UK is priced at £9.99 ($16).
Spotify on iPhone:
Spotify on Android:
[via Twitter]