Spotify For Garmin Vivoactive 3 Music Arrives On Your Wrist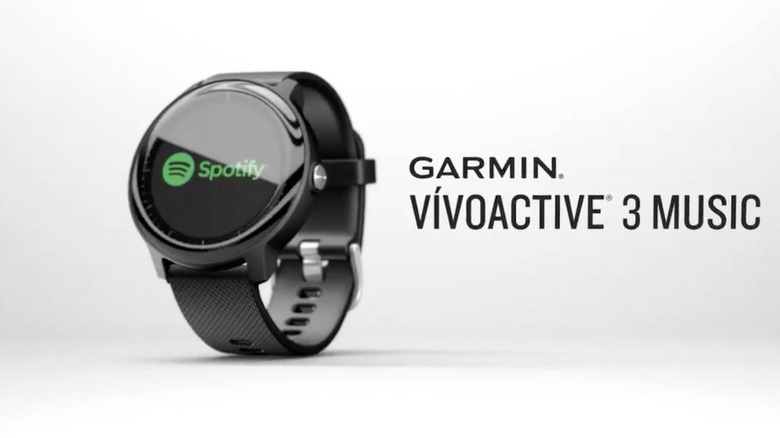 Garmin has rolled out its Spotify app its vivoactive 3 Music smartwatch, bringing the music service directly to the wrist. The new app was announced back in October 2018, as a way for owners of select Garmin wearables to leave their phone at home, but still be able to take their music with them. Now, it's available to install for Garmin's most affordable music-compatible model.
It relies on offline storage for Spotify music. Once you've set up a playlist of tracks you want to work out to – or just commute with – in the Spotify mobile app, you can then synchronize that with the local storage in compatible Garmin smartwatches. Tracks are transferred over WiFi for speed.
After that, you can pair your Bluetooth headphones with the Garmin smartwatch, and play music directly. Unsurprisingly the Spotify interface for the wearables is a little less comprehensive in its features than Spotify on your phone. Still, for what you'd need while you're running or in the gym, that simplicity is probably a bonus.
Garmin launched the app in October, though at the time it was only compatible with its more expensive models. That includes the D2 Delta, D2 Delta PX, and D2 Delta S, along with the Forerunner 645 Music. The Fenix 5 Plus, Fenix 5S Plus, and Fenix 5X Plus are also compatible.
Now, though, it has been updated to work with the Garmin vivoactive 3 Music. That was released in June last year, an update to the original vivoactive 3 GPS smartwatch. The upgrade added in enough storage to save around 500 songs to the wearable itself. However, while you could side-load tracks, the only music services Garmin supported officially at launch was iHeartRadio, with Deezer following on.
Spotify compatibility makes the $299.99 price tag of the vivoactive 3 Music seem a lot more palatable. The fact that you can find it only for under $260 at the moment doesn't hurt, either.
In addition to manually building a playlist, you'll also be able to use Spotify's algorithmically generated playlists. That includes music for workouts, along with the latest releases and Discover Weekly. Podcasts are supported, too, and the watch can show album art as well. If you have the more recently-released vivoactive 3 Music LTE, which has an integrated Verizon 4G LTE modem, that too can be used with Spotify, though not for streaming over LTE.
You won't just need a compatible Garmin smartwatch in order to use the feature, mind. You'll also need to be a Spotify Premium subscriber: those with free accounts won't be able to do offline sync.