SpaceX CRS-6 mission success: Tweets from space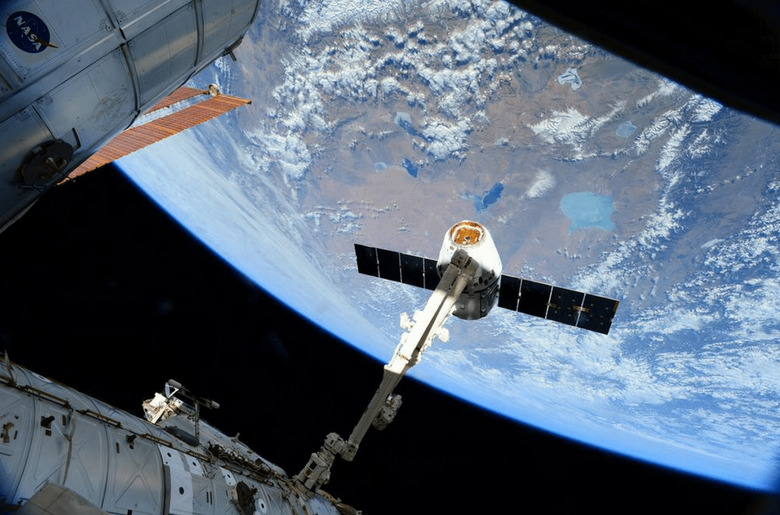 The SpaceX mission known as CRS-6 had two points of success – one up in space at the ISS, another in the Atlantic Ocean. While the Earthbound piece of this pie did not land successfully – but came OH SO CLOSE – the package delivered to the ISS did, indeed, arrive completely safely. Onboard were 2 tons of science and supplies – including coffee – for the crew of the International Space Station for all nations aboard. No more instant coffee for those above our heads doing science!
A single NASA Twitter update confirmed the attachment of the Dragon module to the International Space Station at 8:23 AM Central Time this morning, the 17th of April, 2015. Above and below you'll find a variety of images shared by the astronauts aboard the ISS. What an awesome time to be alive, that we're able to see these photographs so soon after they've been taken – in space!
The first image in this article comes from Astronaut Scott Kelly (aka Mr. one year in space), who posted said image to Twitter.
#Dragon is docking. 400 meters to the #ISS // #Dragon причаливает к #МКС. 400 метров до станции pic.twitter.com/eETKwKXk2X

— Anton Shkaplerov (@AntonAstrey) April 17, 2015
The star of this show is, of course, the coffee. "It's been just amazing," said Italian astronaut Samantha Cristoforetti, who'd been waiting for the coffee for many months, "[with] lots of science and even coffee is in there, so that is pretty exciting."
"There's coffee in that nebula"... ehm, I mean... in that #Dragon. pic.twitter.com/9MYrqIOXnI

— Sam Cristoforetti (@AstroSamantha) April 17, 2015
Cristoforetti's mission began in November of 2014. Since then, she's had nothing but instant coffee – an absolute tragedy.
The coffee comes with the space station's first espresso machine, a machine designed specifically for this space station. It's called the ISSpresso, and it'll make espresso, tea, consommé and other hot beverages.
The project description for this espresso machine reads as follows, courtesy of NASA:
Space Applications
ISSpresso is not much larger than a typical Earth-based espresso machine, and produces espresso, broth or tea. Water at room temperature is heated and pressurized to brew espresso, improving food options and variety for orbiting crew members.
Earth Applications
The technology developed to provide espresso, and other hot beverages, in a microgravity environment could lead to new or improved brewing methods and techniques in Earth-based applications.
This espresso machine's mission is scheduled to last until September of 2015, so astronauts should get their drinks in quick and often.
Success! @SpaceX #Dragon is attached to deliver 2 tons of science & supplies for @Space_Station crew. #ISScargo pic.twitter.com/TBSKMLGUN8

— NASA (@NASA) April 17, 2015
Meanwhile more than 4,000 pounds (2 tons) of other groceries, equipment, and experimental materials were delivered to the International Space Stations by the SpaceX dragon for astronauts aboard the station.
#Dragon approaching this morning. pic.twitter.com/ulslFWqo4V

— Terry W. Virts (@AstroTerry) April 17, 2015
Another resupply ship is headed for the ISS in the near future. The ISS Progress 59 will take off from the Russian Baikonur Cosmodrome on April 28 at 3:09 PM local time and will attach to the ISS' Poisk module that same day.