SpaceX CRS-1 Dragon launches successfully despite rocket blow-out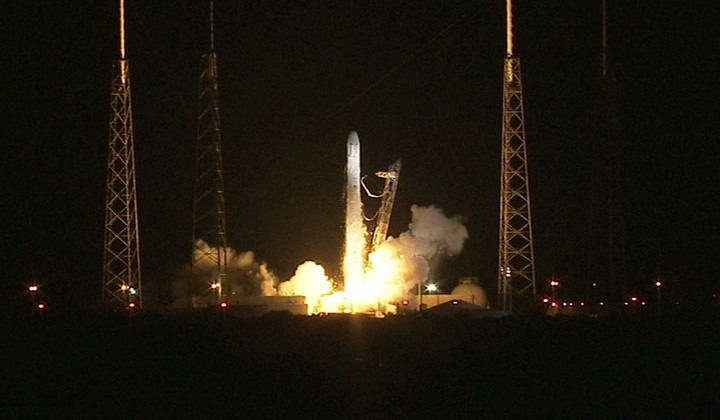 SpaceX and NASA have made history again, with the CRS-1 Dragon capsule successfully launching for its first supply mission to the International Space Station. The first time in history that a private American spacecraft has run such a flight for NASA, the blast-off – atop SpaceX's own Falcon 9 rocket – marks the beginning of twelve missions to the ISS. According to the CRS-1 timescale, the Dragon capsule is expected to reach the ISS on Wednesday morning, October 7.
The launch itself took place at 8:30pm EDT from Cape Canaveral, though wasn't entirely smooth. At T+80 seconds – roughly 1:30 into the video below – one of Falcon 9's nine engines suffered some sort of failure, but the remaining rockets were undamaged and the systems compensated for the loss in thrust, meaning the Dragon capsule could still reach orbit.
SpaceX CRS-1 Launch to International Space Station:
On Wednesday, Dragon will fly up to the ISS and be snatched up by the space station's robotic arm, manned by station commander Suni Williams. It contains 1,000 pounds of materials, which will be unloaded and replaced – over the course of around three weeks – with near 2,000 pounds of used materials and completed experiments that are to be shuttled back to Earth.
SpaceX CRS-1 Falcon 9 and Dragon Go Vertical:
Since NASA mothballed the Space Shuttles, it has been reliant on other countries to run service missions to the ISS, as well as to transport US astronauts to the orbiting station. However, plans have been in progress for some time to replace the Space Shuttle program with a more cost-effective and manageable alternative, of which SpaceX's Dragon is one example. NASA has awarded SpaceX a $1.6bn deal for the dozen unmanned missions it will fly over the space of roughly a year.
Beyond that, however, SpaceX is also working on its manned capsule mission, part of a further $1.1bn investment by NASA. The company finalized its design review of the so-called second design back in July, the passenger-capable version of Dragon.