Sony Xperia Honami vs Xperia Z in leaked photos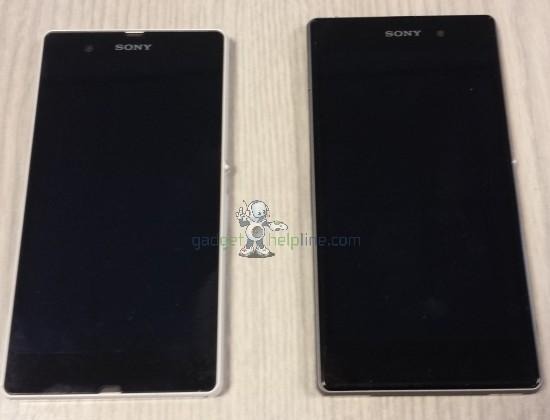 In addition to having appeared today in the FCC, the next Sony Xperia release in codename "Honami" has appeared this morning in a series of leaked photos aside the Sony Xperia Z. This device is set to out-do the Xperia Z in several ways, one of which in its camera at 20-megapixels, complete with a brand new set of features in its software interface. The Honami, also known as the "i1" will be coming without the full-waterproofing of its predecessor.
Honami appears in these images with a slightly longer body and what appears to be an ever-so-slightly thinner frame. The Xperia Z shares the same size display at 5-megapixels and likely 1080p once again, here also taking on a slightly more traditional approach with a black frame around a black body. That's the silver-framed Xperia Z, mind you, and there's a fully-purple edition out in the USA as well with T-Mobile.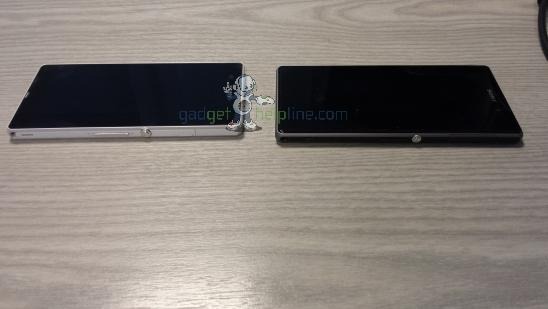 This set of leaks includes a rather strange Augmented Reality mode for the camera as well. Here you'll see a dinosaur walking across this devices' display amongst several palm trees, the camera able to superimpose said dinosaur over the photo taken of an office building's interior.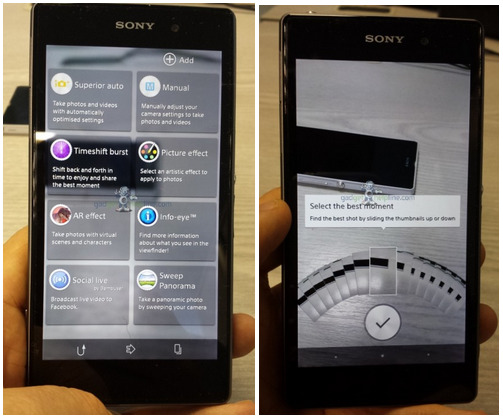 There's also a series of effects including Superior Auto – a favorite of reviewers of the Xperia Z, and Social Live. With Social Live you're able to broadcast the photos you're taking to a network that'll allow cross-downloading between devices on the same network. You'll be working with Timeshift Burst as well, this allowing to you choose the best photo of a large series of snaps taken in quick succession.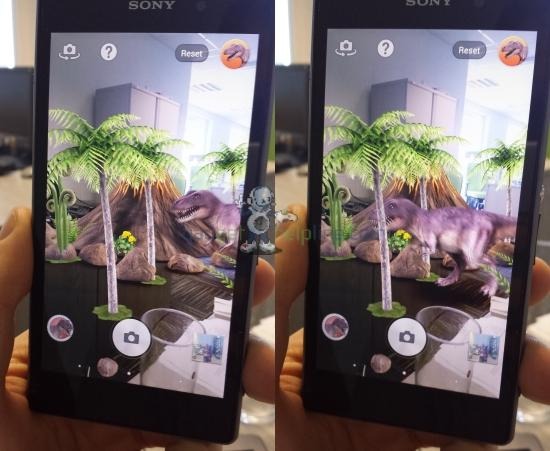 Perhaps most interesting is Info-eye, this according to this UI allowing you to "find more information about what you see in the viewfinder!" We're assuming this will work with bar codes and readable text through Google, but we'll see!
The Sony Xperia 1i will quite likely be coming with an upgraded processor, somewhere in the region of Qualcomm Snapdragon 600 as is found in the HTC One and Samsung Galaxy S 4 or the Qualcomm Snapdragon 800 as is found in the Sony Xperia Z Ultra as well as many other next-generation devices, complete with multi-region LTE.