Sony Xperia Ear Open-Style Concept hands-on: Smarter than AirPods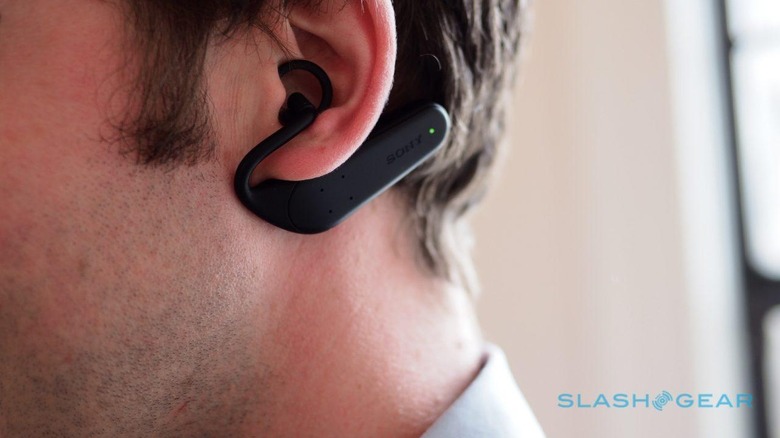 Sony could've made a pair of knock-off AirPods clones, but its new Xperia Ear Open-Style Concept is something a whole lot more interesting. Teased back in February at Mobile World Congress, the wireless stereo headset promises both your music and your choice of smart agent assistance, without cutting you off completely from the environment around you. I tried them out ahead of their full debut at IFA 2017 this week.
The oddly-named Open-Style Concept started out as an idea in Sony's Future Lab, the company's R&D division. Dubbed "Concept N" at the time, the pitch was music streamed from a smartphone but which didn't dominate the listener's hearing. The reception was so positive, Sony decided to double-down on the idea.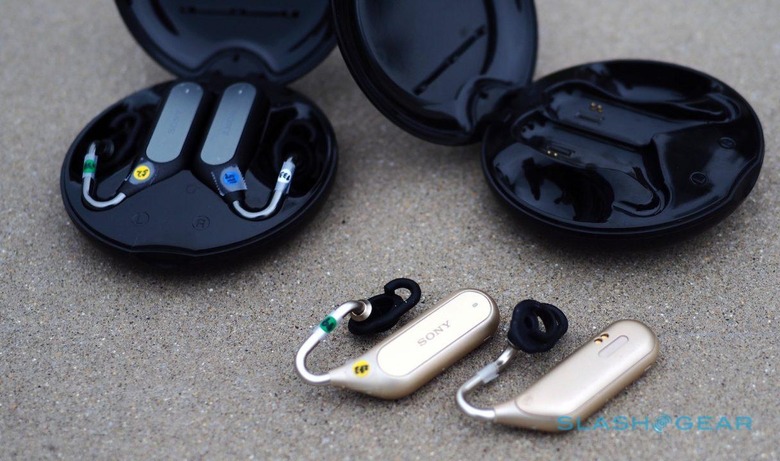 The result is the Xperia Ear Open-Style Concept, and while it's still officially a prototype it's definitely another step closer to production. Sony is using IFA to test the waters, to see if there's sufficient positive feedback to give a commercial launch the green-light. Based on what I've seen – and heard – I'd say the answer should be "yes".
Unlike the original Concept N's neck band, the Xperia Ear Open-Style Concept consists of two earpieces. The drivers are in the body of each, along with two microphones apiece that allow for beam-forming, and a variety of sensors including proximity, gyro, barometer, an accelerometer, and a digital compass. Thanks to the Bluetooth link to your phone, the headset gets GPS data too. NFMI (Near-Field Magnetic Induction) is used to link the two separate earpieces together.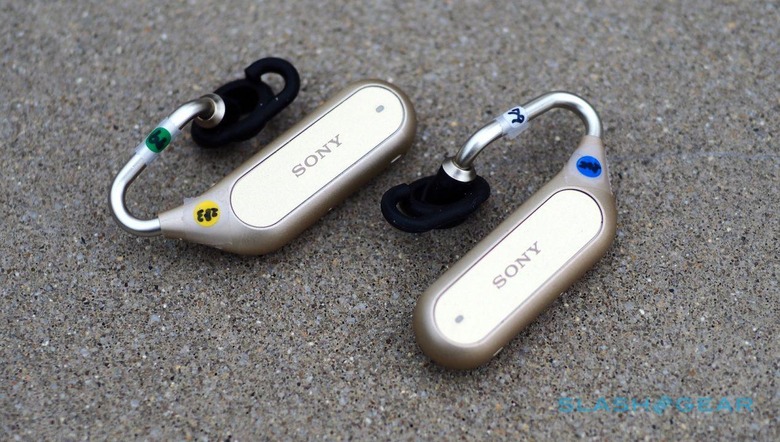 Where things get really interesting is in the earpiece. Where most in-ear buds focus on maximizing noise isolation, Sony is using what it's called a Spatial Acoustic Conductor. Effectively, the sound from the drivers passes down a sound duct under the ear, and then into a "guide ring" that circles – but doesn't block – the entrance to your ear canal.
The result is a combination both of sound from the headset and environmental sound. Sony describes it as "like being in a room with music playing in the background" and, sure enough, that's much what my experience was. I could hear the music playing, but also listen to conversations going on around me; a little like background muzak in an elevator, but with your own choice of soundtrack.
Sony's argument is that it's a headphone experience much better suited to persistent wear. For instance, you could wear the Xperia Ear Open-Style Concept while cycling, without having to worry about not hearing traffic around you; you keep keep it on in the office, and still take part in discussions while leaving your music playing, or answering incoming calls. There's remarkably little external noise leakage, too: people stood right next to me couldn't hear what I was listening to.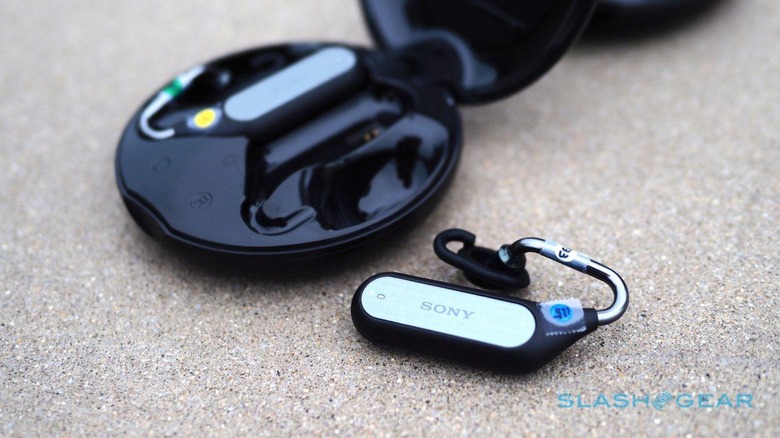 A reasonable amount of smart tech goes into making that possible. Sony has developed an automatic volume control system that can adjust the levels from 49 dB to 83 dB, depending on how loud your environment is. Having considered bone-conduction rather than the looped earpieces, it discarded that as having underwhelming audio quality. Digital noise cancellation systems – with pass-through audio for when you want to hold a conversation – were more tiring during periods of extended wear, meanwhile.
The advantages get clearer when you think of the Xperia Ear Open-Style Concept as a gateway to an omnipresent smart assistant, rather than just a way to listen to music. Out of the box they'll work with the Google Assistant on Android and Siri on the iPhone, though Sony is also looking at its own system. If it's paired with an Android device, you can interact with head gestures as you could with the Xperia Ear, too: nodding to answer a call or give an affirmative response to a prompt, for instance, or shaking your head to reject a call or decline an option.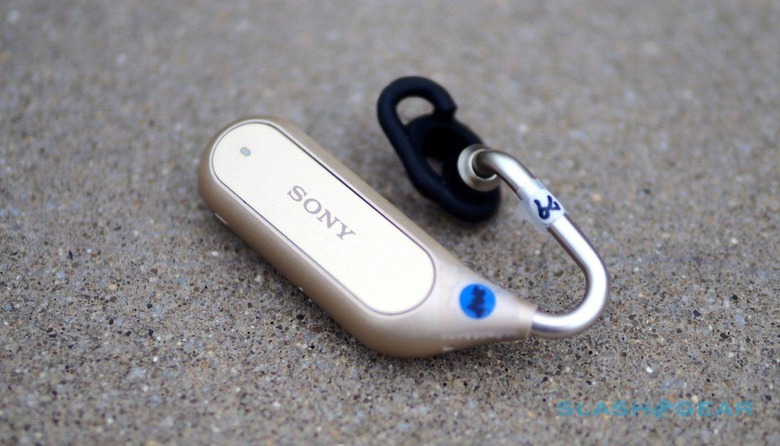 The set I tried were hot off the prototype presses, and Sony still has some work to do both on software and hardware. The expectation is of roughly four hours of battery life, with the circular carry case able to provide three full charges before it, too, needs to be recharged. Roughly 12 minutes in the case would be enough for around two hours of music listening, the company tells me.
As for the design, that too could still be tweaked. Sony opted for gold and black because they'd blend with the broadest range of hair colors; either way, you get IPX2 water drop resistance. The under-the-ear design looks odd, but actually fits surprisingly well, and I was able to shake my head around without the earpieces coming loose. Sony has three different-sized guide rings to suit different ears.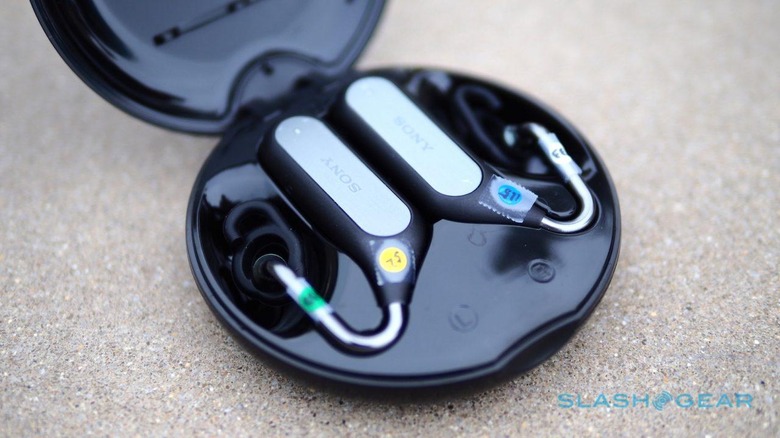 While it's easy to compare the Xperia Ear Open-Style Concept to a set of wireless headphones, like AirPods, in reality music is only one part of their strength. What they open the door to is personal audio that's both persistent and discreet, but which doesn't leave you isolated from the world around you. In Sony's testing that resonated particularly well with 30+ year olds, who said that while they liked to have a soundtrack of their own choosing, they also had expectations of interaction whether that be at work or socially.
Sony is going to be tracking the reaction to the Xperia Ear Open-Style Concept, and that will decide the system's fate. Personally, and as someone who has adopted AirPods for their convenience, Sony's system is the most interesting thing I've seen in headphones for some time, and I really hope they get the nod to spawn a production version.