Sony VAIO P: SlashGear Review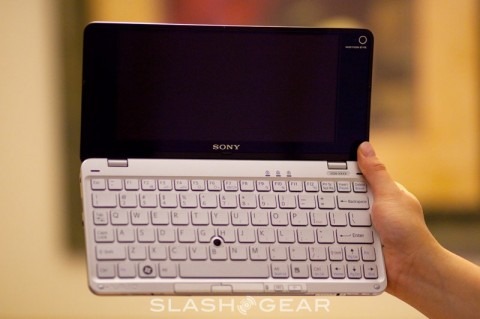 One of the major announcements for CES 2009, the Sony VAIO P has been hailed by some as the ultimate netbook, and by others as a folly of "what Sony can do" rather than "what Sony should do".  SlashGear has been using the VAIO P for near enough the past two weeks; we shared our first-impressions back during the show, now it's time for the full review.
Build quality – and bear in mind this is not a final production model – is high, with a few notable exceptions.  Despite being all plastic, the casing feels expensive and shows little twist.  The gloss finish is obviously a fingerprint magnet, but we've a feeling that VAIO P buyers will be regularly tending to their ultraportables with a microfiber cloth.  However the hinges on our demo unit seemed a little on the weak side, flexing when the display is pushed back further than its allowed travel, plus the trackpoint stick displayed a tendency to drift to the left if you hold the VAIO P at an angle.  We'd not expect to see these issues in production versions.
Part of the pay-off for a casing so compact is that you sacrifice user-accessible parts.  There are no handy upgrade panels on the base of the VAIO P, primarily because there's nothing really for a user to upgrade.  The 2GB of RAM is soldered to the mainboard, and there's no approved way to switch out the EV-DO Rev.A card.  Undoubtedly we'll see hacks of the notebook shortly after general release, but for most owners the VAIO P won't see any hardware changes in its lifetime.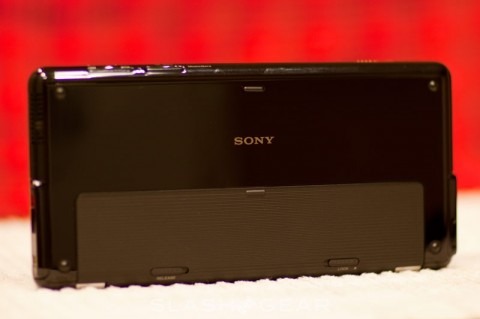 Ports, too, are a commodity in a notebook this size, but there's a pleasing number of options available.  Two USB 2.0 ports are on offer, one on each side, together with a headphone jack and two memory card readers (MS and SD).  Where you might expect to find a third USB port, there's in fact a proprietary socket: Sony provide a small dongle that offers an ethernet port and VGA output.  The dongle can clip onto the small AC adapter for safe-keeping, though unless you're sat right next to an AC socket you'd probably need to remove it in order to actually plug it in.
It's prompted mixed opinions among the SlashGear team, but something we generally believe Sony have got right is the keyboard.  Obviously it's smaller than a standard ultraportable – though not by a huge amount compared to Sony's own VAIO TT range – but the width of the VAIO P means it's surprisingly usable.  Key travel is relatively shallow but decent between-key spacing means it all manages not to feel cheap.  Meanwhile the trackpoint, when not drifting, is both a pleasant and essential change, given the small footprint.  The nub itself can be tapped to left-click, and on the front edge there are three buttons: left and right mouse, and the smaller center key which, when held down, lets you scroll with the nub.  We found it a little too easy to accidentally trigger the mouse keys when aiming for the spacebar, at which point your text whips across the page or windows get accidentally switched.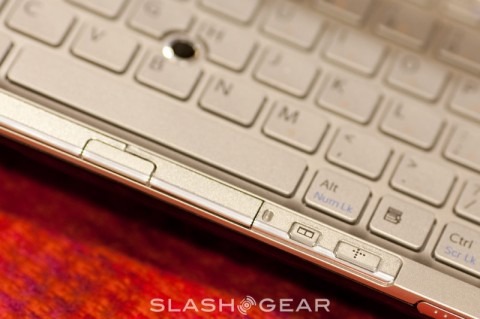 Next to the buttons there's a key which automatically arranges any active windows so that all are visible, plus the launch key for the xross media player.  This will run whether or not the VAIO P is booted up, offering quicker access to video, images, music and internet than Vista might.  It's neat, but we had ongoing trouble getting to the Verizon Wireless EV-DO manager app, limiting our wireless connectivity to WiFi.
If you do make use of the VAIO P for media, you'll want to keep some headphones handy.  The ultraportable's integrated speakers are unsurprisingly awful, attempting to squirt sound out from two tiny notches by the screen hinges.  Thankfully amid all the miniaturisation Sony still found space for a standard 3.5mm headphone socket, and making use of that shows no general issues with audio quality.  The Bluetooth A2DP profile is also supported, meaning wireless headphones are another option.
Up in the broad right-hand screen bezel there's a 1.3-megapixel Motion Eye webcam, which worked as you'd expect for impromptu video recording and video conferencing.  Its offset positioning, though, can make it appear that you're avoiding looking at whoever it is you're chatting to.  Meanwhile hidden inside the chassis is a GPS receiver; Sony preinstall Microsoft Streets & Trips for navigation, although when we tried other apps the GPS chip was recognised with no problems.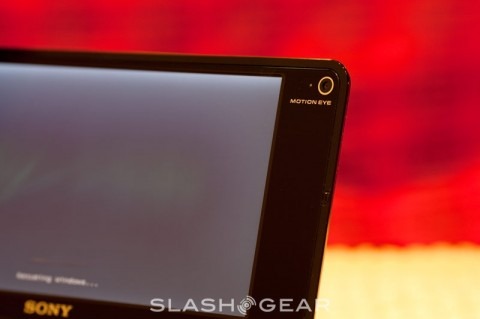 One thing we've found tough to criticise is the VAIO P's display.  Sony may have put just 8-inches into the ultraportable, but it's the highest-quality LCD we've seen on a netbook-style device so far.  Running at 1600 x 768 resolution, with Sony's XBRITE-ECO glossy finish, colors are rich and bright, while contrast is excellent.  It's certainly enough to make us wish our eyesight was better; as it is, text under 10-12 points in size can prove troublesome to read, making us regularly reach for the FN+F10 zoom shortcut (that works in IE7 and Office but not in Firefox, which has its own shortcuts).  Perhaps it seems overkill to pack so many pixels into such a small display, but the VAIO P is thankful for them when it comes to media playback.
Performance is a difficult issue.  Putting aside for the moment the 1.86GHz Atom option that's not officially available to US buyers, the standard 1.33GHz processor is a disappointment.  Ironically, VAIO P designer Takuma Tomoaki has claimed that the notebook's 1600 x 768 screen resolution was selected primarily for 720p video playback.  We downloaded the Street Fighter movie trailer in 720p and it proved unwatchable, with persistent audio skips and sluggish video. 
For basic tasks – office document editing, internet browsing, email and the like – the VAIO P is reasonably capable.  These are, after all, the sort of applications that Intel intended Atom to handle.  By suggesting more demanding uses, however, Sony have set the VAIO P up to fail.  Benchmarks that, perversely, are lower than an ASUS Eee PC 1000H – just 692 in Geekbench – costing around half the price don't do anything to detract from the idea of the VAIO being seriously underspecified, even with our test model's 64GB SSD.
The choice of Vista over Windows XP certainly has to shoulder some of the blame here, although Intel's strict licencing requirements mean we can't blame Sony fully for it (the VAIO has too much RAM and too high a screen resolution to be allowed to run XP).  For basic netbook tasks, it manages; but then the VAIO P is a "Digital Lifestyle PC" and, if you start to explore the OS' more media-heavy functionality, you soon get bogged down.  There are also some ongoing frustrations with the ultraportable's integrated EV-DO Rev.A: Verizon Wireless' connection manager is pre-installed (we'd like to have seen a more integrated manager, really) and sometimes it doesn't play nicely with Vista's standby.  Numerous times we had to restart the Verizon software in order for it to recognise the modem; sometimes it would both connect and simultaneously crash, again requiring a restart just to see data use and later switch it off.
Restarts, too, could confuse the EV-DO, especially if booting into Vista with the wireless button switched off.  It seemed hit & miss whether the wireless manager app would then recognise the modem, or whether you'd again have to relaunch it.  Easily treatable problems, certainly, but adding frustrating delays to being able to get online and check whatever it is you pulled your companion device out for.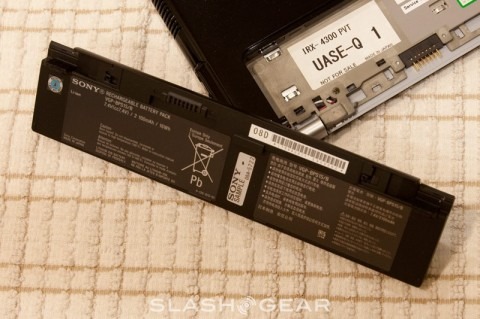 Battery life looked to be equally frustrating at first, until we realised that the VAIO P wasn't set to enter standby when the lid is closed.  Given that Sony have used all-passive cooling, and that there's no hard-drive noise thanks to the SSD, it was tough to tell that we'd put it in our bag still powered up.  To give the VAIO P its due, despite all that heat levels never reached uncomfortable levels.  With the standard, flush-fitting 4-cell battery – from which Sony promise up to 4hrs use – we managed to stretch almost two and three-quarter hours runtime, with the backlight notched down to 80-percent (at which point it's still bright) and surfing the internet over WiFi.  Use of the EVDO card brought that down, obviously, while shutting off the WiFi and merely typing on the VAIO P saved an extra half-hour of use. 
It's difficult to sum up the VAIO P.  Sony have perhaps made a rod for their backs, insisting it's a "Digital Lifestyle PC" rather than a netbook, but then with prices starting from $899.99 (or $1,199.99 for the 64GB SSD model we've been testing) it's in for a potentially tough comparison against something like an Eee PC.  Anything promising to cater for a digital lifestyle, though, especially with a screen so purposefully chosen for high-definition content, should have the capabilities to back it up, and there the VAIO P really falls down.
Everything a netbook is meant to do – web surfing, instant messaging, a little typing – the VAIO P can do, and it does it with a stunning design, copious connectivity options and no small amount of label prestige.  They're the the things you're paying for, though, rather than any degree of increased performance.  Until Sony begin to offer the same 1.86GHz Atom CPU option in the US as they do elsewhere, the VAIO P will always be a case of beauty above brains.  For some, that will be a trade-off they're willing to make, and they'll settle for the merely average battery life and learn not to try anything too arduous that might stress the processor.  For everyone else, it could be a case of waiting on VAIO P take-two.
The Sony VAIO P is available to pre-order now, priced at $899.99 for the 60GB HDD model, $1,199.99 for the 64GB SSD model, and $1,499.99 for the 128GB SSD model.  It's due to begin shipping on February 2nd 2009.